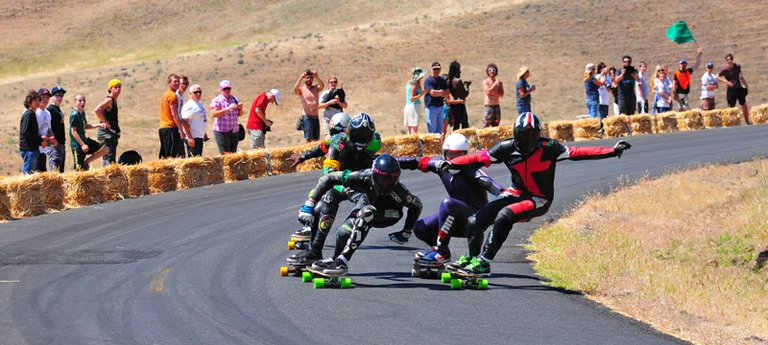 The seventh-annual Maryhill Festival of Speed kicks off Wednesday and Thursday with practice runs, continues Friday and Saturday with elimination heats and climaxes Sunday with street luge finals and the 2013 Downhill Skateboarding International Downhill Federation World Cup.
Taking place on the unique and historic Maryhill Loops Road in the eastern Gorge, the event is a fascinating and thrilling display of the global downhill skateboarding culture, in a setting unlike anywhere else on the planet. For the best spectating, catch the action Saturday as two 96-man brackets are whittled down to form the final field, or bring a lawn chair on Sunday and claim a good spot to witness the best-of-the-best tear down the tight-cornered, sticky pavement that makes Maryhill Loops Road one of the most revered venues in the world for this type of contest.
This year's event has drawn athletes from the United States, Australia, South Africa, Brazil, Switzerland, Sweden, Finland, Japan, Germany, France, Canada, Great Britain, Norway and beyond, to compete for $10,000 in prizes on the 2.2-mile, 22-corner course that has garnered fame throughout the world of downhill skating and street luge. With pristine pavement, idyllic scenery, hairpin corners and no street traffic to worry about, the road is a dream come true for thrill-seekers who travel the globe competing in IDF contests and earning World Cup points.
For spectators, free front-row viewing of the action along the course is supplemented by food, music and other event fanfare. Maryhill Loops Road is located east of US 97, off Highway 14 — cross the Columbia River at Biggs Junction. For more information and detailed schedules of the action, visit maryhillfestivalofspeed.com.