This week volunteers at Adopt A Dog have selected Claire as the program's adoptable pet of the week. They describe her as follows:
"Claire is about 4 years old and feelin' fine! She's a whopping 9.5 pounds and still growing — probably another 2-3 pounds is all she needs. That's saying a lot, considering just about three weeks ago she was dropped off at a vet's office lethargic, weighing just 4 pounds and near-death.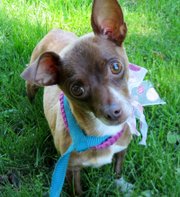 "But Claire had a wonderful vet tech on her side, who nursed her back to health; and now Claire is in a foster home and running and playing and eating! Even her coat has gone from a dingy, dry "blah" to a gorgeous silky brown.
"Claire is very affectionate and loves being with people — preferably on their laps. She is great with other dogs once she gets to know them, and she thinks running around like a crazy girl is fun!"
Claire is housetrained, current on shots, micro-chipped and spayed. The adoption fee for this very lucky girl is $185; cash or check only, please. The fee to adopt is charged to recoup standard veterinary expenses.
Since many of AAD's dogs are in foster care, please call ahead to meet Toby at the Hukari Animal Shelter, 3910 Heron Drive, Odell; 541-354-1083. Adoption hours are Wednesdays from 5-7 p.m. and Saturdays from 9-11 a.m. Applications may be downloaded at www.hoodriveradoptadog.org and faxed to 877-833-7166.
The Adopt A Dog program offers 24PetWatch microchips, which include free registration into the 24PetWatch pet recovery service. (For more information visit www.24petwatch.com or call 866-597-2424.)