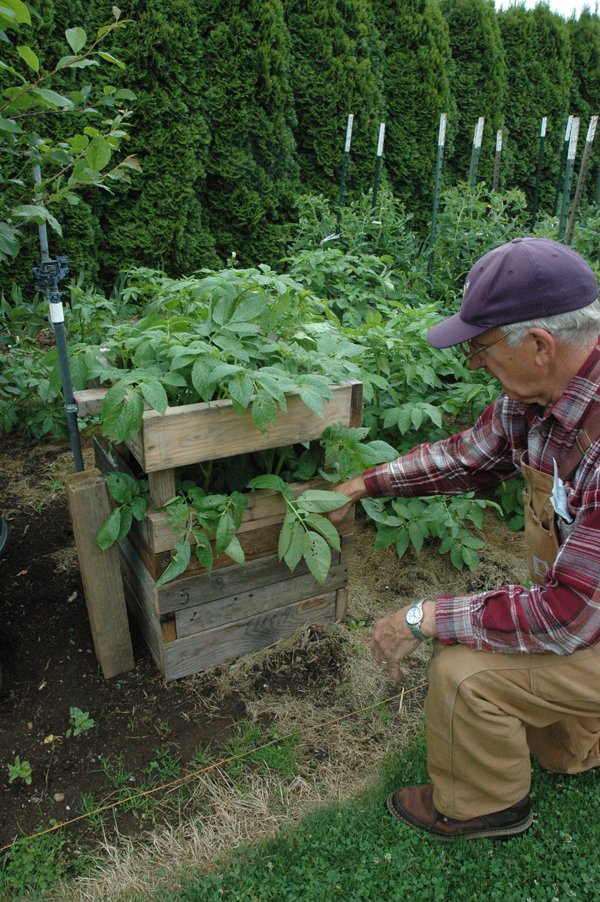 The Central Gorge Master Gardeners Association tour takes place June 29, 10 a.m. to 4 p.m. around Hood River.
Tickets are $10 and are available in Hood River at Waucoma Bookstore, Columbia Center for the Arts, Good News Gardening, Grow Organic and Hood River Extension Office; in The Dalles at Klindt's Booksellers and Wasco County Extension Office; and in Bingen at Dickey Farms.
Scarecrows will be on sale at the seven featured gardens in this year's garden tour. Visitors may purchase the scarecrows for their own homes, with proceeds going to FISH food bank.
Plant clinic and Master Preservers presentations will happen at several locations, and refreshments will be available at selected sites.
Restrooms are available at Jackson Park and Grow Organic store, on the Heights.
The seven Master Gardeners' expanses are vastly different from each other, but each displays a thirst for beauty, love of food and a healthy environment.
Here is the list of gardens (see June 26 edition for full descriptions):
Laurel and Bob De Tar
2611 Eugene St.
The De Tars' home is a ranch-style house with an attached garage built in 1978, in a neighborhood of comparable homes. It has a small front yard and a large backyard, fenced all around.
Picture what the backyard looked like when Laurel and Bob moved in seven years ago: a wasteland of grass, barberry, photonic and Canada thistle. Today, it has been transformed into a thriving garden of vegetables and flowers and a designer's dream of hardscape — paver block walkways and lovely large rocks spread around the garden.
Dede and John Garcia
225 Montello Ave.
Walking up to the Garcias' rebuilt 1905 home, one is struck by the panoply of plant shapes, textures, hues of green and blue, tall and thin, short and wide with a stately old holly and a Japanese maple surrounding the small lawn. All together it makes a striking statement.
This is a tight garden; "Plants are so tight in here a weed doesn't stand a chance to see sunlight," says Dede. While the footprint of the 1905 house remains, the garden is a complete makeover by Dede, inspired by the 1911 children's classic "The Secret Garden," by Francis Hodgson Burnett.
Dennis Carlson
3901 Barrett Drive
Neat and tidy it is not — but it is a wonderland of fecundity. Fruit trees, berries, evergreens, deciduous trees, chickens, ducks, dogs, homing pigeons, abundant vegetables, flowers, roses, rhododendrons, and an herb garden.
When Carlson retired from the Hood River County Forestry Department three years ago, he joined Master Gardeners, a successful information and social network. While he had already started on his experimental garden 25 years ago when he built his home, his garden experiments have now taken on a new twist, often collaborating with others such as Jeff Jerome of Grow Organic.
John and Shirley Ihle
3675 Holly Drive
"A plant doesn't have much of a chance in my garden if I can't eat it," says John Ihle. Looking at the front of the 14-year-old house, one can see the wonderful mimosa tree, the red bud tree, rhododendrons, roses and an ECO lawn.
But, go around into the spacious backyard and you see enough produce to last through the year by Shirley harvesting, freezing, drying, canning and pickling.
Collards, peppers, tomatoes, squash, parsnips, turnips, carrots, Swiss chard, radishes and lettuce are among the vegetables they grow. Strawberries, gooseberries and raspberries are there, as well as a new one called Sea Buckthorn.
"We overplant so we can share with others," says Shirley, including the food bank and friends at Hood River Valley Christian Church where John was the pastor. Seventeen different fruits and 16 different vegetables are in raised beds, in-ground beds and growing vertically to save ground space.
"Whatever I can, I grow up, not out," so cucumbers and tomatoes are tied up to a trellis as are grapes. It is a veritable demonstration garden for vegetable growers.
You will also see bees; a regular hive and a top bar hive outside as well as an "observation" hive in the house. It is seen through glass and vented to the outside. John teaches beginning beekeeping and gardening classes for Community Ed.

Alan and Bette Lou Yenne
4631 Portland Way
A unique front hedge of maple and majestic 20-year-old blue spruce trees greet visitors to the Yennes' home. Alan has planted many trees on the property since 1979 when a few peach trees were taken out and left a weedy lawn. He planted trees to landscape his or other's homes.
Most of the trees have come from the Hood River Soil and Water Conservation District; birch, vine maple, Douglas fir, grand fir, noble fir, giant sequoia, western larch. He has rows of trees that he will sell or plant in his yard.

Alan said, "I like to garden. I like the physical exercise; it is something to do constantly." Alan's yen for gardening is evident in the front and back yards. The front garden beds are filled with rhododendron, different kinds of hydrangea, dogwood, flowering cherry, skimmia, roses, azaleas, pieris Japanoca, lilacs and hibiscus. A dwarf Alberta spruce is next to the porch.
Ann and Dave Bronson
678 Larch Court
"Gardening is one of our life's satisfactions," said Ann Bronson, and Dave added, "It's a creative challenge for us; always evolving." They are accomplished gardeners and settled in Hood River 10 years ago. Ann joined Master Gardeners within the year.
Their 10-year-old home was built on a small city lot and they have put their gardening skills to work again. Except for a large oak tree on the corner, it was an empty lot facing Post Canyon Drive. They could see and hear cars, close neighbors were visible, water draining from higher empty fields to the south could potentially overflow the lot, and summer west winds blew incessantly.
In 10 years they have taken care of these problems with ingenuity. Now their space is secluded from neighbors with trees, tall grasses and shrubs. Most of their 100 or so plants surrounding the house are native and a plant list will be available.