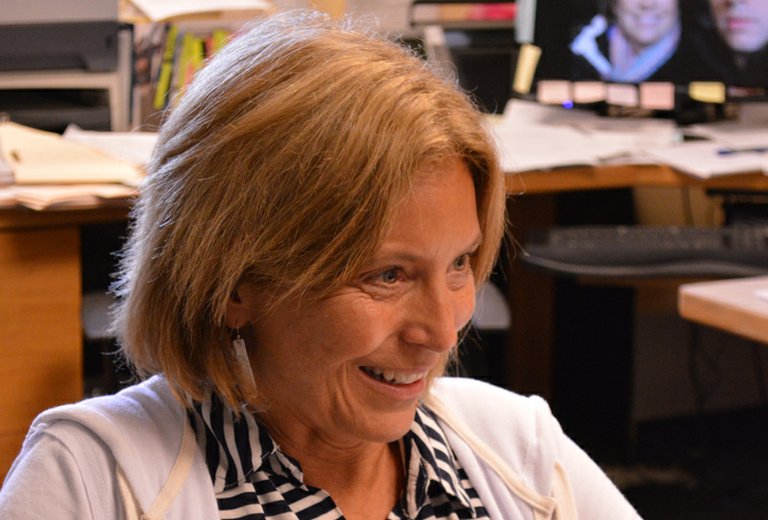 You may have seen the tobacco and alcohol prevention stickers, posters or ads, but do you really know who is behind Health Media Club and all these ads? Tobacco Prevention Coordinator Belinda Ballah works with youth from Wy'east Middle School, Hood River Middle School and Hood River Valley High School to teach them about tobacco and alcohol prevention.
Ballah has been involved with the Hood River County Commission on Children and Families for a long time.
"My husband and I were involved with the Faith Connection. It's a coalition that they have as part of the Commission on Children and Families that started ten years ago," said Ballah, "and my husband was a youth pastor at the Hood River Alliance church at the time, and I became the liaison for the church and the Faith Connection. So I came in, and I worked with these guys a lot."
Ballah and her husband ended up leaving town for five years, and when they returned, she decided to visit her friends at the commission.
"They said, 'You know, there's a job opening and perhaps you would like to apply,' so I did," Ballah said, describing the conversation she that occurred during her visit. "They interviewed me, and I got the job! I've always been involved with working with kids, so I was like, 'Okay, I can work with kids. This is fantastic.'"
As her title suggests, Ballah's job is to prevent the use of tobacco and alcohol, especially with children. She receives state funding to complete the requirements that have been put into effect.
The Health Media Club is one of the larger projects she runs. The club does a lot of events to promote a message of prevention to the community, including making public service announcements, "bottle-tagging" and working on ads and posters.
"The main purpose of this is to just help kids understand the media and how we can influence media; how the media influences us," said Ballah, "and then how we can go out into our community and help to make policy changes that will strengthen our laws against alcohol use for underage drinking, tobacco use, that sort of thing."
The public service announcements, of which the Health Media Club has done six of this year, focus on making sure that adults know what their kids are doing with drugs and alcohol. They also inform kids about the dangers that are involved with drugs and alcohol. Every PSA is in both English and Spanish.
"We have a huge population of Spanish-speaking people," said Ballah, "and I think that it is just as important them to hear the messages as it is for the people who speak English."
"Thirty percent of the population in our whole county is Hispanic, and 45 percent of the births," added Joella Dethman, who has been working at the Commission on Children and Families for 20 years.
Theater ads are also something that the Health Media Club works on, and Ballah is proud of one in particular.
"This one was playing, and the World Health Organization got a hold of it, and they put it on their website, so it went worldwide, which is pretty exciting."
The theater ad features three HRVHS students standing in an outline of Oregon and the messages, "81 percent of HRVHS 11th graders choose not to use marijuana. We're proud to be a state that didn't legalize marijuana."
"We always try to frame the message that we're putting out into the community in a positive light," said Ballah. That was the reason that the Health Media Club decided to say that 81 percent of HRVHS 11th graders chose not to use marijuana instead of saying that only 19 percent did.
Another project that Ballah is in charge of and that the Health Media Club helps her with is "bottle-tagging."
"Super Bowl Sunday we go out into the stores. We ask permission to do what's called 'bottle-tagging' or 'sticker shock,'" Ballah said. "We went in and placed stickers in all of the boxes of beer."
Stores in which you might see or have seen these stickers are Rosauers and Safeway. The stickers serve as a reminder to adults that buying alcohol for minors has consequences with the law.
Students in the Health Media Club have also been part of a kind of "pop quiz" for retailers that sell tobacco. Members of the club who look like they could possibly be 18 walk in and attempt to buy tobacco.
"It's kind of a courtesy," said Ballah, "to help remind (the retailers) that they need to check for I.D."
Oftentimes, a week later the state comes in to perform an actual test, and if the clerk fails the test that time, the retailer can be fined.
A preventative video on binge drinking will be shown before Movies at the Park, and at events like that, Ballah helps the Health Media Club make assessments that evaluate the general state of prevention awareness, passing out surveys before the video as a pre-assessment and then passing out surveys after the video as a post-assessment.
Working with children is something that Ballah enjoys.
"It's fresh to see that (youth) don't look at it as 'That may not be possible,'" said Ballah. "In young people's minds, why isn't it possible to do this? This is right — and let's go for it.
"I get kind of giddy when I get to work with kids. I go away from working them, and I'm like, 'Yes! We can do it! We can do it!' It's just really empowering to watch what (youth) can do."
Ballah has also been involved with the new policy that the County has put into effect. Her work plan from the state underscores her job to prevent the exposure of people to secondhand smoking, and the new policy is a reflection of her working to do just that with the community.
"This spring has been quite busy because the County, on May 20, went tobacco- and smoke-free, which includes the County buildings, their properties, their parks, the forest," said Ballah. "After they went tobacco smoke-free, the library district adopted a tobacco smoke-free policy, and just last night, the Parks and Recreation District adopted the smoke-free policy.
"It seems that this community is really moving forward. Our social norm is moving to, 'No thanks, we don't want that.'"
"You got to get to the root cause," added Dethman, "and tobacco is one of the main root causes of disease and early death."
To get the County to pass the policy, Ballah spoke with Parks District Director Lori Stirn. Stirn told her that Parks and Rec. would like to adopt the policy, but they wanted to see the County adopt it first.
"It was quite smooth," said Ballah. "Once the county decided to go tobacco smoke-free, I contacted her, and she said, 'OK, I'm going to put you on the agenda for June and come on out.'" Ballah didn't go alone. "We didn't have to make much of a presentation," said Ballah. "They really wanted to do it."
The policy is not enforced, but Ballah and Dethman hope that people will self-enforce after they see the signs. Also, they believe that the community will do their best to respect and follow the new policies. The signs will also include the phone number of a place that will help people who wish to quit smoking get the help they need.
Another thing that Ballah and the Commission on Children and Families are working on is getting the state senate to raise taxes on tobacco, knowing that the high cost will make people think twice about buying tobacco products. Oregon hasn't raised the tax on tobacco in many years.
n
During the summer, Ballah will be working with the Health Media Club and the summer school at Mid Valley Elementary School to paint a mural that will go up on the backside of the Wy'east stadium. The painting begins this Monday, July 1, at Mid Valley Elementary School at 7:30 a.m. to 2:30 p.m. and will continue on for the next two weeks. The message will focus on telling the community that the middle school is a drug- and alcohol-free zone.
You can find more information on the Health Media Club Facebook page: Hood River Prevents.