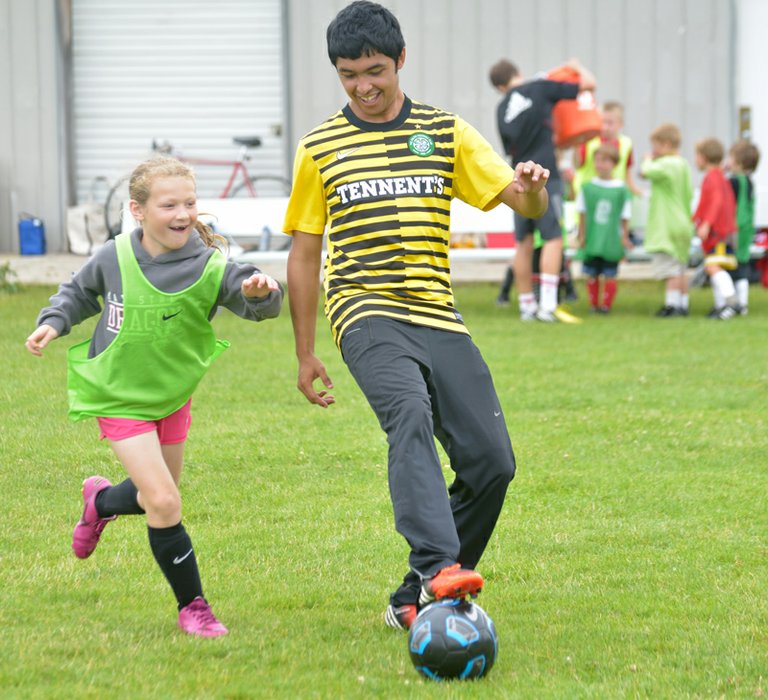 This week's Eagle Youth Soccer Camp brought about 80 kids to Westside Elementery School for five full days of skills developement, scrimmages, fun and games. A highlight of the camp – a joint effort and fundraiser for Hood River Valley High School boys and girls soccer programs – is the opportunity for current high school players to work directly with the younger generation of upcoming players.
"It's a great benefit for both parties," said Jaime Rivera, HRVHS head boys coach and camp co-organizer. "The kids really look up to the high school players, so its a great experience to be able to work directly with them in this setting."
For the high school players volunteering a week of their summer vacation for the camp, it's a more than just a community service —it's a valuable lesson in leadership and self-awareness.
"In addition to serving the community and giving back to the local soccer program, the high school players are learning leadership skills, and the abilitiy to step out of the role of a player and see the game from a bigger perspective," Rivera said. "It's really a win-win for everyone."
n Youth soccer tournament: For grades K-12th, a soccer tournament will run Aug. 10-11 and is open to any player in that age range (different divisions for ages). Sign up at www.hrcommunityed.org.