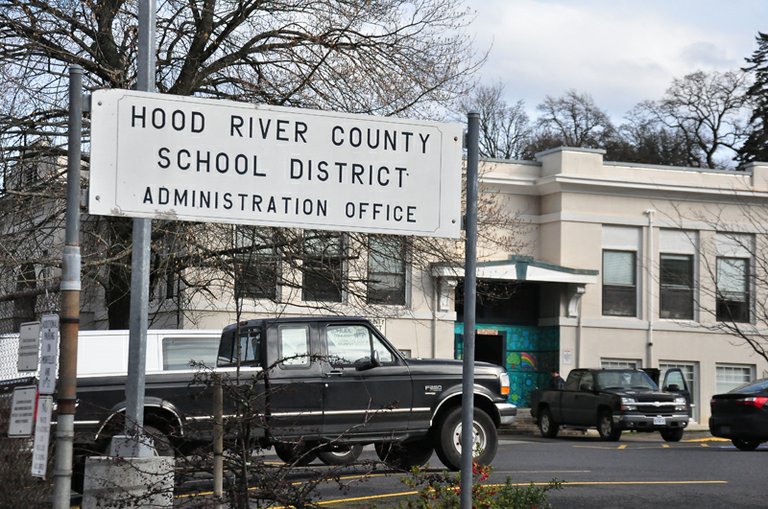 A furor of sorts erupted this week at the Hood River County School Board meeting, stemming from some disturbing fiscal news that came out of the Feb. 13 board meeting.
Two weeks ago, Finance Director Nick Hogan itemized for the board just how the district managed to over-spend the general fund by $1.4 million in the 2011-12 school year. This had shown up in an audit in October-November 2012, which Hogan shared with the board at the Jan. 23 meeting. The board asked Hogan to give details at its next meeting.
"We are taking this very seriously," board chair Jan Veldhuisen Virk told the audience at Wednesday's meeting. "We're just as concerned about it. We have asked the finance director to give us (an expanded) monthly update during our board meetings."
"There's been some confusion," Hogan said. "I think when we first started talking about it I didn't explain it very well, and many folks heard we were $1.4 million overspent and that's all they heard."
Fortunately, there were also unexpected state funds that mitigated that damage. Supt. Charlie Beck explained this in an email sent to all school staff yesterday:
"Expenditures (in 2011-12) were higher than budgeted in several categories. At the same time, revenues were higher than budgeted (State School Funds in particular) and beginning fund balance was higher than budgeted. The combination of these budget variances resulted in an ending fund balance that was $251,231 less than normally expected."
Several of the people who spoke up at Wednesday's meeting wondered why this news was just coming out, and spoke of "lack of fiscal management" and wondered "who knew what and when."
Thursday Hogan said, "In June (2012), I saw the first report that we were quite a bit overspent, and at the time my reaction was, 'OK, that's wrong,' and I told that to Charlie and to the board.
"In October-November, when I was writing reports for the audit, it became clear to me and the auditors that that we did spend $1.4 million more than we budgeted; but at the exact same time, on the very next line (of the report) it shows that we also got $1.3 million in extra revenue.
"So at the time, as an accountant — and in hindsight I would say that was probably an error — I thought, 'OK, there's some budgeting problems that we need to fix next year'," Hogan said. "We had plenty of money right now, so I set those aside and said 'Okay, next year we have a problem.' There was no intent to hide it; it was a budget problem that I was going to fix next year," referring to the next budget cycle.
"When it came to light in the audit in October-November, (Hogan) came to us (the cabinet) and said, 'We have an issue,'" Beck said. "We actually started grappling with it in December." (The school board first learned about it at the Jan. 23 meeting.)
"It has clearly caused a ton of confusion and I certainly wish at the time I would have said, 'Hey, stop the presses!' It's unfortunate, to say the least."
Even though the extra state and other funding cut the $1.4 million to $252,000, the fact remains that there was overspending done that year. Where did all the money go?
"The biggest part of the reason we were overspent is you remember that's the year that we closed Pine Grove, we closed Dos Mundos (charter school at Westside), and we laid off all those people," Beck said.
"Thirty-six staff," Hogan interjected.
"We overestimated what we were going to save," Beck said.
As Hogan explained to the board at the Feb. 13 meeting, the cabinet had budgeted staffing reductions using "averages." But many of the positions that were cut were at the lower end of the salary scale, so savings were not as hoped.
Altogether, salaries, benefits, insurance and related costs, that exceeded budgeted amounts totaled $645,000. Repairs and maintenance exceeded budget by $207,139 due to several major equipment breakdowns, plus the cost of moving the portable classroom to May Street Elementary. Other unexpected overages were in the areas including hiring teacher subs, bus repairs, purchased services (occupational and physical therapy), electricity, bus fuel, and legal services.
In response to the concerns, the cabinet and the school board are already working on improving communication and the budget process.
Veldhuisen Virk said the regular communications the board has requested will include: "Where we are (financially) at that point; where we are within the year and where we are within a three-year span.
She said, "We are also planning to start a financial advisory committee made up of a couple of board members and a couple of administrators; four to six people to delve into the budget further," she said. "Other districts have done this and we never have, but this is something we've decided to initiate."
Beck said that though the governor's budget for education for next year is going to be amended on March 4, and is expected to be higher, we have to go with the figure we have right now.
"The governor's budget is the biggest factor facing the budget for next year for Hood River County School District," Beck said. "It's $1.6 short of what we need to run the district.
"The second big effect on our school district is the increase in PERS: Because the PERS account wasn't making as much as they thought it should, counties and school districts have to make up the difference, and that's $600,000 for us."
There will be one-time funding helps of an expected $770 million to $1.1 million capital bond rebate and $750,000 from the sale of the Frankton property (not yet closed), but Beck hopes the district can get by without using the whole of those funds this year.
"We would just be artificially keeping higher spending up," he said. "What I would like is a combination of using some of those funds with some reductions, so that we get a sustainable budget."
As Beck told school district staff in the mass email he sent Thursday, "We are in the very early stages of budget development, and over the next month I expect the revenue picture to change significantly."
n
Minutes and packet materials from all school board meetings are available to view on the district's website, www.hoodriver.k12.or.us.