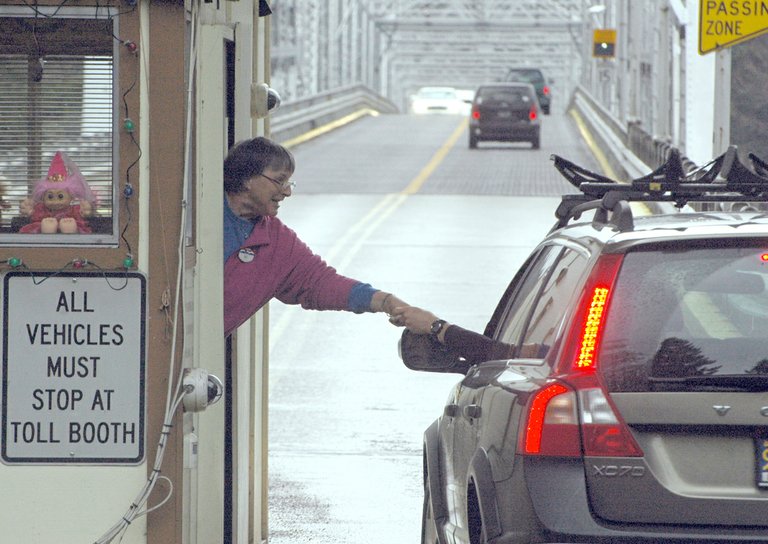 CASCADE LOCKS — Friendliness is more than idle talk for Peggy Towery.
"Hey, doing fine, how about you?"
Towery has a warm expression for everyone as she puts the cheer into high gear as motorists stop to pay the toll at Bridge of the Gods in Cascade Locks.
She loves the place; loves the job; loves the people that pass by every 3 to 30 seconds heading north or south out of the tollbooth — or, as some call it, the "troll booth". The pun springs from the frizzy menagerie of motorists' gifts, the famous big-eyed grinning baby monster dolls lining the south window.
"You bet I'm going to take your money!" says Towery to a familiar bridge user. She has a greeting to fit any situation, as toll taker for the past three years. She is one of the three full-time booth workers. There are four relief employees; Towery takes her half-hour meal break in the four-by-15-foot booth while another employee handles the fares.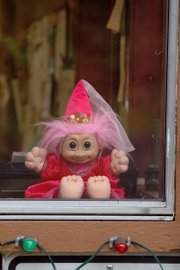 "We're a small shop and it's pretty much like a family," she said. "Like any job they have their ups and downs, but ... no biggie."
Toll takers take cash, check for annual pass window stickers, and take toll coupons. They will see a truck or large vehicle approach and count the axles on the approach, either collecting cash or pulling coupons from books waiting in slots designated for frequent crossers such as local businesses, trucking companies, and school buses. The regulars often have to slow down only if they want to say a few words to the attendant.
In 2009 Towery and her husband, K.O., were serving as camp hosts at the Port Marine Park campground, a few hundred yards east, when the bridge job came available, and she applied and was hired.
"It may not be everyone's dream, but it was mine," she said. "Since I was a little girl I always wanted to come up here and do this," Towery said, "and that's because people are so friendly when they come up here. They're so open and they just want to talk. A lot of times, it's too busy to talk, but you can get little bits in here and there and let them know you're thinking about them — it works okay."
She also loves the setting, with trees on three sides, the glimpse of WaNaPa Avenue just below the plaza, and the gray, graceful span that brings cars to and fro.
"It's an old bridge and it's a beautiful bridge. It's just neat to look at," she said of Bridge of the Gods, which was built in 1927.
But most of all, "it's the people," said Towery. "This kid loves everybody. They come in, they talk, they smile, they — 'Thank you! Have a good day' — and mostly it's the countryside."
"Alrighty, have a good day, Kid."
Conversations are short, but always cheerful.
"Just the normal things, the weather, 'How you doing, how's the family?'" just little odds and ends," Towery said. "They don't want to get into the deep end of it. They don't have the time and they know we don't."
She said she likes all three shifts, but graveyard is "way too quiet. It's a different situation." The booth has a restroom, microwave and fridge, and even a water cooler, and sliding half doors on both sides. They can be closed but normally it's easier to keep them open. Heating lamps above both doors help.
Booth workers monitor approaching north- and south-bound traffic on a four-part monitor. Cars and trucks come by in strings, both directions, and Towery steps quickly from side to side to but always with time for some kind of exchange.
In each case, she figures out some way to say, "Welcome."
"Hey, Curtis! I'm doing fine. I'm so glad to see you. It's good for you."
"How's your day, sweetie? Pretty good. Good to hear that." Sometimes people don't have the money for the crossing, in which case their name is recorded and they are asked to pay the next time they come through.
Or the opposite happens.
"Whoa-whoa, would you like your money back?" A driver hands her a five for the $1 fare and starts away before she can give him the $4. When people drive away completely the overages are recorded in case they come back and make claim.
(No fare is harged to hikers on the Pacific Crest Trail, which includes the bridge.)
She knows that for many motorists the toll takers are "probably the first person they see" in Cascade Locks.
"They come to the toll shack and ask what that little town is down there. They come here and the first question is 'what is that?' It's just a neat deal."
One truck driver passes over coupons for the Hood River bridge.
"A lot of people think we're affiliated with the Hood River Bridge, but that's all right we just nicely tell them it's not the same."
Be they truckers hauling to a job or local residents, Towery admits, "I don't know that many by name. I don't know them but by their face and their friendliness."
In each case, she figures out some way to say, "Welcome."
"Hey, Curtis! I'm doing fine. I'm so glad to see you. It's good for you."
She tells another trucker. "Wow, you too? Three dollars!"
"She joshes with another driver who hands her a slightly ripped coupon, "You tore it — I can't take it
To another, "See you on the other side."