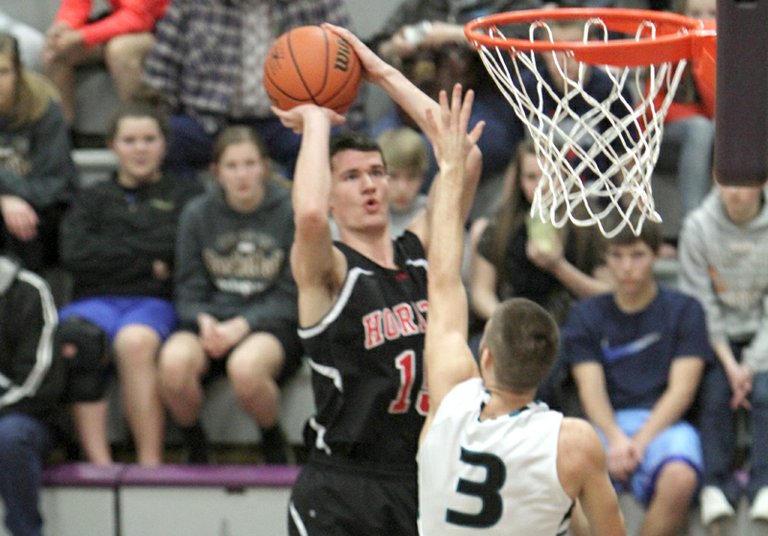 BAKER CITY – Horizon Christian School got the shot it wanted with four seconds remaining in Saturday's Class 1A state title game, but not the result.
As such, the Hawks fell one win shy of achieving back-to-back boys basketball state championships, losing 41-39 to City Christian in the final at Baker City High School.
The Hawks (30-1) were seeking to become the second Class 1A boys team in the past 33 years to win successive small-school crowns (Mohawk has been the only school in more than three decades to go back-to-back; it did so twice in 2002-03 and 2007-08.)
Instead, City's timely, hot outside shooting by its senior-laden team carried the Lions to its first boys basketball championship. The game ended when unanimous all-tourney selection Matt Totaro's floater in the lane in the closing seconds rolled off the rim.
Horizon had advanced to the title game with a 53-42 first-round win Wednesday against Country Christian and a 58-37 victory in Friday's semifinals against Hosanna Christian. That set up a championship game pitting the top-ranked Hawks, riding a 38-game win streak, against the second-ranked Lions (29-2). The game lived up to its billing with six ties and seven lead changes.
Horizon's lone senior, all-tourney second-team pick Jake Wells, said the Hawks felt the pressure of wearing the favorite's tag.
"We have a lot of younger players on our team," he said. "We kept making little mistakes here and there; we were playing like we were on egg shells."
City used a packed-in 2-3 zone defense to neutralize Horizon's size advantage of the 6-foot-7 Wells, 6-5 Totaro and 6-3 Mason Bloomster. Horizon's offense also was slowed when Totaro, the team's leading scorer, sat out the second quarter because he had two personal fouls.
City coach Bryan Lewellen's decision to clog up the middle of the floor — at the expense of giving up open shots from the perimeter — paid big dividends. Horizon was 1 for 14 on 3-point shots in the first half (2 for 16 for the game), as City built a 25-21 halftime lead. Horizon made two of 21 3-pointers in its other two tourney games, giving credence to Lewellen's gameplan.
"Their strategy was good," Horizon coach Darrin Lingel said. "Basically they had one option to hope to beat us; to pack it in and for us not to shoot very well from the outside."
Horizon used a variety of defenses against City, but the Lions took advantage of the few openings they got by hitting their long-range shots. Leading scorer Mikey Chown (14 points) was 4-for-9 on 3-pointers, including 4-for-7 in the first half. Teammate Ryan Glanville came off the bench in the second half to make back-to-back 3s. The first broke a 31-31 tie with 23 seconds left in the third quarter. The second bomb from the same spot on the right baseline gave City a 37-33 lead early in the final period.
Horizon battled back behind Micah Engel. His two free throws with 2:11 remaining pulled Horizon within 37-36. City made three of four foul shots over the next 50 seconds to make the score 40-36. Then Engel struck again, nailing a 3-pointer off a Ryan Aldrich pass to pull Horizon within a point with 1:18 remaining. City's Johnny Hakim made one of two free throws with 10 seconds on the clock, setting up Horizon's final offensive possession with a chance to win with a 3-pointer or tie with a 2-pointer.
"It was a great look, actually," Lingel said. "We called a timeout and set up a play, where Matt would receive the basketball and he would basically get a pick and take it as far as he could and take a shot. … Matt got a really good look … We didn't really consider the 3-point option, because we didn't shoot it all game very well."
Totaro said the play almost worked just as it was drawn up. Horizon inbounded the ball in its half court with seven seconds remaining. Totaro dribbled left around a Bloomster screen near the left elbow, split two City defenders and leaned in with a short jumper. The ball landed softly on the back of the rim, but rolled off to the right side where it was corralled by a City player as the final buzzer sounded.
"We needed two points," Totaro said. "Everyone looked towards me so I decided I needed to take the last shot; it just didn't work out in the end."
The junior wing, one of 11 underclassmen on the Hawks' varsity roster, slumped to the floor as the final buzzer sounded. His performance at the tourney — second in scoring and field goal percentage, and third in rebounding — was stellar, according to Lingel.
"He proved to be the best player in the tournament — by far," Lingel said. "His first game that we played against Country Christian, he was 10 for 11 from the field (27 points) and had a double double (13 rebounds). The second game (against Hosanna), he was solid for us (21 points). He definitely picked up his game (at state) to another level. You could see he wanted it really badly."
Totaro and Wells led Horizon in its semifinal win. The Lions were anchored by bulky 6-6 German exchange student Oliver Herting, the tourney's leading scorer. Wells was ready for the matchup inside, responding with 12 points, eight rebounds, three assists and three blocks.
"I just focused on being big," Wells said. "I just concentrated on bodying him up; not letting him get much room."
Herting countered with 15 points — seven under his average — and 14 rebounds, but he didn't have the supporting cast. Horizon's pressure defense forced 24 turnovers and helped the Hawks build a 40-27 lead after three quarters. Reserve guard Jared Davis made sure there wasn't a Hosanna comeback by scoring seven of his 14 points in the final period.
Lingel said although the team didn't achieve its ultimate goal, there were plenty of positives to take from the season.
"Having a target on your back all year —we had everybody's best game," he said. "There were teams who have been preparing to play us all year. That was their season. They were pointing towards us. I thought the boys did an excellent job of battling through. It tells you what kind of a basketball team we had."