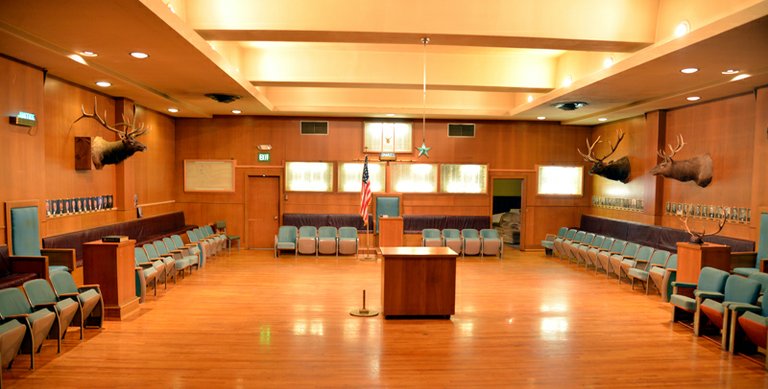 Elks charitable works
LOCAL
All-Night Graduation Party — The Elks Lodge began hosting the all-night graduation party somewhere around 1965 and has continued ever since; some years have included some of the Washington high schools.
Bloodmobile — Now in its 27th year; noted for being held the day after Thanksgiving. Donations average between 75-90 pints per year.
Boy Scouts— Annual sponsorship
Children's Programs — Each year the Elks Lodge invites all children in the community to a Halloween party and a Christmas party.
Christmas Food Baskets — Also in its 27th year. Between 25 and 35 families per year are helped, with the average cost between $150-$175.
Father-Daughter Dance — A new event held this past February.
FISH Food Bank Fundraiser — Held this past February, the event raised approximately $850.
Hoop Shoot — An annual free-throw contest for boys and girls ages 8-13, with local, state and national competitions.
Saturday Night Bingo — Held with the Knights of Columbus to raise money for local charities.
Students of the Month — Now in its 16th year, the program recognizes two high school seniors each month during the school year for their community volunteer work, academics and extracurricular activities. Each receives $100 and is invited to the year-end banquet, where two $1,200 awards, two $500 awards and two $300 awards are given out. Over the years this has amounted to nearly $100,000.
Veterans Day Breakfast — Held annually at the Lodge, the breakfast is free to any veteran. The event is co-sponsored by the American Legion.
Wrestling Tournament — Began in 1997 and has grown to become a premier tournament in Oregon. Elks members donate money and run the concession stand to raise scholarship money to be given to graduating high school senior wrestlers. This has averaged between $1,000-$1,200 per year. A highlight is the first-place award of a decorated toy truck.
STATE
Meadowood Springs Speech and Hearing Camp — Kids may attend on a scholarship at this camp in Eastern Oregon, where they receive individual attention from counselors. The program is supported by local Elks lodges.
Oregon Elks Children's Eye Clinic — Free eye care for any child. The hospital, part of the Casey Eye Clinic, is located in Portland.
Veterans Home in The Dalles — The local Elks Lodge sponsors veterans, especially at holidays, and provides entertainment.
NATIONAL
Elks National Foundation — Established in 1928 to help Elks build stronger communities by funding state and local projects. For more information contact Linda Sanders at 541-490-0709.
In an effort to attract new members and better serve existing ones, Hood River Elks Lodge is taking steps to upgrade its athletic facilities. The lodge offers two racquetball courts, a selection of weights, treadmills, stationary bikes and other basic equipment and locker/shower rooms with saunas, but it's no secret that the amenities have seen better days and are in need of a facelift.
An indoor swimming pool and basketball floor are also located in the athletic area but have been unusable for a number of years due to limited space and needed repairs.
The first major step in renovations, which is underway, is to fill-in the swimming pool, level it with concrete and turn the large rectangular room into an updated workout area. With weights, machines and other equipment organized in the separate room, the open floor surrounding the racquetball courts will be clear and available for members to use for basketball and other activities.
"We have a great space here, it just needs some work," said Christie Wall, Elks member and volunteer. "Some members were vocal about wanting to save the pool, but it had structural issues that would have been extremely expensive to fix. This option will give us a lot more space for workout equipment and activities and will hopefully attract more members to use the Elks as their gym."
Athletic dues for members will increase from $60 to $150 per year (per family) starting April 1. Wall said that although it's a big jump, the $12.50 a month is still much cheaper than other gyms and all of the extra money collected will go directly back to athletic area improvements.
The space is expected to be completed by April 1 and was made possible by donations and discounts in labor and materials.
"The Elks is a charity and a social organization," Wall said. "Other than paying bills, every cent we raise goes to charity. The more members we have, the more fun we can have together while doing charity activities."
n
"Members only" is an antiquated term at the Elks Lodge.
Elks and others are welcome and encouraged to attend events, dinners and programs at the Lodge.
"To get people coming here, they just need to see what we have to offer," said Gary Griffith, a member in his second year as facility manager.
"In a lot of ways, our facility is as good as anything around," he said.
Griffith pointed to two recent events that were open to the community, and drew large crowds: a concert by the local band Larkspur two weeks ago, with proceeds going to FISH food bank, and last week's Young Life Father-Daughter Dance, for which Elks donated the space.
"Part of that was to show some of the parents some of the facilities we do have," Griffith said. "When the athletic area gets finished (see related story, this page) that will be another fairly big draw."
Through all its efforts, "we're always trying to add to membership," Griffith said.
"The lodge is fiscally stable and heading in the right direction," he said.
What will serve the facility well is to bring in new members as well as increase the involvement of current members who don't often participate in the lodge activities, according to Griffith.
He said the Larkspur event "was a very good indication that if we have the events, they (members) will come." Of the 135 in attendance, he said, "I would say in looking at the people who were there, 90 percent were Elks members or Elks members at one time."
The goal is to plan and organize events from within the membership to get the members involved.
Griffith and Elks officer Christie Wall are planning events for every month of the year.
(In the 1970s, when Griffith served on the Serving Committee, something was happening nearly every weekend. His father, Bill Griffith, served as Exalted Ruler in 1993.)
"I'd like to see younger people join and be active members in that they help plan some of these events," Griffith said.
Member dinners and rentals all support one of the prime community enterprises by the Elks: the monthly and school-year-end scholarships, which come from the total lodge operation.
"Every year we have to come up with about $11,000, and the way we do it is through having events and the normal membership dinners," Griffith said.
Currently some kind of booking is in place for half the weekends in 2013. Weekday users include Hood River Lions, who meet at the lodge for lunch on Tuesdays.
This year Elks added Bingo Saturday nights, which are open to the public. Half the proceeds go to Knights of Columbus and half to the Elks for scholarship programs.
Bingo starts at 7 p.m., and $8 dinner specials are also open to the community.
"We're getting away from the stigma that you have to be a member. We have a lot of parties and people don't realize that space is for rent; anniversary and birthday parties, Halloween and Christmas.
"We're trying to make sure we have certain new events coming every month," Griffith said, "and that's something they haven't had for several years."