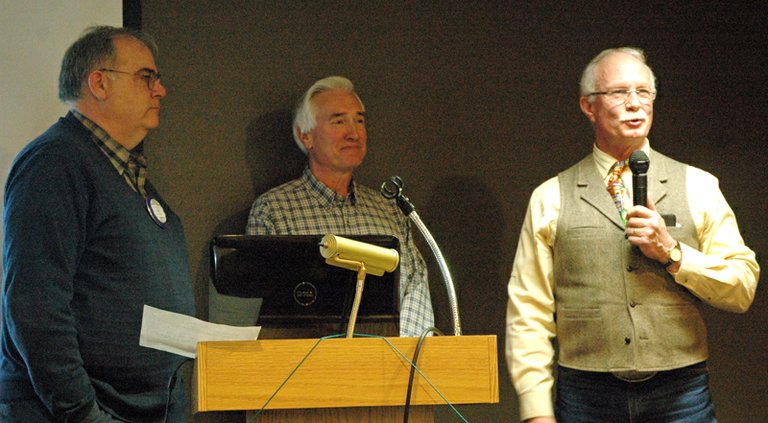 The Hood River Rotary just received a $92,381.45 boost to its scholarship fund, thanks to a trust set up in the early 1990s by Bernice Jackson Hoffman of Pine Grove.
Attorney Teunis J. Wyers shared the news with Rotary members during the group's Feb. 28 meeting.
Hoffman hired Wyers to help plan her estate. At the time, she made a modest donation to the Hood River Rotary, he said, but she also created a separate educational trust for the benefit of five grand-nieces and -nephews. Wyers suggested any unused funds be given to the Hood River Rotary scholarship fund.
"She liked the idea, so that's what we put in the trust," said Wyers. "It provided that each beneficiary could apply for college funding up to age 30, and any amount that wasn't spent when each child reached age 30 would go to Rotary."
The oldest beneficiary celebrated her 30th birthday last December, and Wyers ordered a check for what was left of her fund, which he presented at the meeting.
There is a possibility the scholarship will increase again next month, when the next-oldest child turns 30. "Her fund has in excess of $100,000 in it," said Wyers. "We may end doubling the fund by the time it's done."
The gifts are not the first from the Hoffman estate. Before her death in 1994, Hoffman arranged with Wyers to give Rotary $15,000; $37,157 was sent to Hood River County Museum and a $16,244 gift was presented to the Pine Grove Fire Department.
Hoffman also gave gifts of $16,244 to Nature Conservancy and $15,000 to both Oregon Public Broadcasting and Odell United Methodist Church.
Hoffman died in a Sept. 5, 1994, automobile accident on Fir Mountain Road after suffering an apparent heart attack, according to the Hood River News of Sept. 7, 1994. She was 88.
Hoffman was profiled in a number of articles in the 1970s, 1980s and 1990s for her philanthropy and her work with the Hood River Historical Society. Her grandfather, Capt. Francis Jackson, was one of the early settlers on the east side of the Hood River valley.
The land was the first in the county to be declared a Century Farm, in 1974.
The trust agreement does have some conditions in it, but Wyers said that it does not seem to be limited to graduates or residents of Hood River.
While primarily a loan fund for post-graduate work, the Rotary has the authority to distribute the money into the scholarship fund with a unanimous vote.
"I was a member of the Hood River Rotary when she hired me to do the work, but I've since transferred to the Bingen-White Salmon club," said Wyers.
"It's a real treat for me to do this because I remember going to Portland with the Hood River Rotarians to peddle apples to raise funds for scholarships. It's a lot of fun, but it's a lot of work at $20 a box."