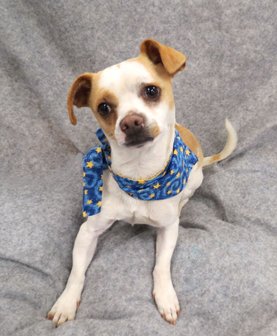 This week volunteers at Adopt A Dog have selected Duncan as the program's adoptable pet of the week. They describe him as follows:
"I mean, how cute is Duncan?! He's about 2 years old and a little on the shy side, but he warms up quickly enough, as soon as he knows he's welcome.
"Duncan doesn't act like he's gotten much lovin' in the past, so he's unsure. But every day he gets more brave, and now eagerly comes up to you and accept a nice cuddle.
"Duncan likes to watch the other dogs play, and has even tried to participate; he's just not sure how to chase, so he follows along and still has a great time! It's so great to see this gentle boy having a blast."
Duncan is current on shots, micro-chipped and will be neutered this week. The adoption fee for Duncan is $185, plus neuter deposit; cash or check only, please. The fee to adopt is charged to recoup standard veterinary expenses.
Since many of AAD's dogs are in foster homes, please call ahead to meet Duncan at the Hukari Animal Shelter, 3910 Heron Drive, Odell; 541-354-1083. Adoption hours are Wednesdays from 5-7 p.m. and Saturdays from 9-11 a.m. Applications may be downloaded at www.hoodriver-adoptadog.org and faxed to 877-833-7166.
The Adopt A Dog program offers 24PetWatch microchips, which include free registration into the 24PetWatch pet recovery service. (For more information visit www.24petwatch.com or call 866-597-2424.)