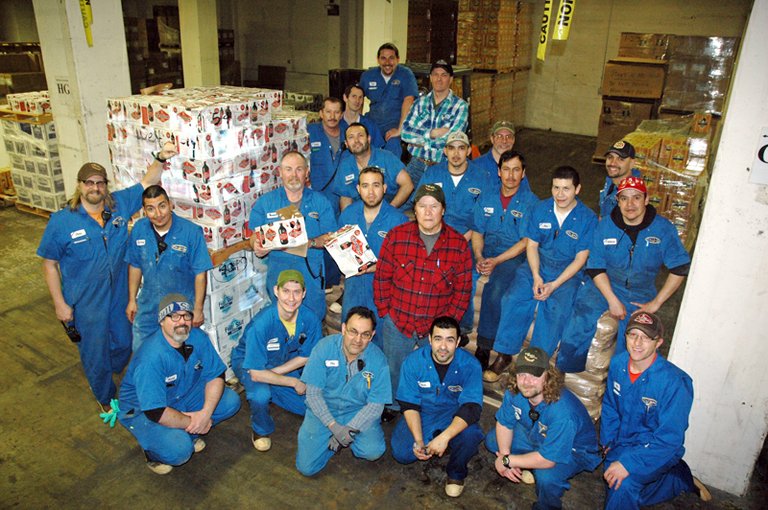 Twenty-five guys gathered around beers on a Sunday morning but it wasn't to watch sports on TV.
The Full Sail Brewing Co. crew responded quickly and in force Feb. 24 when flooding through a ceiling threatened to ruin thousands of bottles of ale and supplies in the Columbia Building warehouse, adjacent to the downtown Hood River brewery.
"It was not something you would ever want to experience again, but the reaction of everyone was incredible," brewmaster Jim Kelter said.
The result: 1,822 cases of beer were damaged, the equivalent of one-and-a-quarter truck loads at 100 barrels on a truck — but every order was filled on schedule the next day.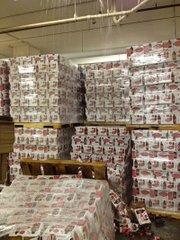 In the early morning hours of Feb. 24, the overhead sprinklers turned on in the Dakine showroom on Columbia Street, after a ceiling heater caught fire.
The sprinklers stopped the fire in minutes, and Dakine lost several dozen garments and backpacks, but the real damage came 40 feet below, all night, in the warehouse: Thousands of gallons of water flowed through the floor.
Full Sail purchased the building, located just east of the brewery, in 2012, and uses it to store beer for shipment, along with packaging products and beer-making ingredients.
Fire sprinkler systems are connected to the building alarm system so when a water flow is detected, the alarm system sounds, simultaneously alerting the alarm monitoring company that there is a potential problem.
The alarm company then notifies the 9-1-1 center, which sends the fire department.
"Even though the sprinkler system worked correctly, the fire alarm system did not initiate an emergency call, so we were never notified," said Fire Chief Devon Wells.
"We would have been on scene in five minutes, stopping the water flow and limiting the damage to the show room," he said.
During the investigation, Hood River Fire Marshal Mackwell noted that the alarm panel had received notification from the sprinkler system that there was a flow detected. However, the system did not finish the process and the sprinkler head continued to flood approximately 30 gallons per minute for almost 12 hours.
n
Brewer Greg Lizama was the first on the scene.
Lizama came in at 5:30 a.m., on schedule, to do the beer filtration, and he entered via the overhead door connecting the main brewery building and the Columbia Building warehouse.
"He sees water on the floor and water coming through the ceiling, and when he opened the overhead door there was a sheet of water falling," said brewmaster Jim Kelter.
Water was flowing through "every penetration, squirting everywhere," Kelter said.
Lizama called Kelter, who arrived at 5:48.
"By 6:20, we had people on site, within a half hour people were moving stuff, and the numbers grew as the day progressed," Kelter said.
"By 7 a.m. there were 20 people working. Most stayed 10 hours to clean this up," Kelter said. "Our supervisors got their people mobilized."
Response was enough that at one point packaging supervisor Colin Godkin told his crew, "thanks for offering, but we have plenty of bodies."
Production Supervisor Mac Lee said, "For me it's part of the employee ownership and seeing it in action; people willingly taking their day off and coming in. They have pride in the product and then it's almost heart-breaking seeing all your work potentially damaged."
"It was an affirmation of what the pride in the workplace shows," said Human Relations Manager Greg Knutson. "It touched us all deeply."
"The cool thing is that the whole thing was sorted out and back together Monday morning with no impact," Lee said. "We continued to ship as we sorted out the damaged stuff but there was no impact to our normal operations."
This despite stacks of Session and other cases of beer that were "totally deteriorated" by water. Cartons of beer were damaged by the dirty water, and in some cases the pallets had collapsed on themselves. (The cartons have been removed from the premises and, by order of Oregon Liquor Control Commission, the beer, containers and packaging will be destroyed for health reasons.)
n
The Full Sail supervisors said there were inspiring moments that morning.
"There was a part of the day when there were pallets everywhere; you could barely get a forklift around," Godkin said, "but Maximo (Villafana) on forklift — we call him the surgeon — finding ways to fit pallets everywhere."
When the fire department arrived at 7:30 a.m., they killed power to the building, and the crew was well into moving beer out of the warehouse, but it didn't stop them.
"The emergency lights go on, and these guys carried on," Lee said.
Godkin said, "I watched Elias (Barron) wade in an inch of water, carrying his McDonald's bag and his juice, ready go jump right on it and get to work, a big old grin on his face. It was pretty cool."
Lee said the challenge was not the beer that was damaged but the labels and caps, known as crowns, that were in harm's way and had to be kept pristine, or there would be no shipment of beer on Monday.
You can make all the beer you want but without clean caps and labels you can't ship it and you can't sell it.
"It would have precluded our ability to go into production on Monday if these guys had not gone through everything, separated the wet from the keepers, getting it restacked and rewrapped, so we were ready to go first thing Monday morning," Kelter said.
"What we saw at 6:30 a.m. was all of our finished goods, everything we're shipping, about 25,000 cases of beer, and water everywhere and not knowing the total extent," Lee said. "So if we can't ship, we can't fill the trucks, and we can't get it to the distributors, and there is potential impact at the retail level.
"And with all this mess going on here, including labels and crowns getting wet, meaning you can't even make more beer, there was the potential damage of future stock," Lee said. "My concern was to get the labels and crowns out, so we can make more beer, minimize the damage and get the brewery up and running as soon as we can, so we can produce again as early as we can.
"Then we figure out how we sort out good beer from bad beer," said Lee.
How did they get a handle on undamaged product?
"Go through every pallet," Godkin said. "We had to sort out which rows were dry and which ones were wet, take all the wet rows out here, and manually go through them." He pointed to floor space on the main brewery building, which remained dry.
Godkin said it amounted to 150 pallets of beer — about 30 cases of beer per stack. The pallets were wrapped in clear shrink-wrap and had to be torn apart and thoroughly inspected.
"It was triage," Lee said.
"We were hand-unstacking, 'good or bad?', three to five people around every pallet all day long, the bad over here, the good, there, and how do we get it back in here and keep it dry?'" Godkin said.
How were on-the-spot decisions made?
"If it wasn't perfect, it had to go," Kelter said. "The decisions were made collectively: 'OK, there was a direct hit on this,' or 'We can't do anything with this' — 'This one had an indirect hit; pull this one out and start going through it'," he said.
What about those cartons that looked fine, or six-packs within the cartons that were untouched?
"We send things out perfect every day; this was no different," Kelter said.
"The risk you take is you send something out and if the carton has been compromised, and it drops on someone's foot somewhere," Lee explained.
Days later, the boxes looked unvarnished, but Godkin pointed out that "when a carton gets saturated, the glue weakens, and when it dries out it doesn't go back to the same integrity. The labels are soggy; the bottles are scuffing against each other and the labels are damaged.
"You could immediately open every box, look at every bottle and start building new cartons and carriers," Godkin said. "You can understand the amount of work that goes into that. The decision was made NOT to do that."
The Full Sail supervisors said the main concern was health and the quality of the beer.
"It's not just integrity of the package but the quality of the beer itself," Lee said. "It was fresh water coming through carpet, and building material in between," he said.
"You end up with one person's idea of what's okay versus another's, but it's got to be perfect," Kelter said.
Nonetheless, some of the warehoused beer was salvaged, and Lee said the workers cleared out an area in the dry building "so we could pick up with production with enough stock to fill orders the next day.
"We were lucky because we carry enough of buffer inventory, for those times when a customer runs out and needs more product," Lee said.
"It's for when there are surprises — we've never had that level of surprise before," Kelter said, adding that it was "the worst team-building exercise."
And Lee joked that "the floor is the cleanest it's been for a while."