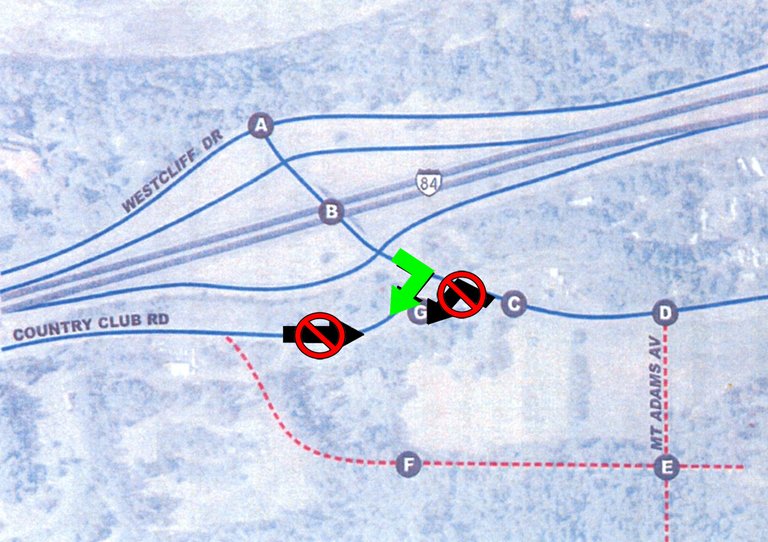 Hope remains alive for Hood River to keep some direct access to Country Club Road.
After months of the Oregon Department of Transportation telling Hood River that an access lane — for cars coming from the exit 62 overpass to Country Club Road — was out of the question, ODOT may be changing course.
And it all seems to be over a misunderstanding about exactly how each side defined a "slip lane."
Hood River City Manager Bob Francis advocated to ODOT for a slip lane, along with winery and farm owners that use Country Club as an important corridor for truck and tourist traffic.
According to Francis, the slip lane would allow exit 62 vehicles and overpass traffic entering Hood River a right-hand turn onto Country Club Road. The "slip" would use the existing road, making it one-way and exclude vehicle left-hand turns from Cascade.
Francis said he had been told by ODOT that the city could lose $3 million in funding for the project by adding the slip lane concept to the project.
Late last week, though, Hood River got some help from its state legislators in sorting through the matter.
Rep. Mark Johnson and Sen. Chuck Thomsen requested a meeting with ODOT head Matthew Garrett and Region 1 manager Jason Tell to ask them about ODOT's reasoning for disallowing a right-hand turn access to Country Club for vehicles coming across the overpass or exiting the freeway.
According to Thomsen, ODOT representatives told him they understood a "slip lane" to be an added lane of traffic over the overpass and freeway off ramp and on to Country Club.
"They said they absolutely could not do that," Thomsen said.
Johnson and Thomsen explained that the city did not want an extra lane. Instead the city wants to see traffic limited to a right-hand turn onto Country Club from the overpass, while not allowing eastbound traffic to go from Country Club to Cascade or to allow left-hand turns from Cascade onto Country Club.
"When we described it as a right turn off the freeway, they said they hadn't thought of that," Thomsen said.
Francis said the ODOT will go back and review its traffic numbers "over the next week or so" and will then likely make a site visit to determine if right-hand turn after the overpass is feasible.
ODOT spokesman Don Hamilton said that any changes to the Interchange Access Management Plan, which the city signed off on in 2011, would be complicated and could be expensive.
"You lose some of the real advantages of this plan even if you keep it open for only the right-hand turn for that road," Hamilton said.
However, he added that ODOT representatives would continue to discuss options with Thomsen and Johnson.
Vehicles traveling on Cascade from downtown Hood River would have to turn onto Mt. Adams Street, turn right on a yet-to-be-named road, and then turn left on Country Club in order to access the road.
(See graphic and project description, this page.)
However, getting to Hood River's wineries and orchards from the freeway would still be a simple task if the right-turn-only designated slip lane was added.
"I don't think this would be a real costly thing for (ODOT)," Thomsen said. "They were open to taking a right turn onto it."
Francis said he hopes that city representatives can meet with ODOT representatives when they inspect the site so that everyone can get on the same page.
"I could see where the nomenclature confused both parties," he said. "I think if we are sitting on the ground with them we can tell them and show them exactly what we want."
Francis said that with more time now needed to see if the slip lane possibility will work out, a public hearing on the renaming of a new portion of road between Country Club and Mt. Adams will likely be continued until more details are finalized.
He also added that if the slip lane comes to fulfillment, it would be unlikely the new portion of road would be able to be named Country Club Road, as the portion of Country Club accessing Cascade Avenue would not be completely closed off.
Regardless of what the section of road is named, Francis and Thomsen were glad to see some positive movement on the slip lane discussion.
"It was a positive meeting," Thomsen said. "Hopefully this can be a win-win for everyone. Sometimes I don't feel good coming out of those meetings but this time I did."
Work on the Country Club realignment is continuing and Francis said the new section of road, which will run from Mt. Adams Avenue to Country Club, could be open as soon as September. The project must be completed by the end of the year.
Crestline Construction will be conducting blasting on the site Wednesday, March 6, to loosen up some of the rock in the construction area. Drivers should expect the possibility of traffic delays on Country Club and West Cascade around 1 p.m. that day during blasting operations.