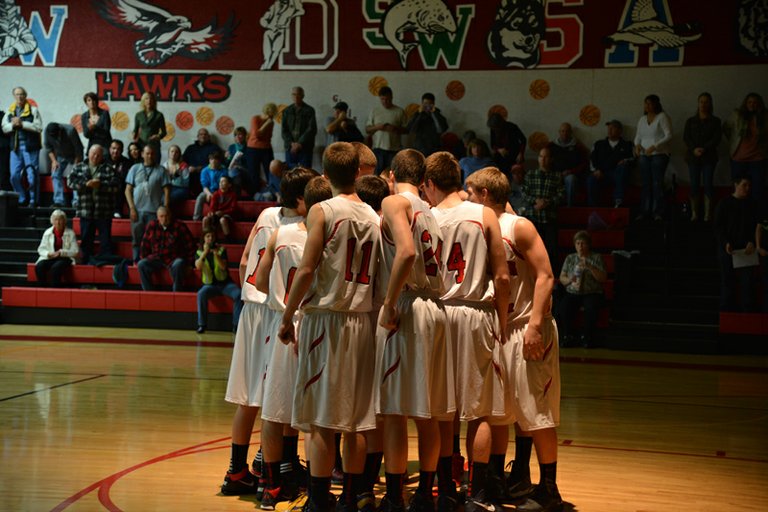 The Hawks return 11 of 12 varsity players to the program, which has finished fifth, first and second at the Class 1A state tournament in Baker City the past three seasons. Horizon spent most of the 2012-13 campaign ranked first or second and rode a 38-game win streak over two seasons into the March 2 title game — a 41-39 loss to City Christian of Portland.
Junior wing Matt Totaro said the team came a long way after losing six seniors off its 2012 state championship team.
"There was a lot of growth throughout the season," he said. "It was a great season, but kind of a heartbreaking loss in the end.
"We were successful at a lot of things, so we shouldn't hang our heads too low just because we lost our last game."
Horizon finished with a 30-1 record and won its third successive Big Sky district championship.
Horizon's lone senior, 6-foot-7 post Jake Wells, transferred to the school as a junior from Trout Lake. "Coming to Horizon was one of the best decisions I've ever made," Wells said. "Being the lone senior I saw myself as being in the leadership role — having to step up and lead the team."
One way he did so was becoming a more vocal player on and off the court.
"Even though not everything this year turned out like we wanted; even though it might not seem like it right now; we still had an incredible season," he said.
Horizon coach Darrin Lingel said Wells' leadership will be missed.
"Obviously it was sad that he didn't go out on a W (win)," Lingel said. "Overall, Jake played well this year.
"I thought the key of the whole (state) tournament was against Hosanna (in the semifinals). I thought for Jake, that was probably one of the best games I've seen him play."
Wells finished fourth on the team in scoring with a 11.2-points-per-game average. He tied with Totaro for first in rebounding (8.7 a game) and led in blocks (3.1) and steals (2.5). Horizon returns 86 percent of its point production, led by Totaro (16.7 ppg), Jared Davis (11.8) and Mason Bloomster (11.5).
Lingel said the Hawk players should be more comfortable dealing with the pressure of carrying the favorite tag.
"All year it built every game," he said. "When you get into the 20s (wins), you're building every game with pressure — not to lose.
"You don't talk about it, but it's there."
"I didn't feel we were as confident as we should have been," he added. "I felt some of the pressure got to some of the younger kids. It's a big situation on a big stage. It's something we can grow from.
"We have 11 returning off this year's championship run," Lingel added. "The future looks bright for next year, as well. Our goal is to make another run next year."