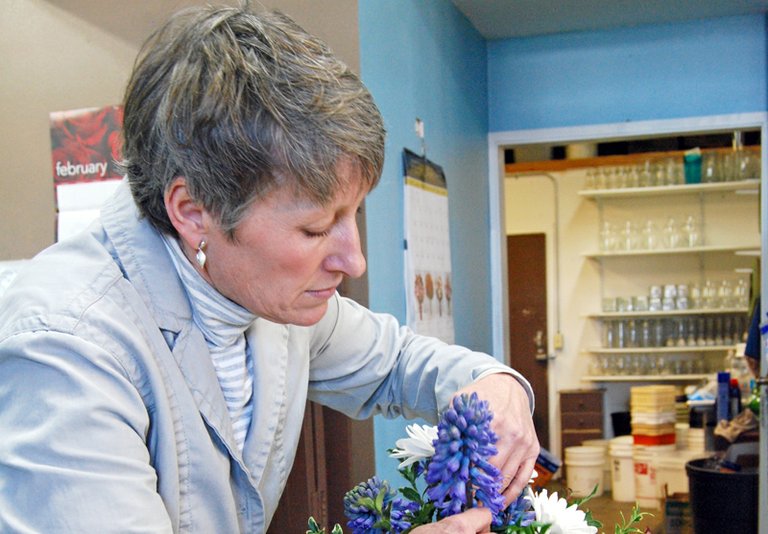 Tammy Hall began her love affair with flowers when she was just 16. That's when she took on the mantle of floral delivery person for her parents' flower shop on the Heights. She's taken a few detours since then, but always wound her way back to the blossoms.
In fact, it's going on 11 years since Hall bought the business that has become Tammy's Floral, taking over from her parents, Lindamay and Roger Woosley.
With delicious scents filling the store and an explosion of beauty surrounding her, Hall shares a bit about her life in bloom.
"Being a small-business owner means you wear every hat," said Hall. "I design, deliver, clean up and manage the shop. Luckily, I have a fantastic staff that helps with everything." She employs two full-time designers and several part-time helpers and delivery people. During holidays, Hall routinely has to pull in extended family to help.
"When it's Valentine's Day or Mother's Day, my mom and sister (Trudy) will come and help design. My father and sons have both done deliveries."
Hall, who was born and raised in Hood River, recognizes and appreciates the special place her business holds in people's lives.
"You see weddings, birthdays and funerals," said Hall. "It's all part of life and I love being part of the community this way. I just love all the people.
"When I create something and deliver it, I can see the people are so happy. It is very fulfilling," said Hall. While there are four big events that keep the shop operating at full capacity (Valentine's Day, Mother's Day, Christmas and Prom), other times can be lean.
"It is sort of a feast or famine type business," said Hall. Luckily for Hall and the other flower businesses in town, Hood River's desirability as a wedding venue is bringing in more steady business between June and October.
"We have 22 weekends in the wedding season and those are now really busy," said Hall, who notes that brides now prefer outdoor weddings instead of the previously common church venues.
"It seems like we just keep having more outdoor venues popping up here every year," she said. Hall delivers throughout the Gorge and has decorated venues in The Dalles and across the river, as well.
When it comes to communicating, Hall believes that flowers carry a special message.
"Guys especially seem to see those dozen red roses as a way to express their love; that is the most popular (bouquet) on Valentine's Day. They know their meaning is clear.
"Of course, the ones who forget Valentine's Day are in here on Feb. 15 buying TWO dozen red roses. We know they are the ones in the dog house!" chuckled Hall.
As Hall tucks a sumptuous blue hyacinth into a clear round vase, her skilled hands find just the right placement within the floral still-life, and a moment of heartfelt joy can be seen rising in her smile.
Tammy's Floral is located at 1215 12th St. Luckily for all of us, as weather warms the coolers are filling up with the delightful reminders of spring.