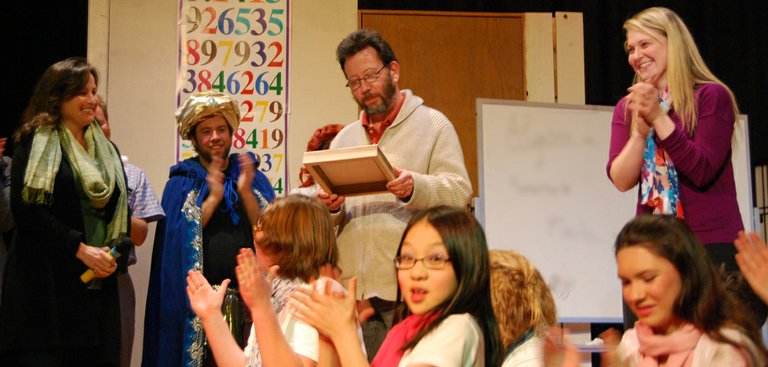 "For artistry, excellence and dedication in arts education in our schools and community": That is how a newly created award will honor future dedicated educators in Hood River County. This year's first recipient of those eloquent accolades however is Hood River Valley High School Music Director Mark Steighner.
"Attempting to consolidate what Mark Steighner has meant to our community in a few words is similar to writing a paragraph summarizing the works of Shakespeare," said Hood River Middle School Principal Brent Emmons during the March 6 inaugural presentation.
To honor Steighner's 30 years of excellence in music education and his positive impact on the arts within the community, Columbia Gorge Arts in Education went beyond a one-time recognition and created the new award — henceforth to be presented to future recipients as the "Steighner Arts Education Award."
"I was completely surprised by the recognition and appreciate it very much. However, I hope that the award didn't take away from the real stars of the night, the middle school students and their outstanding performance of the musical," said Steighner. "I am grateful for the amount of support that I have received in the community over the past thirty years and hope to continue to promote the importance of music and the arts for many more years to come."
Shelley Toon Hight, director of CGAE, was joined by HRV Principal Karen Neitzel, Emmons and HRMS music teacher Rebecca Nederhiser in presenting the beautifully crafted wooden plaque in front of the final audience of the HRMS musical "Three-and-a-Half Wishes," an original written by Steighner.
"From the moment I started working with Mark Steighner here in Hood River, I was amazed by his professionalism, work ethic and creativity in providing diverse and meaningful music opportunities for the community," said Nederhiser. "The last two years have been an amazing adventure for us, performing two original musicals featuring our staff and students."
Steighner wrote both HRMS musicals, and dozens of others — many of which have been produced at HRV and the CAST Theater.
Acknowledging Steighner's personal musical accomplishments and his ability to inspire high achievement in his students, Toon and the gathered audience applauded Steighner with enthusiasm.
"One quote of Mark's that has really stuck with me this year, has been the phrase, 'Don't wish for it; make it happen,'" said Nederhiser. "Mark is a keen example of this principle, and I think is an inspiration to all of us about learning and growing toward excellence."
"We hope that Mark's passion and commitment to generative work will inspire others to serve their community through arts education," said Toon Hight. "The quote, 'A great society is created when someone plants trees whose shade they will never sit in' comes to mind when I think of the impact of Mark's work."
Emmons went on to say, "I have been blessed to have been associated with Mark Steighner for the past 16 years. He is a colleague, role model and a friend. Mark's contribution to our community has impacted tens of thousands of people over the years."
According to the evening presenters, the future recipients of the Steighner Arts Education Award have inspiring standards to live up to.