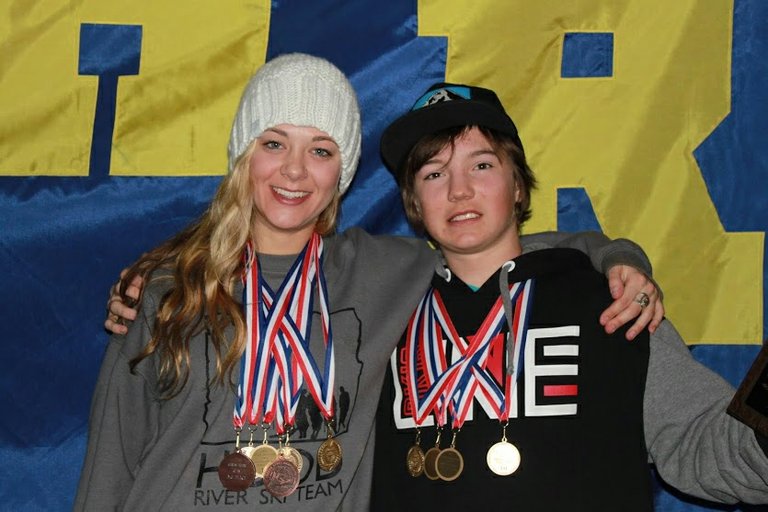 Hood River Valley High School freestyle skiers flipped, spun, shredded and grinded their way to domination in what is fast becoming a popular new facet of high school skiing. In last week's OISRA state championships, HRV boys and girls freestyle competitors made a clean sweep in all events, taking first as a combined team, first as boys and girls teams and claiming most of the top three spots in all individual events.
For the boys, Tucker FitzSimons proved that his aggressive young skate-inspired style is what the judges want to see. The HRV freshman won the combined title and took first in halfpipe, slopestyle and rail jam contests. On the girls' side, Kayla Van Hoose finished in similar fashion to claim titles in every category possible.
"We definitely have the biggest freestyle contingent in the state," coach Scott Keillor said. "Freestyle is a growing program for high schools and as schools catch on competition is going to get bigger and better. For Hood River, we're quickly building a legacy as the best freestyle program in the state."
This year marks the second since the Oregon Interscholastic Ski Racing Association incorporated freestyle competition into its calendar of sanctioned league and state events. Although OISRA added Nordic racing to its repertoire in 2000, the HRV Nordic team competes through the Oregon High School Nordic Organization.
In the girls freestyle field, the only real competition was amongst their own teammates. Van Hoose was followed in all three events by Hannah Bergemann in second and Hannah Hurley in third. For the boys, competitors from LaSalle, Sandy, Lincoln, Sunset and Sandy high schools gave the HRV skiers some competition.
For the HRV boys, Brendan Kerr was runner-up in the halfpipe and fourth in the rail jam to finish third overall. Sean Lund finished sixth for the team with fourth-place halfpipe and third-place rail jam results.