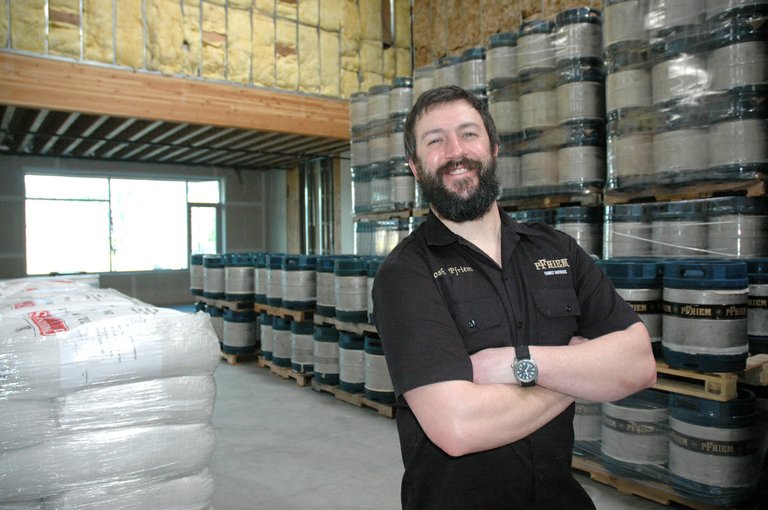 More room to make beer — and bottle it, too.
That's the essence of expansion plans by Priem Family Brewing, which opened in April 2012 and had outgrown its space within two months.
Owner Josh Pfriem has announced plans to expand the kitchen and install a larger keg cooler as well as a larger "warming room" for fermenting bottled beer.
The Port of Hood River last week approved a revised lease for the brewery, in the Halyard Building.
Pfriem will add 4,000 square feet of space, enabling it to double its volume from 3,000 barrels annually to 6,000.
Pfriem will also start bottling its beer in the new space, which will feature a sour-beer kegging area in the front window facing Portway Avenue.
Construction should start within a month, and Pfriem hopes to complete the work sometime this summer. It marks the first expansion for a business that started just six months ago.
"It's exciting," Pfriem said of the pending expansion.
"We'll get to the point where we have everything in play that we really want to do; the full vision for the place with our bottling and our sour beers and a really cool place outside, and an optimal food experience," he said.
Pfriem ales are widely available in the Hood River area and Portland, and Pfriem is about to expand to numerous outlets in Washington and British Columbia.
"That was a market that we just had not expected, but we're getting calls from all over," Pfriem said.
Keeping up with demand has been a challenge for Pfriem, who recently hired Dan Peterson as head brewer and Dave McGinley as assistant brewer. Thomas Levinski is chef and Stephanie Antoinette manages the tasting room.
Last month Pfriem added two gleaming fermenting tanks, and the expansion will allow for two more to be installed, giving the purveyor of Belgian-style ales, IPAs and other varieties the capacity to make twice as much beer as they do now.
"This allows us to utilize space better and expand the kitchen," Pfriem said. "The tasting room has been more successful than we thought it would be, so this will allow us to do more in-house, cooking from scratch, and work with local farmers."
The expansion will not affect the tasting room, other than installation of an outdoor beer garden on the east side of the building, which is pending city approval but, Pfriem said, is likely to be in place this summer.
However, overall indoor seating will expand when the upstairs event room is completed this spring.