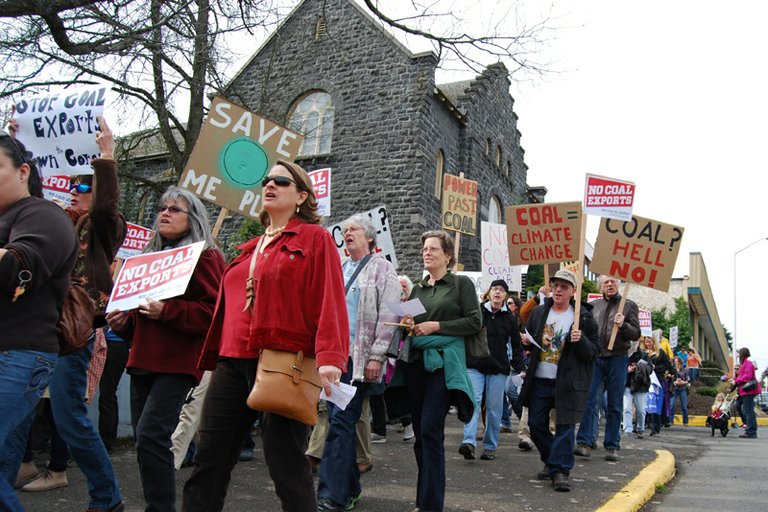 "We're going to stop that coal with the power of the soul!" recited Chaplain Mark Thomas of Hood River to the gathering local citizens.
The crowd of about 125 began arriving at Riverside Community Church at noon. Then, before the marchers processed to Overlook Park, Riverside's Pastor Vicki Stifter donned a purple stole to initiate the march.
"I wear this purple Lenten stole as part of my Christian tradition to recognize that this is a time of repentance. It is a time to turn away from ways that are deadly towards those that are life-giving. It is time to turn away from destruction," she said.
The March 13 rally was coordinated by Gorge Ecumenical Ministries, a cross-denominational church service organization in Hood River. Concerned about the potential environmental impacts of proposed massive coal shipments through the Columbia River Gorge for export to China and subsequent air pollution consequences, marchers came to voice their concerns in a public demonstration.
On April 1, Gov. John Kitzhaber is slated to make a decision on a proposed coastal export terminal which would relay millions of tons of coal overseas.
The rally audience, and a similar crowd marching in Salem at the same time, hoped to raise an alarm, inspire constituents to act and dissuade him from approving the permit.
At 12:20 p.m., carrying signs and walking briskly, the large crowd took the one-block walk to Overlook Park to hear speeches from local faith representatives and dignitaries.
Dozens of bells began to ring, carried in hands of every color and size, as walkers chanted "Hey, Hey, Ho, Ho — Coal exports have to go! ... Clean coal is a dirty lie! ... President Obama, we don't want no climate drama!"
Arriving at the park, beneath the American flag, Pastor John Boonstra of Bethel United Church of Christ in White Salmon asked the crowd to view their faith as a call to action to protect the earth. The crowd responded with cheers and bells aplenty.
Arthur Babitz spoke next, not in his role as mayor of Hood River but as a private citizen. Acknowledging his reputation as a person who researches issues thoroughly, Babitz used that research to inspire the crowd.
"Exporting coal is not good energy policy. Hauling coal from Wyoming to Asia is not good environmental policy. Sending coal to be burned without even basic pollution controls is not good environmental policy. Trading a few jobs shoveling coal onto barges or trains for the beauty of the Columbia River Gorge is not good economic policy," said Babitz.
Babitz also reminded the crowd that the City of Hood River took an official position opposing coal transport through the Gorge:
"There are not two sides to this. Oregon will lose; the world will lose if these ill-considered plans move forward," he said.
Brett VandenHeuvel of Columbia Riverkeeper stepped up to offer some of the scientific detail about coal dust from transport by barge or train and its effect on salmon, water quality and soils.
As a hospital chaplain, Thomas then exhorted the crowd to think about the impact of regret on their souls.
"Let us not, in the future, rise each day to wipe coal dust from our doors and windows, our playgrounds and our schools ... and regret that we did not do enough ... As we come to the end of our days, it is regret that threatens the soul more than anything else ... It is our responsibility to act now to protect our earth," said Thomas.
The opening speakers were joined by Peter Cornelison of Friends of the Columbia Gorge, Columbia High School student Perry Knowles and 8-year-old Daeuthen Dahlquist, of White Salmon. Each shared thoughts and facts on the impact of transporting and burning the proposed 130 million tons of coal per year — and each met with resounding cheers and bells from the crowd.
Anna Carmichael, rally speaker and priest of St. Mark's Episcopal Church in Hood River, summarized the main faith-based message of the day:
"We have a moral imperative to care for God's good creation. Anytime we exploit creation, we are acting against what God intended."
The speeches concluded and the crowd took signs, bells and voices in unison on a loop walk through downtown Hood River. Honks and applause followed them on the short but noisy journey.