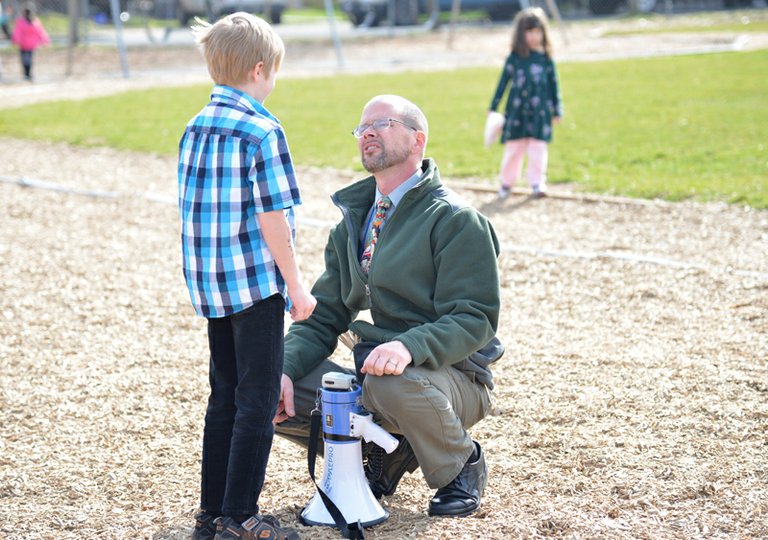 Whistle? Check. Mighty Miles certificates and Dragon Dineros? Check. Clothespin hall passes? Check. Bullhorn, two-way radio and blood-borne pathogens safety kit?
Check.
Loaded up with a flourish of specialized equipment and moving with the speed of a gazelle, May Street Elementary Principal Kelly Beard heads briskly toward the cafeteria and playground to share some face time with his students.
For anyone trying to keep up with this energetic and focused principal, a few other things become apparent when assessing the equipment he uses daily.
Leadership? Check. Compassion? Check. Hearty smile, genuine concern and respect for the full humanity of each student no matter how small? Check.
"A good day is when I can walk away feeling I have had a clear and effective impact on a child," said Beard.
Putting the welfare and improvement of each child in his care at the top of his list is Beard's driving mission. Recognizing the strengths of his students, staff and families is the philosophical pathway he takes to achieve his goals.
"The staff here is phenomenal and such a pleasure to work with," said Beard. "The parents are super supportive. This is what makes May Street a neighborhood and a community."
Now in his second year at May Street, with 509 students and about 52 staff persons, Beard has experienced the full spectrum of school sizes in the county. He was previously the principal at Pine Grove Elementary with just 140 students.
Regardless of his school population, Beard has always kept focused on being an actively engaged and conscientious leader. Much like a mayor of a small town, Beard's day involves all the mundane aspects of human management — setting rules, enforcing rules, disciplining rule-breakers and solving problems.
Even more like a mayor however, Beard maintains and communicates the vision that binds this little city together.
That vision? Well-educated and socially responsible individuals, and a kinder community.
When discipline is in order on the playground, Beard can be seen tenderly taking the errant student aside out of earshot of others, kneeling down so he is face to face and inspiring the offender into better behavior. Likewise, good behaviors and achievements are quickly recognized and rewarded publically.
Beard leads by example toward the higher goals of kindness, respect, sensitivity, responsibility and forgiveness. He also isn't afraid to show his own youthful spirit.
As time slips away on the playground, Beard brings his bullhorn up. Instead of barking the order to line up that every one of us can recall with a cringe, Beard playfully sings the directions to each successive group of recess-completers.
"Here we go first-graders, here we go. Line up first graders, line up," sings Beard in an inviting baritone with a giant smile.
The order, which keeps this city running well, is delivered with joy, making the citizens happy and more likely to comply. Beard must understand the most fundamental rule of all — Education always begins by witnessing great role models.
And what is one of the ultimate secrets to his success?
Beard sees his leadership as service.
"I would say I am in the employ of everyone here. I work for the kids first and foremost; then the parents and the staff — I'm here to support them."