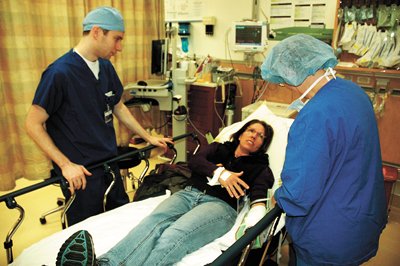 Up in the hills and down in the town, responders tested their skills in a dual "emergency" Thursday.
Near Parkdale and in the middle of Hood River, emergency personnel and support staff from numerous agencies acted as if a school shooting had taken place in Hood River and a dam burst at Laurance Lake.
Neither thing happened, but workers and volunteers from the hospital, law enforcement, fire and water district agencies, health department, school district, amateur radio groups and other agencies evacuated residents, fixed "wounds," answered calls and shared information, all with the idea of being better prepared for when actual disasters strike.
In the "shooting" drill at Providence, adult Kate Olson played a 12-year-old who had never had blood drawn, and while her juvenile histrionics brought smiles to her face and those of her hospital attendants, all parties tried to stay in character and the medical staffers spoke to her and to each other as if Olson were under emergency treatment.
Jane Burke, ER manager, said, "This drill is a great opportunity to have staff go through what a large surge of critically injured patients looks like and to think about how we can use all the hospital resources efficiently should that situation ever occur."
Hood River Fire Marshal Peter Mackwell said, "It's always good to exercise mass casualties. We got a chance to do triage today, and it gives EMTs a good practice opportunity. It's all about decision making," he said.
Emergency Services Manager Karl Tesch, who organized the event, said that every five years the county must test its evacuation procedures in case of a dam break, in keeping with Federal Energy Regulatory Commission requirements.
In this case, four residences downhill from Laurance Lake were recruited for the simulated evacuation, which Tesch sent went according to plan.
The shooting drill started at Hood River Fire Station, where paramedics and EMTs did a "victim" triage (prioritizing each person's medical needs) and then transported them to Providence Hood River Memorial Hospital.
Also being tested, and for the first time, was the Joint Information Center, based next to the County 9-1-1 Dispatch Center. This is the standing response group responsible for gathering and sending out timely and accurate information to media and the community as a public safety service, in times of emergency.
Public information officers from the hospital, school district, sheriff's department health department and others had to formulate news releases from the two "shooting" and "dam break" and provide status reports.
"It went well," Tesch said. The drill "makes agencies work together to a common goal in terms of communications and cooperation, and we were quite well-satisfied."
"It was a great opportunity to get different entities together within the community who are responsible for public safety, and we don't do all that often," said Sheriff Matt English, who took office in January. (A school violence drill was held in April, and some kind of multi-agency drill takes place every year or two.
The Laurance Lake incident posited that an earthquake caused disruption of the dam, with a citizen calling 9-1-1 to set off the scenario.
Tesch said that in Middle Fork Irrigation District's emergency notification procedures, they work with the county to notify residents in the impacted area. As part of the drill, weather made aerial surveillance of the area impossible, challenging efforts to determine the number and location of residents and anglers who might have been stranded.
For drill purposes, the four upper valley residents were alerted last week, and were successfully notified and evacuated on Thursday.