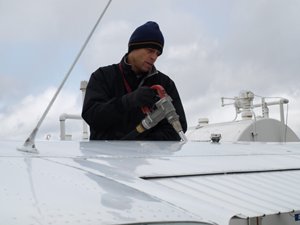 This week has been mostly cold, windy and rainy; not exactly the kind of weather that makes you want to go flying. But Thursday at Ken Jernstedt Airfield in Hood River, Dave Koebel is doing his pre-flight check to make sure everything is ready for a flight.
"The weather's not a problem — the plane doesn't care," he says. "The trick is going to be getting high enough to do the tests these guys want to do. They want to be at 6,000 feet."
As Koebel does his check, the guys, who work at Hood Technology Vision Inc., are strapping cameras to the landing gear of the airplane. One of the men will accompany him up for the testing.
Koebel works as a pilot and flight instructor for Classic Wings Aero Services, the fixed-base operator at Ken Jernstedt Airfield. And if it weren't for jobs like this, there normally wouldn't be an awful lot for Koebel to do during winter and early spring weather. This year has been a little different, though.
"This year we haven't been slow at all — we've had great weather, which is unusual for us in the winter," he says. "We've had a lot of flyable days and we have a new crew of interested students — which is rare in the winter.
"Usually they start streaming in about May, when the weather gets better; the itch kind of grabs, and they go 'I think I wanna do this,'" he says. "This year we started ground school in January, and four of the five students said, 'We wanna fly — right now.'
"And we've got a couple of companies that are testing Gimbals (the abovementioned cameras) and they've been keeping us very busy. For the most part they're designed to go on unmanned aerial vehicles, but they can't fly the UAVs here so they strap them onto manned aircraft and we go around and do the testing."
There's not much demand for scenic flights this time of year, although "people still try; on the odd, beautiful winter day it's really pretty going around Mount Hood — it's just gorgeous," Koebel says. "But the winter, we normally get ceilings like this and just can't do it."
Koebel (pronounced "cable") grew up in Ohio and came to Hood River 24 years ago to windsurf.
"Pretty quickly after I got here we had a summer with no wind, and I thought, 'awwww,'" he says. "I was building a deck for a buddy of mine, and he told me he was building an airplane in his basement. I thought, 'Oh great, a model airplane.'
"But he had an amazing kit he was building, probably the first composite kit out of Seattle — four-seater, just drop-dead gorgeous," he says.
His friend, who was taking flying lessons, drove him out to the airport ("I had no idea there was an airport here; I was focused on the river — I just wanted to sail") and Koebel was approached by an instructor who asked if he wanted to take a Discovery Flight.
"I said, 'Yeah, I'm bored; OK,' then when we got back I said, 'Hey, if you guys take plastic, I'm your next student. This is amazing! I need to do this.' Just hook, line and sinker. And I've never looked back."
At one point Koebel did get a little bored with flying, but then discovered soaring and that fanned the flame again. He has logged a total of 6,700 hours in the air.
"Every day is different — every student is different," he says. "I love teaching. It's really fun to watch people get it — to be terrified of landing because 'here comes the runway and I don't know what to do'; to soloing, and just beaming; and then graduating and leaving the nest.
"Students of mine have gone on to fly military; they fly commercially; they've gone on to Alaska to fly — it's really cool!" he says. That's big fun, trying to make it easy to learn to do this — and to do it here, which is complicated.
"This is a tough airport to fly, Koebel says. "We get a lot of snarly wind, as you can see. So every day is different here; every day is challenging. But the scenery just gets better."
He more fully appreciated that after a trip to Minnesota to pick up an airplane.
"I just thought, 'How do you guys navigate? There are no volcanoes; there's no giant river — how do you ever find out where you're going?'" he says. "Well, there's a lake, there's a lake, there's a lake — there are lakes everywhere. No volcanoes.
"The terrain around here is just exquisite, and then go over the top of the Cascades and the Willamette valley's 100 percent different. Another 15 minutes over the Coast Range and (gasp) down to the beach — so very quickly when you're flying you see this amazing change in geography, and you can land and park!
"My favorite thing to do on a hot day is to go fly to Manzanita," he says. "You land and I think it's a 5-minute walk to the water — your feet are freezing in 5 minutes! It's great!"
It'll be a few more months before freezing feet is a desirable thing, but Koebel seems to have plenty to do in the meantime.
n
To learn more about Classic Wings Aero Services, visit www.flythegorge.com or stop by the office at 3608 Airport Drive, off of Tucker Road. The airport itself will be closed for the month of April for the Port of Hood River's runway extension project, but Classic Wings will be open.