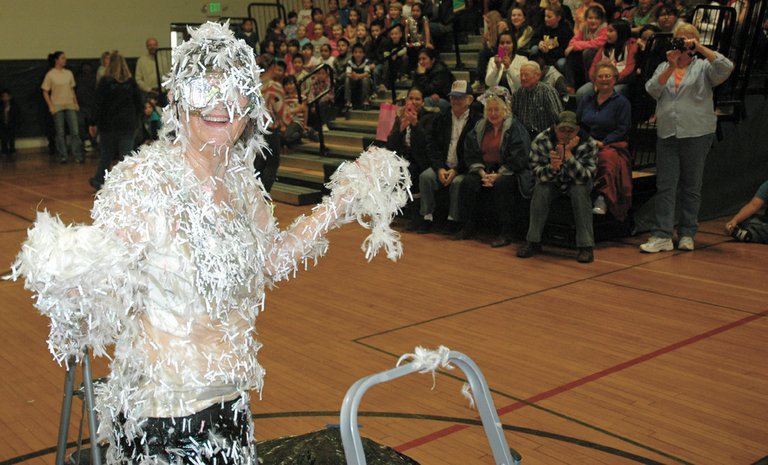 PARKDALE — A school board member and the fire chief got into the act as Kim Vogel got "syrup and feathered" on Friday at Parkdale Elementary School.
Vogel, the principal, got what students called the "Icky Sticky" treatment, in the 2013 version of what has become an annual spring tradition at the school: If students surpass the 4,000-ticket goal for the annual school carnival, their reward is watching Vogel endure some indignity; usually involving sticky, cold or slimy substances.
The carnival supports the PTO and proceeds go to assemblies, field trips and artists in residence at the school, programs that are not fully supported by the general fund.
This year the whole student body got to line up to empty squirt bottle after squirt bottle all over Vogel's head and body, and then delighted in watching as two fifth-graders dumped bags of confetti and feathers all over her.
School board member Bob Danko, of Parkdale, and Fire Chief Mike McCafferty helped refill and pass along fresh bottles of syrup. Vogel stood, sat and lay down atop a black tarpaulin as the syrup covered her, before the application of the feathers.
After the 10-minute ordeal, she stood and took a bow, covered in white, as the students cheered. They then went back to their classrooms and headed to the bus, the last thing they did before spring break started.
The stunt was probably Vogel's most extreme in seven years doing the annual tradition. Twice, including last year, she has allowed herself to be taped to a wall, but other years were nearly as messy as this one, as Vogel has had her hair dyed, or been covered in spaghetti, ice cream and toppings, or layers of "silly string."
Asked her favorite, fifth-grader Gracie Myers, said, "It's hard to tell because I liked all of them pretty much. I liked it; this one was cool." Added her classmate, Kaitlyn McNerney: "I liked them all, really."
When it was over, Vogel was asked what it feels like to be coated in syrup and feathers.
"Right now it hurts my eyes," she said, laughing. (The goo crept past the protective goggles she wore.) "Very icky sticky. It's drying, now, it's like a chemical peel on your face," said Vogel. "An indescribably delicious tactile experience."
PTO members got towels and tarps to clean Vogel, who then walked two blocks to a PTO member's home, in another annual tradition, for a shower.