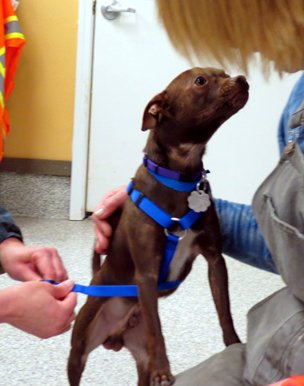 This week volunteers at Adopt A Dog have selected Heywood as the program's adoptable pet of the week. They describe him as follows:
"Heywood is about 4 years old and beginning to learn about the good life. He and a bunch of his best buddies were rescued last week from a very bad living situation.
"Although none of them had any real social interaction with humans and all were living outside in the cold and rain, most of them are very social and affectionate, and Heywood is no exception! They have really gotten the hang of being handled and cuddled and are becoming very playful and attentive.
"Heywood is lovin' life with people and the great indoors, and he's even kind of figuring out what to do with stuffed toys and tennis balls, but he definitely knows what to do with treats! He and all his pals seem to know that life has gotten a lot better for them and they love it."
Heywood is current on shots, micro-chipped and neutered. The adoption fee for this "lovable, and now snuggly, little guy" is $185; cash or check only, please. The fee to adopt is charged to recoup standard veterinary expenses.
Since many of AAD's dogs are in foster, please call ahead to meet Heywood at the Hukari Animal Shelter, 3910 Heron Drive, Odell; 541-354-1083. Adoption hours are Wednesdays from 5-7 p.m. and Saturdays from 9-11 a.m.
Applications may be downloaded at www.hood-riveradoptadog.org and faxed to 877-833-7166.
The Adopt A Dog program offers 24PetWatch microchips, which include free registration into the 24PetWatch pet recovery service. (For more information visit www.24petwatch.com or call 866-597-2424.)