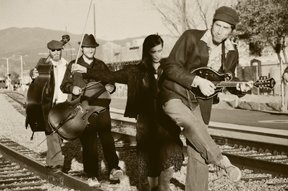 Taarka is a husband and wife duo that will be performing at the Cebu Lounge in Hood River on April 6, at 9:30 pm.
They are performing from their new CD "Adventures in Vagabondia," a really interesting album that combines bluegrass, gypsy-jazz, and pop music.
Taarka, described by SF Weekly as a "collision of Django Reinhardt and David Grisman," combines gypsy music, folk, bluegrass and a bit of pop to create their unique sound.
Listeners can pick through the musical references or embrace the aural journey; either way, it's always a fantastic show.
Give a listen to "Wandering," and great ready for a great night of music on April 6.