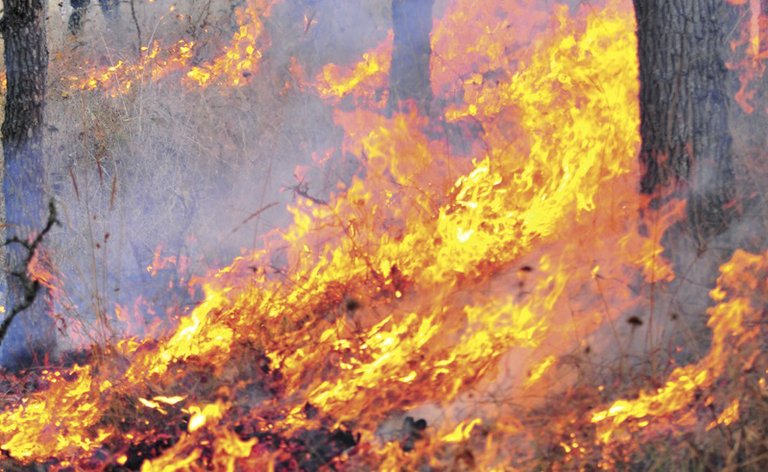 Two wildfires broke out over the weekend near The Dalles, timed perfectly for the beginning of "Wildfire Awareness" week in Oregon, and serving as early warning for Gorge residents.
Prescribed burns planned on Mt. Hood
In an effort to reduce wildfire danger in regional national forests, the Barlow and Hood River Ranger Districts of the Mt Hood National Forest will be conducting three prescribed burns. These will involve a total of approximately 508 acres to remove hazardous fuels.
Through these planned burns, fire managers hope to minimize the risk of larger fires from spreading that could bring risk property and human life. In order to control the burn area, the burning will start as weather and fuel conditions permit.
Residents living on the eastside of Mt. Hood can expect to see smoke in the air for a few days. Drivers might experience slight road delays on Forest Service Road 44 in the Camp Baldwin area.
The first burn, Willow #81 and #82, will be located in the North Fork Mill Creek Planning Area, and will cover 33 acres. The purpose of this burn is to reduce hazardous fuels adjacent to The Dalles Watershed
The second burn, Star #2, is located in the Billy Bob Planning Area, and will include 185 acres.
The last prescribed burning area will be located within the East Five Mile planning area. This burn will include 290 acres.
The 44, 4450, 4421, 4440, 4440-160, and 1720-193 roads will have personnel on the ground and will possibly be impacted by smoke.
For smoke and fire updates, you can follow the Mt. Hood National Forest on Twitter, @MtHoodNF.
You can also call Kim Valentine, Mt. Hood National Forest East Side Zone FMO, at 541-467-5157.
Wildfire awareness tips
Thoughtful planning can minimize the impact whenever these natural disasters occur. And in the case of wildfires, homeowners often can avert damage entirely by following some basic steps to protect their home and property.
During Oregon Wildfire Awareness Week May 5-11, fire protection agencies will be sending that message to Oregonians most at risk from wildfire - those who dwell in the wildland-urban interface. People at risk from wildfire are also those in suburban subdivisions located near a stand of timber.
Landscaping can beautify a home and also reduce the fire threat. There are two key things to remember: spacing, and species. Planting trees and shrubs with enough distance between them can hinder a wildfire from burning through the vegetation and reaching the home. Once planted, the trees and shrubs must be maintained by periodic trimming and pruning. A well-watered lawn mowed short also strengthens the barrier to fire.
Some shrubs, in addition to being attractive, also resist fire. Oregon State University Extension publishes "Fire-Resistant Plants for Home Landscapes" available free at: http://bit.ly/18p... .
Fire-resistant plants are those that do not readily ignite from a flame or other ignition source. These plants can be damaged or even killed by fire. But their foliage and stems do not significantly contribute to the fuel and, therefore, the fire's intensity.
"Fire was here first and will always be a part of Oregon's forested landscape," Oregon State Forester Doug Decker said.
"For property owners on the forest fringe, some planning ahead now — and a weekend of outdoor work this spring — can make a difference."
For tips on wildfire safety visit www.keeporeg
ongreen.org/.
Another resource is the Firewise
Toolkit: www.firewise.org/...
In fact, wildfire managers across the state had their hands full during the hot, dry, and windy weekend. According to officials, people burning debris were responsible for at least 36 of the 65 wildfires reported.
The two blazes near The Dalles were located in the Sevenmile Hill and Mill Creek areas. Both ignited on May 3, the first at 2:30 p.m., burning about 4/10ths of an acre and the second around 3:10 p.m. then contained after just 1/8th of an acre had burned. The second fire was tied to a debris pile burn that got out of control.

About 20 firefighters responded across the two fires including teams from Mid Columbia Fire and Rescue, ODF and the U.S. Forest Service along with Mosier, Dufur and Dallesport fire departments. Hood River Fire Department manned the station on fire two.
Fire Chief Bob Palmer of MCFR noted that fire danger is increasing. "If the (hot, dry) weather keeps up, we may consider an early burn ban."
Fire statistics from ODF for the current fire year across the 16 million acres of private and public forestland protected by the department indicate a higher than average burn rate.
While the ten-year average is 44 fires burning a total 111 acres by this time of year, the current year statistics already show 65 fires with 281 acres burned.
Keep Oregon Green Association is warning residents that burning debris on a windy day has tremendous potential to cause Oregon's next wildfire.

"Wildfire prevention is an individual responsibility," reminds Mary Ellen Holly, president and CEO of the Keep Oregon Green Association. If you don't take precautions, you can be subject to suppression costs.
ODF advises anyone wishing to burn, to call the local fire district or ODF office to determine whether debris burning is still allowed. Many districts have already closed some or all of their protected lands.
If burning remains allowable, ODF notes that a charged hose must reach to and all away around the burn pile. The 10-foot cleared area around the pile should be kept wet at all times. Use a shovel or rake handy.

Other safety measures include keeping your burn pile small adding to it as it burns down and staying with the fire at all times.

Only yard debris is legal to burn — no garbage or lumber. Once the debris is burned, soak the area of and around the burn. Check on the remains frequently to make sure no sparks remain.