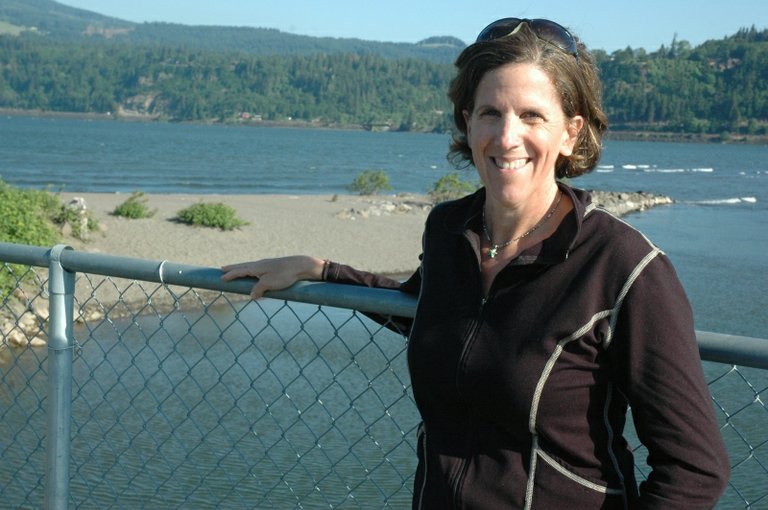 One year ago, Liz Whitmore read an employment listing in the newspaper, an opportunity that truly struck a chord of interest.
Whitmore is the waterfront coordinator for the Port of Hood River, where she oversees recreation and development projects and opportunities for businesses and for waterfront facility users.
"I've always been interested in waterfront activity and thought it would be an interesting job for me. I love being on the waterfront, working with different people and getting to be outside in the summertime," Whitmore said.
As part of her job Whitmore manages the kite boarding schools and food vendors, and helps develop waterfront safety access.
Whitmore studied at University of California at Berkeley to earn her architecture degree, and worked for 14 years as an architect and project manager. She is also a member of the Hood River County School Board.
Whitmore is currently working on several port projects.
"My goal has been to spiff up the Event Site and hope that folks like the changes made for the upcoming season. I am also working on a report that was requested by the Board of Commissioners," she said.
That report is a "Waterfront Narrative" that will provide an analysis of existing uses and future potential of waterfront areas to inform policy, regulatory and capital investment decisions, Whitmore explained.
She is also involved with other projects such as coordinating the installation of a new river gauge with the U.S. Geological Survey, identifying maintenance projects that need to be completed before the season starts, and designing new signage for the Event Site and Marina to communicate rules for safety.
A waterfront path is in the works as well. "The goal is to have a continuous waterfront path from the pedestrian bridge to the Event Site, so that users can enjoy the view along the water's edge away from vehicular traffic. The Port has applied for grants and is hoping to secure funding.
"I am also working on a bicycle and pedestrian connection from the pedestrian bridge to the Marina with funding the Port has secured from ODOT," Whitmore said. She meets with the Waterfront Recreation Committee, a group that represents businesses and individuals and groups with interests on the waterfront.
"We have people that represent windsurfing, kite boarding, sailing, paddle boarding, and parks and recreation," Whitmore said.
With the summer approaching, the Port is getting ready for the annual influx of visitors and is adding updates for safety protocols.
"We welcome the summer season visitors and just want folks to have fun and recreate safely," Whitmore said. "Part of that is communicating to people what types of activities are occurring at our waterfront access sites and where it is safe for them to hang out."
She said, "the Event Site will look a little different this summer, with the kite boarding area being cordoned off with a rope boundary line and signage indicating for spectators to take caution."
When the winter season comes to the Gorge, Whitmore turns to other projects.
"It was actually just as busy as the summer season," she said.
"I developed the Request for Proposal (RFP) for evaluating kite and windsurfing schools for the next three-year permit cycle. An evaluation committee was formed to review the RFPs and choose the top schools to be issued permits. I also worked with a high-water planning committee to develop standards for managing kite launching and landing at the Event Site to maintain a safe environment for all users," she said.
Whitmore is looking forward to working more years in her position.
"I plan to work as long as they want me," she said.