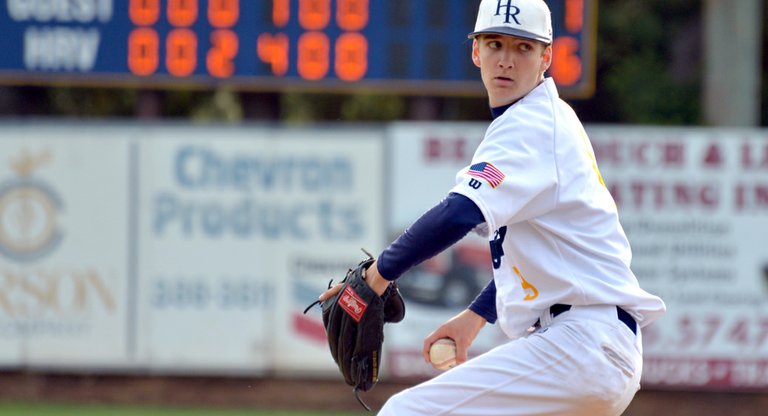 There couldn't be a better way to prepare for the postseason than getting a win against one of the best baseball teams in the state.
That's exactly what the Hood River Valley High Eagles did as they won 6-1 at home over the No. 2 ranked The Dalles Wahtonka Eagle Indians Friday evening in their Columbia River Conference regular season finale. The 11th-ranked Eagles (5-7 CRC, 12-13) will host 22nd-ranked North Eugene of the Midwestern League in a Class 5A play-in game Friday at 5 p.m.
HRV sophomore pitcher Ryan Ward tossed a five-hitter, with five strikeouts and three walks in a complete game to help lead the Eagles to victory on senior day at Traner Field. Seniors Kyle Beam, Ty Bofferding, Ryan Colesar, Luke Kopecky and Nick Weekly were honored in a pregame ceremony. Eagle standout catcher Beam, as usual, had another impressive hitting performance as he batted 3-for-4, with three RBI to lead the Eagles' 10-hit attack.
"Kyle is a great player who has worked hard all year and he'll absolutely help us go as far as we possibly can in the playoffs," said Coach Erich Harjo. "It was great to see Ward come out and throw so well on the mound. Everyone played hard and they did everything that I asked of them to help us get a big win. I know the seniors played with a little more emotion too, so it was a pretty exciting win for them."
The Eagles gained the upper hand in breaking a scoreless deadlock in the bottom of the third inning. Junior Alex Jimenez (2-for-4) ignited a rally with a leadoff single. Colesar followed when he reached base on an error. That set the plate for Beam, who blasted a fly ball all the way to the 355-foot centerfield fence for a two-run triple, giving HRV a 2-0 advantage.
"It's great to get a win against one of the best teams in the state, so it doesn't get any better than that," said Colesar. "It's nice to have a guy like Ryan Ward out on the mound that we can rely on. This was definitely the best game we've played this year and it gives us lots of momentum as we head into the playoffs."
After TDW trimmed it to 2-1 in the top of the fourth, HRV responded with an offensive surge in the bottom half of the inning, highlighted by RBI singles by Ward (1-for-3) and Beam. Sophomore Kam Walker sparked the rally as the first of 10 total batters in the inning with a leadoff single. Two batters later, a Bofferding single was followed by Ward's RBI single, scoring Walker.
"It's awesome to have such an amazing hitter like Kyle on our team and he sure called a great game for us," said Ward, who threw a two-seam fastball and breaking balls to keep TDW hitters off balance. "I tried to keep the ball low and our fielders made some great defensive plays."
A Jimenez single loaded the bases and then Colesar drew a walk for an easy RBI as Bofferding scored to make it 5-1. Beam, swinging at the first pitch from TDW pitcher Connor Mathisen, ripped an RBI single, as Colesar scored and loading the bases again. Weekly followed with a walk, while Jimenez went home to score on the free pass, making it 6-1. It was scoreless the last three innings, which was highlighted by an Eagle double play in the sixth.
"Everyone came out and played hard together as a team," said HRV first baseman, Weekly. "Ward just did an awesome job of pitching and everyone played great defense without making hardly any errors."
It was undoubtedly a confidence building win for HRV, considering that it beat the CRC champion Eagle Indians (9-3 CRC, 18-7), a No. 2 ranked powerhouse Class 5A squad that averages 7.36 runs per game, while holding them to just one run. TDW dropped to fourth in the OSAA rankings after the loss.
"TDW is obviously a very good team and they beat us three out of four times this year," said Harjo. "I would be very disappointed if we don't make it to state. We have an extremely talented team that's really coming together now and the guys are all displaying good camaraderie, which is something we haven't had for a while. That's the type of attitude that we need to have in order to be successful."
HRV finished third in the CRC, behind fifth-ranked Hermiston (8-4), while defending champ Pendleton (2-10) finished fourth. If the Eagles win their play-in contest, they'll advance to the first round of the OSAA/U.S. Bank/Les Schwab Tires state playoffs and play a road game May 22.