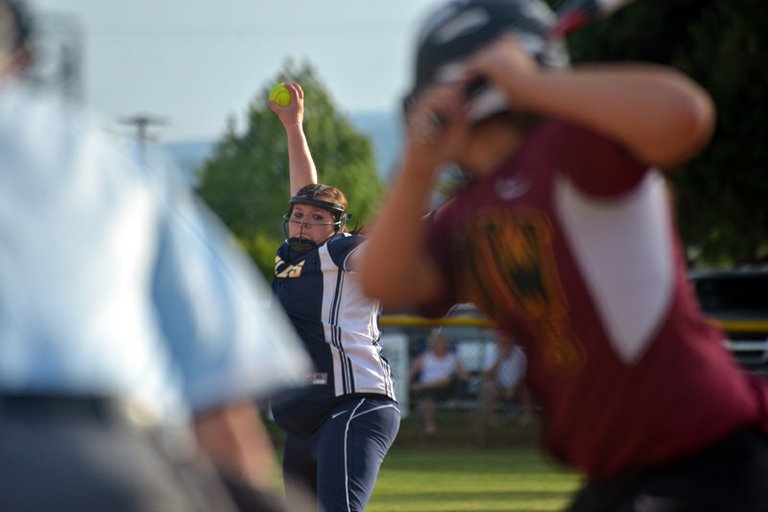 The Hood River Valley High School varsity softball team has relied on its rock solid defense (2.95 runs allowed average) all season to help pull out victories. In the team's final Columbia River Conference regular season softball contest Friday afternoon, the team combined that same tough "D" with a potent offensive attack (16 hits) to defeat league rivals, The Dalles Wahtonka, 7-2.
Pitcher Kayla Byers (seven strikeouts) tossed a three-hitter and appropriately seniors Amanda McCafferty (five defensive putouts) and Hannah Williams (4-for-4, two RBI) contributed in large form to the Senior-Day game. Seniors McCafferty and Williams were honored in a pregame ceremony before playing their final regular season game as Eagles.
"This win really helped us achieve our goal of getting the highest ranking that we possibly could at the end of the regular season," said McCafferty. "It proves that we're worthy of being a highly regarded team and that we deserve to have a home game in the state playoffs. We always play strong defense and that's definitely our team strength. We have a great pitcher who rarely allows a ball being put into play and that helps us tremendously. It was nice to have a dominating effort and get the win on Senior Day."
The Eagles will have at least one more home contest, as they'll host an OSAA/U.S. Bank/Les Schwab Tires first round state playoff matchup May 22. HRV (4-8 CRC, 14-9 overall and ranked 5A No. 6) played a nonleague game Tuesday at home vs. St. Helens and has another home non-league game Thursday vs. Newburg.
"We've been in a little bit of a hitting slump recently," said Coach Eric Keller. "We just went back to the basics and started focusing on the rival in our hands. It was a great team effort with everyone stepping up and playing really well. They executed and hit the ball pretty good. Kayla threw really well and she just did another great job in the pitching circle."
TDW (2-10 CRC, 11-14) took an early 1-0 first inning lead and after a scoreless frame, HRV responded with some impressive hitting in the third to take the advantage. A Byers single, followed by a Kelsey Wells (3-for-4) double put the Eagles in scoring position. Williams smashed a two-run double, driving home junior Rose Baker (courtesy runner for Byers) and Wells for a 2-1 Eagle edge. HRV capitalized on TDW mistakes (passed balls, fielding errors) to get two more runs across the plate and take a 4-1 lead.
"This was certainly a good offensive performance and it felt good to bounce back after we didn't hit well in our previous game (a 2-0 loss to Hermiston May 7)," said Wells, a sophomore catcher who will be competing in the state playoffs for the first time.
"I definitely regained my confidence at the plate, so that feels really nice," said Williams, who had her best hitting game of her career. "I enjoy being on this team and everyone is very supportive of each other. We've all become very close friends, while competing together as a group since we were 10-year-olds playing in Little League. I had lots of fun and of course it's always great to beat The Dalles Wahtonka."
The Eagle offensive surge continued in the fourth. After McCafferty (1-for-3) drew a leadoff walk, Byers (3-for-4) then blasted a two-run homer, extending the margin to 6-1. Eagle junior center fielder Sydney McHale (3-for-4, triple, double, single) led off the fifth with a triple when she ripped a line drive to center field. McHale later scored on a passed ball, making it 7-1. TDW added a run in the sixth for the final margin.
"It feels good to finally be able to have a good hitting game, which is something I've been striving for," said McHale, whose three hits was a career best single game performance. "Getting a win is a good way to help us prepare for the state playoffs. If we continue playing with a high confidence level and keep swinging our bats well, then I think we'll have a good chance of going a long way in the playoffs."
HRV took third place in the CRC final standings behind Hermiston (7-5) and defending state and league champion and No. 1 ranked Pendleton (11-1).