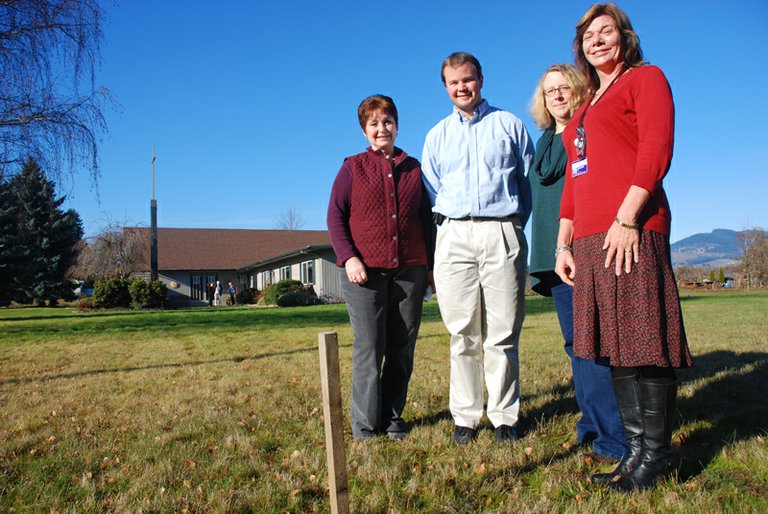 FISH food bank organization has moved one giant step closer to realizing its goal of a building project on Tucker Road in Hood River.
Odell Lions announced that Lions Club International Foundation (LCIF) will give a $75,000 matching grant to FISH for the building project, which FISH hopes to start in 2014.
"We've been waiting for this point and it's going to enable us for our dream for a designated food warehouse to become a reality," said Marianne Durkan, FISH board chair.
Kassondra Byrd, spokesperson for the LCIF, informed Odell Lions Club that they are the successful recipients of the $75,000 matching grant to assist in the construction of the new food bank warehouse and distribution center. Odell Lions made the application in January.
"It's a reflection that this is a broadly-supported local community project," said Lions president Chuck Bugge, who also serves as the building campaign manager.
Currently local contributions are at $473,197, according to Bugge, putting the project nearly to the halfway point of its $950,000 overall budget.
Bugge and others noted that major grantors expect FISH to raise roughly half the total budget locally, and the Lions funds put the local organization in the position to demonstrate that level of support and move ahead with major grant applications.
"We will be asked, 'does your community support this project?' and we can say pretty resoundingly, 'yes'," Bugge said.
The goal is to raise all the funds by the end of 2013, according to Durkan, who said grantors will look for "the spirit of showing widespread local support.
"We'll continue to do our local fundraisers," Durkan said. "It is pretty impressive to us that we've been able to raise nearly a half million locally from individuals and business. It shows what we've always known — that people in this community do care about the hungry and they realize this is a worthwhile venture for our community."
Bugge said, "the local matching funds included donations from all four local Lions clubs, as well as individual members from every club. Each club formally endorsed the application which was submitted earlier this year."
Lions Club International Foundation is made up of elected trustees from throughout the world who meet twice yearly to review grants request addressing important humanitarian needs.
Durkan said the board reiterates its thanks to Our Redeemer Lutheran for its extensive partnership, which includes donation of the land.
For details on the project or to sponsor a fundraising event, contact Paul Lindberg at 541-490-2340 or Chuck Bugge at 541-490-1470.