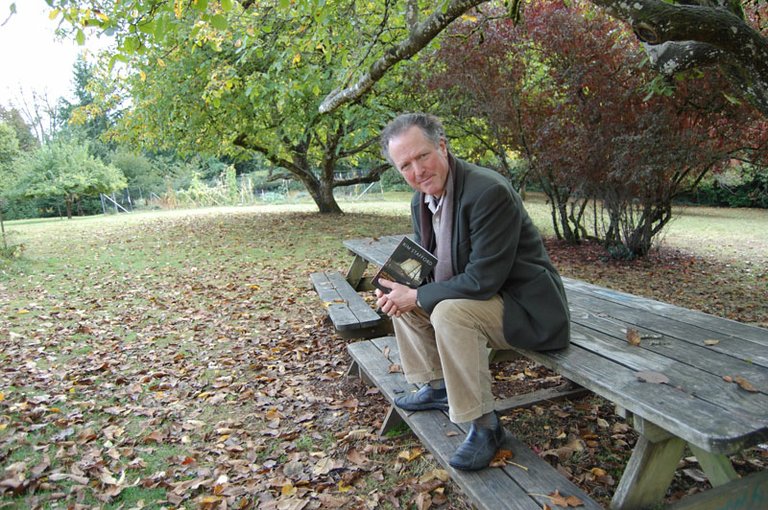 "I search those early years, for clues, the trick of beginning in my brother's character, and in mine."
Portland writer Kim Stafford will be in Hood River May 16 to read from his new memoir, "100 Tricks Every Boy Can Do" about the life and death, by suicide, of his older brother, Bret, who worked as a planner for Hood River County for three years in the mid-1980s.
Bret and Kim are the sons of former, famed Ore-gon Poet Laureate William Stafford.
The reading will be at noon at the Indian Creek Campus of Columbia Gorge Community College. It is free and open to the public.
Kim Stafford spoke by phone May 8 with editor Kirby Neumann-Rea.
HRN: Talk about the Hood River connection in this story.
KRS: Hood River County was an important place for our family when I was growing up. Lost Lake was a magical place, and it was a lucky day when we headed up the rocky road to the lake to catch salamanders and go camping.
The whole Hood River Valley for us, like a lot of Oregonians, it just IS Oregon. In a WPA (Works Projects Act, from the Depression era) writer's guide, it states that it is 'easy to love the up and down beveled country of Oregon.' I think of Parkdale and the upper valley when I read that. And when my brother moved (to Hood River) it was like a dream come true.
HRN: What can we expect to happen with the reading in Hood River?
I have two goals in sharing from the book. One is: many families have secrets, stories too precious to be talked about, events too mysterious and difficult to understand. For 25 years my family sort of didn't talk about my brother. In giving a reading I am inviting people to talk in their own families.
My second goal is to encourage people to write their stories, whatever they are. The example of this book is to tell a difficult and complex story in many little passages.
HRN: You use a definite fragmented approach in your book.
The story is so mysterious, I can't be an expert and explain it but I can tell many little moments.
You comb through your memory for the particular moments you remember, and I believe they will be connected.
HRN: The title theme of tricks is so important, and examples run throughout, be they literal or allegorical.
I tell my writing students that a writer needs only two things, a sense of abundance and the trick of beginning. You have a lot of memories and you have a lot of confusion, and then you have a way to begin talking about it. At many points of life we get stalled or paralyzed — defeated. You lose your job or a connection to a friend — you're kind of paralyzed, and what is the trick to move forward? The trick of starting this book was connecting my unresolved memories of my brother and my responsibilities to raise a son. When those two came together I knew I had to write the book.
HRN: It's clear from the story that you and your brother were close. You talk of never having fought, and that there can be a detriment, this thing you call "The Magic Calm."
We were too tight as a family. We were so intimate. Moving often when we were young made us a kind of insular group, we relied so deeply on each other.
I think part of our exaggerated kindness to each other is to not be clear when we are suffering or struggling. We don't want to lay a burden on someone. And so we keep our troubles to ourselves. Humans are on earth to help each other and accompany each other. We knew how to do that in childhood but as we grew up we didn't develop the ability to dive in and help each other.
HRN: Darkness is a theme throughout the book, though often in a positive kind of way.
The struggle with the mystery (of my brother's death), the darkness, the self-accustation, is still happening. To write it gives me a place to stand and not be so battered by regret and helplessness. Making it into a story is a moving forward.
Silence can be a sign of intimacy and a way to hide and knowing which is which, is one of the tricks of being a human being.
HRN: Your brother's bus luggage tag, which he reused repeatedly, was an example of frugality learned in youth.
There was a false heroism in privation and being self-sufficient. Our family had no new car until dad won the National Book Award in 1963. We had this sense of the best things in life are free.
HRN: It's probably an oversimplification to say tricks are a way of "learning to get through life."
Yes, perhaps that is an oversimplification, but . . . tricks are like a boundary between looking at a situation as impossibly complex and then seeing one thing you can start to do to try to change it. It takes more than a trick to achieve a transformation or learn a new way of doing things, but the beginning of the process is all you need. The beginning is the key.
HRN: There seems to be something deep and allegorical in the episode when your brother's pet snake, Towey, escapes in the classroom and is never found. You write "he had to go."
"I keep expecting to be angry with (Bret) because he left his kids with a terrible situation and the rest of us grieving for the rest of our lives, but he had to go. Late in the book I keep asking myself, 'why did you have to go?' At one point, he 'had to go'. His life was too painful.
HRN: In what ways do you hope to contribute to the specific topic of suicide?
After my brother's suicide I could see more clearly the pain in the faces around me. It's as if I had been blind to the suffering of the world. Maybe I was a child at 39, but after his suicide I could see pictures of him I couldn't see when he was alive. He was hurting, and now that I am able to see that, I approach people more. 'How are you really?' 'What is happening?' I find myself interviewing my family more. I find myself being more aggressive in my love to try to get past more polite forms evasion.
Life is tough, it is really a tough gig. We need to help each other. It's too tough alone.
HRN: You've probably developed some skill at ways of putting "aggressive love" into action.
It's that trick of beginning. You've got to start somewhere. Maybe people will be resistant, maybe I had misinterpreted something, but I will boldly stumble ahead and be the fool in pursuit of true relations."
HRN: What are you working on now?
I'm working on essays and poems. I'm always busy.
2014 is the centennial of Dad's birth, and we have nine different books in progress. Oregon Library Association has designated William Stafford as the Everybody Reads author for 2014, so my second career is trying to keep up with that.
Kim R. Stafford is a poet and essayist who teaches at Lewis and Clark College. About "100 Tricks," writer Naomi Shihab Nye says, "This is a stunning book of exquisite consolations and understanding, not so much about loss as discovery."