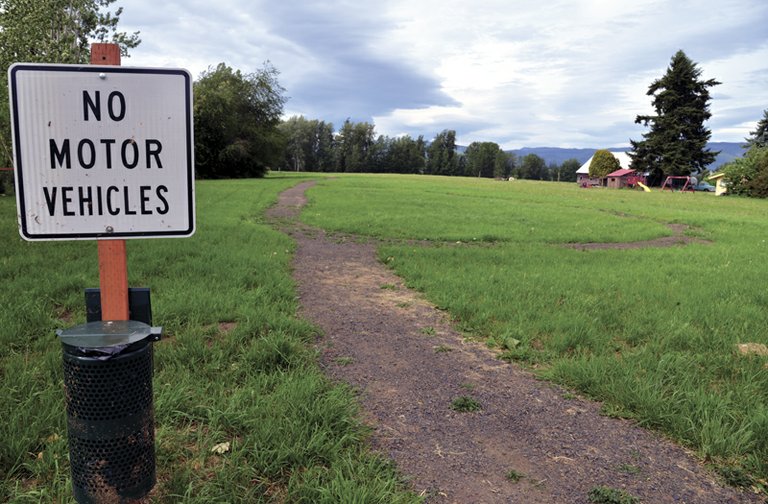 The steps and bridges that help make up Indian Creek trail are a reasonable allegory to consider with this week's news that LUBA has sent back to Hood River County the matter of Barrett Park's future.
The LUBA legal decision, rather than a divisive moment, provides an opportunity to come together over Barrett Park. No one at the county level, or in the community, is averse to parks in general. The concern in this case is over what is appropriate for a park in this particular place. Barrett Park is a beautiful spot, and it already exists as a park. Signs direct pedestrians on a path linking Country Club to Alameda. It's a simple restricted use at this point, but worth visiting just for that use.
It seems reasonable that, as LUBA puts it, the county's evaluations of the Barrett Park proposal should not have been conducted on the impacts of farm practices on the subject property itself, given that the park will have no remaining farm use on the property.
On the other hand, the county and citizen opponents felt they had legitimate cause for contesting it. With the force of the LUBA decision in place, there is no reason that all parties can't come to a conclusion that can benefit the community as a whole.
What are already in place are bridges on the Indian Creek trail and hand-made steps linking Barrett Park to that trail. The work by the Parks and Recreation District, and its volunteers, should be honored. The District and the County Board should work together now to help Barrett Park become an even greater public amenity.
As it stands now, even with minimal development, Barrett is a link between the urban and rural areas that generally coalesce well in the Hood River area; with Barrett, it is now possible to walk, with little exposure to vehicle traffic, from built-up areas of Hood River to the pear orchards on the southwest outskirts of town. One day soon, that path will stretch unimpeded all the way to downtown Hood River, as described in the May 15 Kaleidoscope feature.
The trail connects town and country, and the county and parks district now have a new opportunity to assess how to embellish that linkage. It may take time, but it's a new opportunity for compromise, especially when you go out and see what is there now, for an appreciation of its potential as a place to meet rural and urban needs.