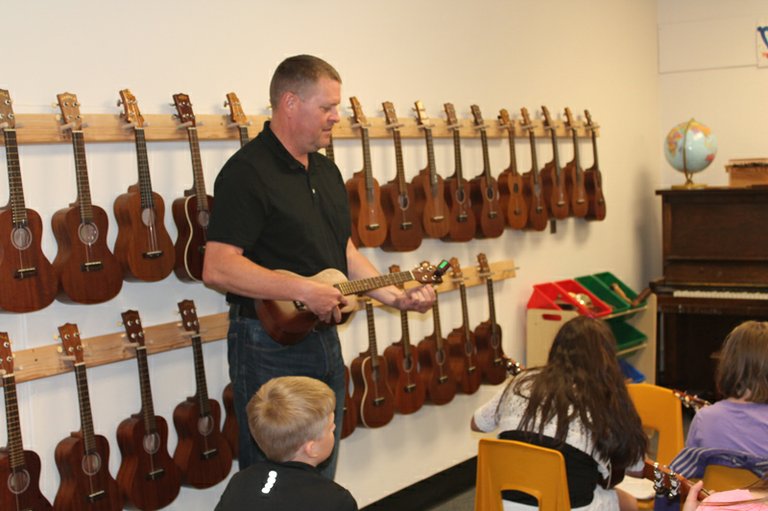 There's an enthusiastic tone in Larry Wyatt's voice as he demonstrates a unique wooden instrument that sits on the floor in the front of his May Street School music classroom. "These are "Studio 49" German-engineered xylophone bass boxes. They're set up so we can play in the key of C, which is the same for my ukuleles."
With large mallets, Larry deftly plays a bass line that could be used in any number of simple folk songs, and then plays the first few measures of "Ode to Joy."
Full, rich, bell-like tones resonate around the room.
"I don't have these at Westside, but I can use this for all my student concerts here. It really keeps the rhythm going along, because with 25 ukuleles all strumming at once, you don't have a lot of low end."
Before applying for a music teaching position with the Hood River County School District eight years ago, Larry was a private music teacher. His personal interest in "all things guitar" probably guided his current career to where it is, but he admits he didn't think the interest in music would develop into a teaching career.
"No," Larry laughs, "not at all. I was listening to anything related to guitar music, especially after high school. I heard steel guitar music and watched "Hee Haw," I was always knocked out by players like Chet Atkins and Buck Owens.
Then, by chance in the 1980s, Larry purchased a ukulele, and had an idea that is now the basis for all his music classes: Wouldn't it be cool to teach groups of kids how to play the ukulele?
"But I didn't know anything about James Hill (a nationally known instructor) and his books on teaching ukulele, or know of groups like the Langley Ukulele Ensemble. As I look back on my first attempts in teaching, I was just experimenting. I taught them how to play the chords C, G, F – but that's all they did. Everybody loved it, but it wasn't very musical. Once I figured out how to teach the kids to play melodies and how to play a scale, then I could teach them different songs using that scale. I've found the ukulele is the perfect instrument to teach kids."
As his class of 20 students arrive, Larry immediately starts assisting with an essential task – instrument tuning. Each student is toting a ukulele, and if one were to add up all the strings, the total is easily up to 80 strings that need to be in tune — hopefully making for a more pleasant class experience.
"You gotta tune these things," Larry grins as he puts an electronic tuner on an instrument for a student. "Or else, we'd be in trouble."
Instead of using a traditional textbook for his classes, Larry uses what he calls a modified Suzuki approach to elementary school music – which includes playing by ear, training the student to hear the melody, understand the chord changes, play musical intervals and develop good rhythm. He believes that with this foundation, other technical skills, like being able to play in other musical keys, will be easier to learn later on.
To Larry, music class is about the student wanting to be there and learn, and his class continues almost non-stop with songs and exercises pertaining to reading music, playing, and figuring out what notes are in the written music.
But for classroom instruction, it turns out that there's one aspect that's just as important as making music, and that's to be quiet and pay attention.
"Thanks for not playing right now," Larry announces as he explains the importance of remembering to bring your music book to school and practicing the songs at home. He challenges his students to work on songs to the best of their ability, and tells them that it "would be nice if we could get these songs down, so we don't have to do them next year."
He makes it clear that effort is required on the student's part, or you can't progress to the next level.
Larry interacts with the students by constantly asking questions and letting students suggest what songs the class should play. Singing is definitely encouraged and hardly a style of music is left out. The class covers folk music, classical, jazz, and pop.
"Let's do one that's not in your book, but I know you guys know it," and the room fills with the opening notes to "Here Comes the Sun."
For six years, Larry was the full-time music teacher at Westside Elementary, but now he travels between Westside and May Street School. But a typical day isn't all just about ukuleles and xylophones.
"I have to do morning duty in the gym, which starts at 7 a.m., and kids get to play basketball and run around. Classes start at 8 a.m., and I have 15 minutes to straighten things out and get ready to go. Most days I have six forty-minute classes. Some times it's hard to go from a fifth grade ukulele class to a kindergarten class. The fifth graders are ready to play whole songs, but the kindergarten class isn't ready for that. You're teaching them how to hold the instrument. Besides that, there's afternoon recess, too."
Another task that has fallen into Larry's lap is being the unofficial sound-man for most school assemblies. Besides coordinating the sound equipment for the music department events, Larry thinks it's important for the sound system to be properly set up, so everyone can hear what's going on.
"When you have an audience of 500 people in a gymnasium, you need to have someone with some live music experience to work on sound mixing," Larry said.
Larry's students get to participate in special events in the community, like playing with the Columbia Gorge Sinfonietta, as they did the other week at Wy'East School. Larry smiles when he thinks back on the performance.
"That really feels great; it's perfect for them. Instead of just playing in class, the concert shows the music off to the community, and it gives the kids the experience of playing in a live performance."
Larry believes that learning the fundamentals of music should be an influence that kids can carry with them long into the future, and live performances will especially be memorable.
"When my students played "Ode to Joy" with the Sinfonietta playing behind them, that's something they won't forget," Larry said.
Since Larry started his ukestra program eight years ago, he believes that middle school and high school band participation has increased substantially.
"Most of the 5th graders are signing up for band or choir. I've tried to make music cool again, so it's cool to be one of the kids in band. It really doesn't matter if they continue with a ukulele or not, but if you hook them into music, they will do music, and most of them will continue with it."