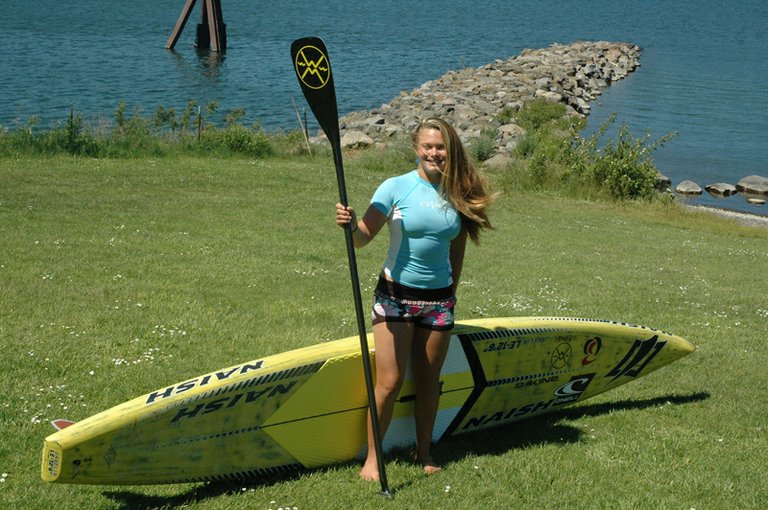 Fiona Wylde does fine in cold water or the hot seat.
Within the same week in Hood River, Wylde, 16, won Gorge Cup and Gorge Soup.
Wylde, who competes internationally, made history Sunday as the first female to win overall in a Gorge Cup Series windsurfing event.
Wylde won on total points, defeating a seasoned team of sailors, including her mentor and father, Macrae Wylde, on the Columbia.
On May 14, Wylde also won Gorge Soup for Kids, in which young entrepreneurs pitched their business or event ideas to a restaurant full of adults, who then vote for which project, or projects, to fund.
Fiona competes as a windsurfer, kiteboarder and stand-up paddler, and is off to Lake Tahoe and Santa Cruz, Calif., next week for two water sport events.
At Gorge Soup, held at Celilo Restaurant, Wylde was granted $1,600 to stage an all-day event July 22 for kids, to learn stand-up paddling and water quality awareness. Fiona calls it Stand Up 4 Water Awareness.
"It was fun to be a part of the evening and win the contest," she said. "Since I have been doing online school I haven't had that many chances to stand up and speak in front of a large crowd; and now I can put my plans into reality and make a full day of it," she said.
"It was really cool to hear all the ideas from everyone else and what business propositions were being made."
She will spread the word about the July 22 event through her own website, in development, the Gorge Soup and CGWA websites, and iWindsurf.
Winning the first Gorge Cup, Fiona said, "was really cool. I'm really excited about that result.
"It was a really interesting day, with light wind, and maybe I have an advantage in light wind, because I'm smaller, but I did well on my starts and made all my jibes and was able to pump through the course well."
She used a 7-2 board, while her older competitors used 8.2 and 9-foot boards, which she said are generally less nimble, but the shorter board compensated for her shorter stature. She also said her regular competition has built up her upper body strength, which helped give her the stamina in the light wind to pump her sailboard for greater speed.
"It was cool to be out there, especially with my dad and all my training partners out there on the start line and it was like, all my best friends, just sailing around."
(The field included accomplished sailors Bruce Peterson, Andreas Macke and Sam Bauer; and Fiona hastened to note that Peterson, who has dominated Gorge Cup in recent years, was injured in the first race.)
"I don't know how I did it," said Fiona, who was 11 when she first raced in the Gorge Cup.
That year, "I made it around the course once, that was it, and I didn't do another one for a year."
"Everyone else has years and years of experience, but for me, with less experience than the others out there, sailing with those who do have the experience has made me improve a lot more, so I can learn from everyone, and they teach me and I can get better." she said.
"It's really cool to be in that environment and learn in that environment."
The next scheduled date in the Gorge Cup series is June 1 but she will be in an American Windsurfing Tour event in Santa Cruz that day.
Fiona joked that she is hoping for no wind in the Gorge that day, as there is a make-up date on June 8, "and the results would stay the same and I can come back and win again," she said.