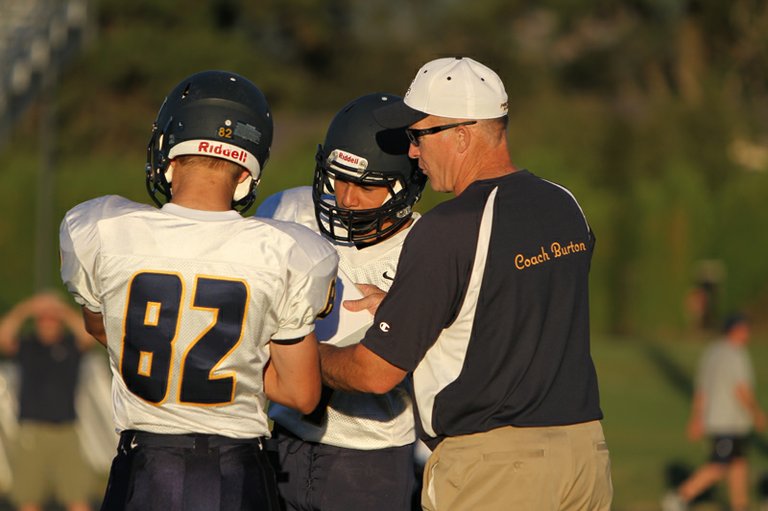 Bruce Burton has been a fixture with Hood River Valley football for more than 30 years. Starting in 1980 as an assistant coach to Pete Hopkins, Burton has been an unwavering coach and mentor to hundreds of young athletes passing through the Eagle football program.
This weekend Burton will travel to Eugene's Autzen Stadium to the annual Oregon Athletic Coaches Association awards banquet, where he'll be recognized as the 2013 OACA Assistant Coach of the Year.
"I've never had a lot of personal recognition for coaching, so it means a lot," Burton said after learning of the award. "I've been recognized in my professional career, but to be honest I think this means more to me. Coaching is a true passion for me. I don't do it for recognition. But it's nice to be honored with the award."
Burton, HRV football's offensive coordinator, played football at Lewis and Clark and had intended on being a teacher. He went on to become a dentist instead, but never gave up on his aspirations of working with youth.
"It's about paying it forward," he said. "I had teachers and coaches who made a big difference in my life when I was younger. Coaching has been my way of giving back and making a positive impact on the next generation."
Burton served as assistant coach to Hopkins, Jeff Davis, Reg Gardner and Ed Drew before taking on the role of head coach for seven years. He then went back to assisting under head coaches Mitch Sanders, Tracy Jackson and current head coach Caleb Sperry.
"Four years ago I accepted the position of head football coach at HRVHS, and a huge part of that decision was having Coach B's commitment as part of my staff," Sperry wrote in the OACA nomination letter he submitted on Burton's behalf. "He brings passion, dedication, tireless work, experience and integrity to all aspects of his life … I am fortunate to have a coach on my staff who understands what it takes to be a head coach, but also what it takes to be an effective assistant.
"He is a tireless worker who gives up his free time, and vacation time, to help kids improve as players and people. He's a selfless worker who refuses a paycheck so that money can be spent on assistants elsewhere in the program. He's a coach who spends countless hours looking for an edge against an opponent as well as time in the offseason learning new techniques and schemes. He is a man who does many unnoticed things for our program because he doesn't need or want the recognition, but rather wants the kids to have the best chance at success. He understands the great lessons that come from being an athlete, and is a great role-model for our kids."
In his 32 years with the program, the winningest season Burton was involved with was the 1989 State Championship team, for which he was the defensive coordinator. But although that same spotless season has not been repeated, it isn't necessarily the best or most memorable for Burton.
"I don't really have a top moment or most memorable season, but winning games was never my measure of a successful season," Burton said. "There were years when we only won one game, but were special because of the athletes the influence the sport had on their lives. I wanted to be a teacher. Fate would have it I ended up being a dentist, but I still get to teach. That's what it's about for me; it's about coaching student athletes, supporting them and being a positive part of their lives."