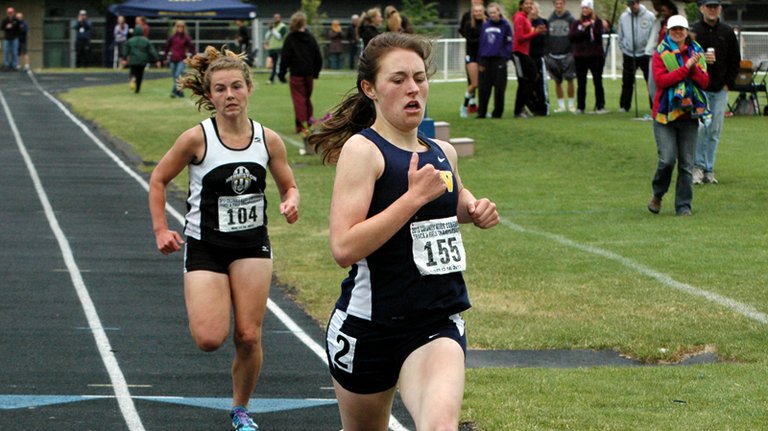 For Hood River Valley Track and Field, there is plenty to look forward to this weekend as 14 athletes will leave for Eugene at noon on Thursday to compete at the OSAA State Track and Field meet.
District results
Varsity girls team scores:
1st: Hermiston, 192
2nd: Hood River, 179
Pendleton: 150.5
The Dalles: 114.5
Varsity boys team scores:
1st: Hermiston, 237.5
2nd: Hood River, 161
Pendleton: 125
The Dalles: 102.5
Girls state qualifiers:
Jestena Mattson: 1st 100 meters, 1st 200 meters
Sophie Grace: 2nd 200 meters
Anna Schlosser: 2nd 400 meters
Caitlyn Fick: 2nd 800 meters
Lydia Gildehaus: 1st 1,500 meters
4x100 relay: 1st, Sophie Grace, Georgia Orgain, Anna Schlosser, Jestena Mattson
4x400 relay: 1st, Anna Schlosser, Lydia Gildehaus, Kassidy Davidson, Jestena Mattson
Zoe Peterson: 1st pole vault
Boys state qualifiers:
Cesar Rodriguez: 2nd 100 meters, 1st 200 meters
Parker Kennedy: 1st 400 meters, 2nd pole vault
4x100 relay: 1st, Wyatt Webber, Parker Kennedy, Parker Irusta, Cesar Rodriguez
4x400 relay: 1st: Parker Irusta, Parker Kennedy, Wyatt Webber, Cesar Rodriguez
Sebastian Barajas: 1st discus
Patrick Crompton: 1st pole vault
Other top five placers:
Wyatt Webber: 4th 100 meters, 4th long jump
Parker Irusta: 4th 400 meters
Chris Cardenas: 3rd 800 meters
Ricardo Castillo: 5th 3,000 meters
Eli Fults: 3rd shot put, 5th discus
Patrick Crompton: 5th high jump
Sophie Grace: 3rd 100 meters
Anna Schlosser: 3rd 200 meters
Kassidy Davidson: 3rd 400 meters, 4th long jump
Lydia Gildehaus: 3rd 800 meters
Lauren Robinson: 4th 1,500 meters
Delaney Barbour: 5th 3,000 meters
Georgia Orgain: 4th 300m hurdles
Laura Waller: 3rd javelin
Zoe Peterson: 3rd high jump
Collete Zack: 4th triple jump
After last weekend's Columbia River Conference meet at HRVHS, it is clear that there is also much to look ahead to for the next two or three years, evidenced by freshman and sophomore athletes contributing a total of eight first-place finishes, including freshmen Sebastian Barajas in the discus, Parker Kennedy in the 400 meters, Patrick Crompton in pole vault and Jestena Mattson in the 100 and 200 meters
"It's been an amazing year," Kennedy said. "I feel like we've all evolved, really. Our whole team has peaked at the right time."
Mattson, a sophomore, won both the 100- and 200-meter races, repeating her 2012 accomplishment, and setting her up for her year-long goal of double victories at state; she took first in the 100 and second in the 200 in 2012.
Kennedy became the second freshman sprint champion in two years, winning the 400 by more than a second over top-seeded Conner Berendt of Hermiston.
Freshman Parker Irusta ran the third leg in both the four-by-100 and four-by-400 meter relays, with junior Wyatt Webber and Kennedy, and senior Cesar Rodriquez on anchor for both teams. The girls and boys teams won both relays in convincing fashion.
"From the girls competing for HRV at state, we really only lose Lydia Gildehaus," said coach Donnie Herneisen of his senior distance standout, who prevailed in a gutsy 1,500-meter race over her rival Maggie Coleman of Hermiston.
Gildehaus said, "I got the race I was wanting all season" — beating Coleman in tight strategic battle. "That was all I wanted."
Hood River sends three pole vaulters to state: junior Zoe Peterson took first, and Patrick Crompton placed second after Kennedy.
"That was my goal all year, so it was really exciting," Peterson said.
"We should be very strong again next year, if not stronger, with the hopeful return of cross country 5A state champion Grace Grim, who was lost at the beginning of the track season to a leg injury," Herneisen said.
Seniors Laura Waller (throws) and Nina Barone (sprints) also contributed points at the district meet.
"On the boys side, we lose school record holders Cesar Rodriguez (who competes in four events at state) and Eli Fults, who will both be very hard to replace," Herneisen said. "These two guys mean much more to our team than just the impressive performances they turn in. Both are excellent leaders and role models for the younger athletes. We'll miss them greatly.
"Also on the boys side, this year's freshman group has been unbelievable. Parker Kennedy, Sebastian Barajas and Parker Irusta — three freshman boys who claimed Columbia River Conference titles, and all three have also laid claim to HRVHS school records. That's nearly unheard of.
"We have number of athletes who have very realistic chances to come home with state titles this weekend. Cesar Rodriguez, Jestena Mattson, Sebastian Barajas — in addition to our relays, all could finish on top of the medal stand," he said.
"Mattson seems to be the favorite in the 100 and 200; but this is sports, and we're running at Hayward Field, where truly magical performances can and have happened. We're excited to get on the track in Eugene!"
"I'm hoping to repeat (at state)," Mattson said. "We'll see how it goes. I don't look at time or places. I just run. I'm confident in myself that if I have competition I'll push myself to get what I want, which is to win."
Mattson was back on the track after the relays, going away from her competition en route to her 100-meter win, repeating what she did in 2012 as a freshman.
Herneisen said, "The highlight of the district meet is always watching our student-athletes striving for and achieving the goals they have set for themselves. There is nothing more exciting for the coaches than to have a student-athlete realize that the hard work they have put in over the last year has paid off, that it all really meant something!
"There was no better example of that this weekend than the look on (sophomore) Caitlyn Fick's face when she finished second in the 800-meter run and qualified for her first state meet.
"It was pure joy and pride in her achievement — and smiles and hugs for anyone within reach!"
n
The district meet started with a moment of drama at the finish line, just after Mattson had steamed to first in the 4-by-100 meter relay, with a 5-yard lead after taking the handoff from Anna Schlosser. The corner judge 100 yards back had raised the red flag indicating a penalty. Mattson retreated to the finish line tent, where teammates and parents consoled her.
With the baton still in hand, the sophomore wiped away tears, but was all smiles a moment later when she learned the penalty had gone against another team.
"I was upset for a moment, but nothing bad happened. I thought something bad happened," she said. "I took two steps into the other lane, and you're allowed that but I thought I did more than that. But it was okay."
She said her handoff with Schlosser "was not our best, because of the wind, which was just unpredictable. We thought our steps would be okay because we practiced them, but the wind picked up before our race, and we should have moved them but we didn't."
A few minutes later, there was another form of drama, but this one the result of a classic head-to-head battle between two rivals who have traded their best in races for the last two years.
Gildehaus squeezed out a win in the 1,500 against Hermiston's Maggie Coleman, pulling away from Coleman's shoulder in the last 20 yards.
"When I moved she moved, and at 300 yards (to go) I thought, 'She's too darned close to (get rid of), and at 150 she started throwing elbows and I was, 'No, no, this is all mine.' I just took off at that point. I just had it in me. It was all mental."
Now, who must she beat at state? "A pack of Corvallis girls — they're all good; they run 4:46's but if I stick with them, I should do all right. The key to running faster is running against people faster than you."
Peterson prevailed in her own drama, coming back from a recent hamstring injury to win the district pole vault at 9 feet.
Peterson said, "I hoped to go 10 feet but maybe I can get to that at state. I just came back from injury, and feel pretty lucky I was able to come out today."
In the boys 4-by-100, Wyatt Webber got the squad off to a fast start, delivered a solid handoff to Parker Kennedy, who did the same to Parker Irusta — "Best of the year for us for sure," Irusta said — and Irusta gave the stick to Cesar Rodriguez to bring home and he finished with a 5-yard lead.
"It felt good; I was right with the Hermiston guy, and I felt like I was gaining on him, but I just targeted him," Webber said. Kennedy said, "I thought I came out a little early but luckily we got it off; I was right even with the Hermiston guy and for some reason I pulled away from him at the end, and fortunately Parker and I had a really good hand-off."
Rodriquez said, "The wind was coming right at us, but when we got it off and it was the straight-away I knew what to do. These guys gave me a huge lead."
How do you win at state: "Good handoffs," said Kennedy. "Practice," said Irusta, and "Speed," added Webber.
"Just do our best. Good handoffs," Rodriquez said.
"I came out and just wanted to get a lead," Kennedy said. "Since I was in lane five I knew I had to be ahead of (Berendt) as much as I could in the beginning.
In lane five, on the outside half of the track, he explained, "You can't tell where he's at. If I was in lane three, you're always supposed to run your race; but it always helps to be able see the guy who's seeded No. 1, so I knew I had to come out fast.
"At about 250 he was right next to me so I knew I was going to let him go a little bit and then try and catch him at the end because I knew I always have a little left and I can kick real hard. So I slipped him and I felt he was keeping his pace and I just went for it, just turn it over, turn it over, and I was able to pull it off."
Asked about the feeling of winning a district event, Kennedy said, "It's indescribable. There's so much pressure, but such a good feeling, you hear all those fans cheering for you, and you hope that guy doesn't have anything left, and you just have to give it all you've got and leave it all on the track.
"It's exciting," he said of winning four events in his first year of high school track. (Kennedy competed and won in national club-based track and field events in middle school.)
"I worked hard for it and it all paid off, luckily. I was surprised at how well I did last year but I didn't know I'd be able to come out and drop my times so much this year."