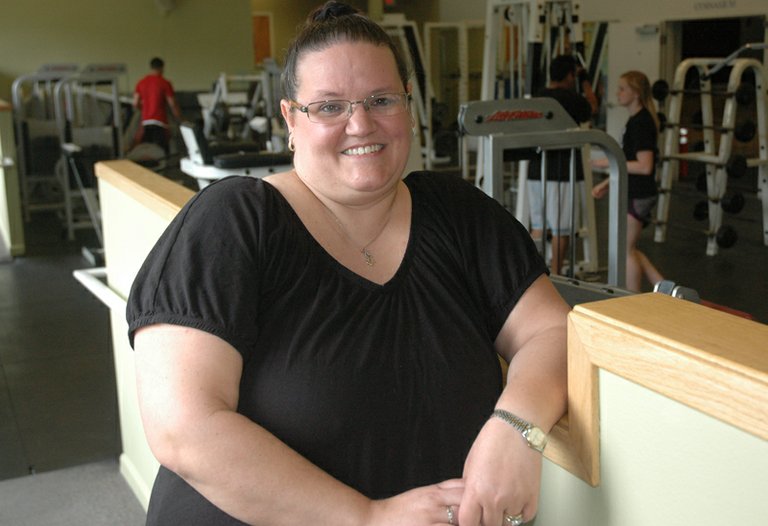 Hood River Sports Club manager Coral Worth has witnessed a lot of changes during her 24 years with the business. She's seen owners, managers, daycare and front desk staff come and go. And she's seen the once basic gym expand to include indoor courts, a gymnastic area, a yoga loft and pool facilities.
Through all the changes, Worth has remained a familiar face. She's been at the Sports Club longer than any other employee, working her way up from a daycare position at age 14.
"My sister Anita used to work in daycare, and when they started hiring for a second person, I applied. Both my sister and I worked here at the same time. It was fun," said Worth.
She eventually moved from daycare to the night front desk, although only for one night a week.
"I was extremely shy and I was scared to go out and deal with adults who were older than me," she said. After a few months, she agreed to work the front desk five days a week, ultimately becoming the manager about eight years ago.
Worth is the first person patrons usually see when they walk through the doors in the morning. She's generally at the club by 5 a.m. (she's recently started working two days a week beginning at 8), greeting what she calls her "morning crew," a group of 50 regulars who come for classes at 5:30 a.m.
"By 7:30, we've seen close to 200 people already," she said.
Sports Club patrons scan a key card to check themselves into the computer system, said Worth, and "early morning members have a tendency to scan their key cards in front of the coffee pot. It's pretty funny and it happens a lot."
Having worked so long in one place, Worth has seen a lot of families grow up over the years.
"It's kind of fun, actually, to see the members who have stayed that long. Some of the kids I used to watch are now teenagers," she said.
What she likes best about her job — and why she's stayed on — is how varied her days can be.
"It's never the same group of people; it's always something different," she said. "I don't have a typical day. I'm all over the place."

Some of her more regular tasks include chemical testing for the pool and hot tub, walking through the entire building to make sure everything is in working order, swapping out used towels, and keeping locker rooms clean. She still spends time in the daycare area if they're short on staff or if there's a cranky kid.
On top of that are her managerial responsibilities: customer service, taking phone calls, answering membership questions and caring for the entire facility. She is also always on call.
Worth has gotten a lot of funny questions over the years — "I've been here so long they just seem normal" — but there are two she gets asked frequently: whether the club is a gun range (no) and whether they sell boats (also no).
But it's the little things that make Worth's day.
"I post stuff on Facebook for the club, and just today a lady made a comment on our page that she appreciated it. I do it because it gets the info out there, but for someone to say thank you, it was like, 'Oh! You're welcome!'" she said.
Worth grew up in Hood River, attending May Street Elementary, Hood River Middle School and Hood River Valley High, where she graduated in 1993.
"I was born and raised here, and my family is all here," she said, noting that she is still sometimes referred to as Coral Fleming.
Aside from a four-month stint as a nanny in New York City after high school, she's always called Hood River home.
"New York made me miss Hood River. The people just weren't as friendly as the people are here, but it was a good experience." She earned a degree in early childhood education from Mt. Hood Community College after coming back.
Happily, Worth plans to stay at the Sports Club.
"I don't foresee leaving any time soon," she said. "Some days are a little hard, but most of the time the members here are great. They're helpful to other members, which makes my job easier."
n
The Hood River Sports Club is located at 1330 Brookside Drive and is open seven days a week. For more information call 541-386-3230.