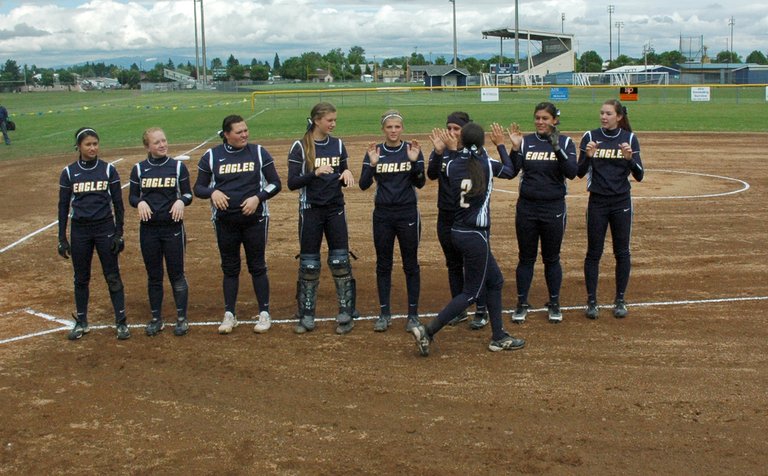 Kelsey Broadus wore a frilly ribbon, and held a fierce grip.
The West Albany freshman pitcher threw a perfect game Friday to lead the host Bulldogs to a 6-0 win in the OSAA Class 5A quarterfinal playoffs over Hood River Valley, ending the Eagles' deepest playoff run in years.
Broadus tallied 15 strikeouts out of 21 total outs, and the Eagle batters never got the ball out of the infield.
Broadus helped herself at the plate by driving in a run off Kayla Byers, who pitched a complete game, giving up five hits.
Senior shortstop Amanda McCafferty said, "She was left-handed — we hadn't seen that — and she had a few pitches she could throw for strikes."
The Eagles went down swinging at, and not just watching, the third strikes.
In the first inning, McCafferty slashed a hard grounder to the middle of the infield, and the shortstop's throw beat her to first by only a half-step. The next time the Eagles threatened was junior Erica Enriquez's bunt attempt in the seventh, when the Bulldog third baseman nipped her at first with the throw.
The game remained a hitless, scoreless pitcher's duel through the first three innings, with Byers matching Broadus wit for wit. The early innings each contained at least one moment of drama for Hood River as Byers allowed runners each time, but got out of the jams with her pitching and her teammates' defense.
In the third Byers struck out Broadus for the first out in the inning, and McCafferty dove into the dirt for the next out. HRV went back to the dugout hoping to make a dent in Broadus, but it was three-up, three-down in the fourth. Tabitha Merton at third and Bre Weekly at first, along with McCafferty, scooped up tricky ground balls for outs, but in several innings those worked out as infield sacrifices for West Albany, moving runners into scoring position.
Well-placed outfield hits would follow, and the Bulldogs put the game out of reach with a total of five runs in the fourth and fifth innings. West Albany had just one extra base hit but used floaters, sacrifices and line drives to weave its lead.
On defense, Bulldog infielders supported Broadus with tough pop-fly catches. Broadus threw it where the Eagles could hardly touch it and the Bulldog batters placed hits just out of the Eagle infielders' and outfielders' reach. The Eagles' only error in the game was McCafferty's slip in fielding a fifth-inning grounder.
"Her pitches were ... we couldn't hit them. We were practicing it like crazy," Enriquez said. "We should have been able to hit her; she's just a good pitcher. It wasn't her speed, it was her curves and all; they were coming in and dropping off at the right time, and they were outside, right where we couldn't get."
Enriquez said, "I'm really proud of us for the season. We did really good throughout; played hard as a team; we did everything we needed to do as a team, we just didn't come through this game."
Coach Eric Keller said, "It was incredibly tough. It's always difficult to lose like that. (Broadus) threw a hell of a game; we didn't make the adjustments and we just got beat."
Asked what he told the team in their postgame meeting, Keller said, "A reflection on where we've been, gratitude for the seniors, and expectations for the undergrads for off season, and looking ahead to next season.
"It's been a while since we made this kind of a run, so it was exciting to be so successful, and hopefully the path toward greatness is built upon improvements."