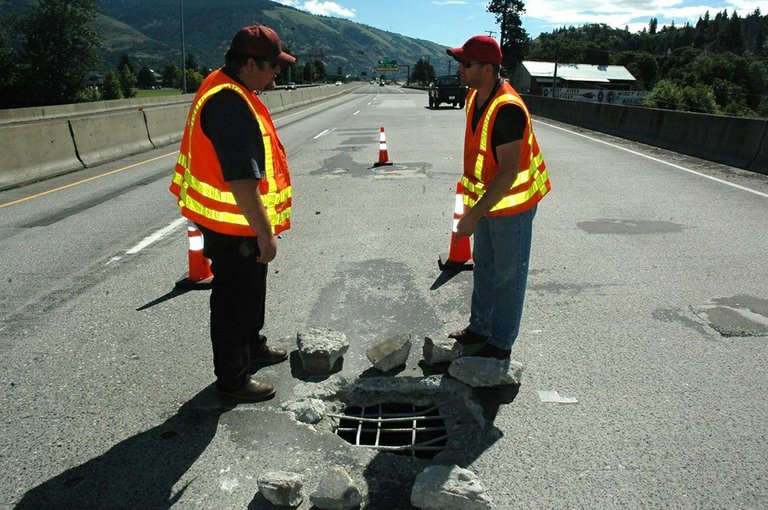 Originally published May 31, 2013 at 10:03 a.m., updated May 31, 2013 at 12:22 p.m.
Update 2: According to ODOT the hole was created through erosion due to water and wear and tear. "The micro-silica overlay delaminated, letting water erode the concrete deck; the bridge's flexing every time any vehicle goes over the bridge helps cause the delamination in the first place and then aids the continuing concrete damage." According to an ODOT statement.
Bridge inspectors examined the bridge following the discover of the hole and did not find any structural deficiencies with the bridge.
Maintenance crews removed damaged concrete from around the hole and then applied new concrete.
The right lane, the on-ramp from 2nd Street at exit 63 will remain closed for as long as 72 hours
to let the new concrete set. All lanes should be open by Monday morning, 6/3/2013. The left lane eastbound will remain open, and exit 64 will remain open. But because of the other lane closures, motorists should expect delays and congestion; and they should plan to allow more time to travel through this area.
Update: ODOT is on the scene of the passerby-discovered hole in the bridge decking above the Hood River eastbound lane of I-84 near the onramp at the milepost 63 entrance. Not as large are originally reported but still a danger. Repair is estimated to take all day with expected delays expected. The unknown reporting person stayed on scene directing cars around the damage until ODOT arrived.
The right lane of I-84 eastbound where it crosses over Hood River (milepost 64.1) is closed due to a 3x5 foot hole in the concrete deck. Crews are on the way to fix the hole and there is no estimated time for reopening. Travelers should expect congestion and delays.