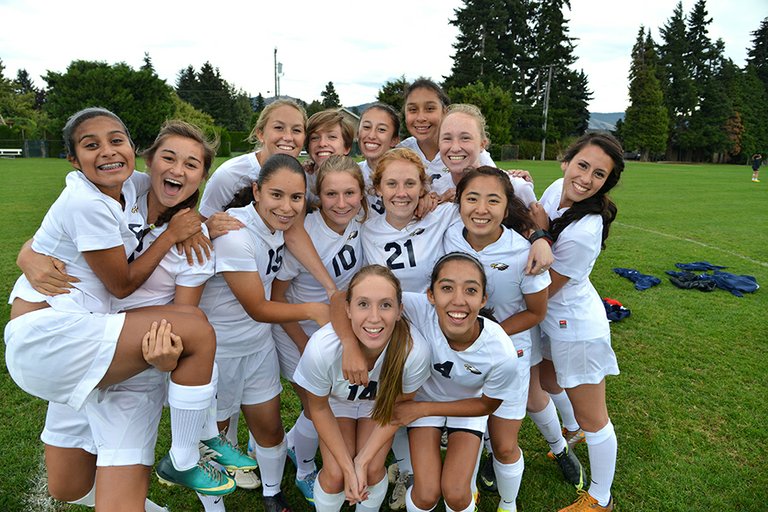 Saturday, November 2, 2013
Claiming the outright Columbia River Conference title Tuesday evening with a momentum-building 3-1 win at The Dalles-Wahtonka, the Hood River Valley High School varsity girls soccer team closed the regular season with a 4-0-2 CRC record and a 5A No. 11 ranking. That position placed the team in a home play-in game Friday evening (6 p.m., Henderson Community Stadium) against the No. 22-ranked Wilson Trojans. Results from the game were not available as of press time for this issue; if the girls won, they advance to the first round of the state tournament and will go on the road Nov. 5 to play No. 6-ranked Crescent Valley.
The pressure was squarely on the Eagles going into Tuesday's game against The Dalles. With Pendleton holding a 4-1-1 CRC record, HRV needed to win in order to claim sole ownership of the CRC title, and a loss would mean a slip in the rankings, which would have a big difference on who and where they would play in the play-in round. The Dalles was also looking for revenge after enduring a 3-0 shutout loss in its previous meeting with the Eagle squad.
"We were consistent in our attack, getting the ball to the corner and serving it into the box," coach Kevin Haspela said of the game. "Early on, I was worried that we would have trouble scoring again; many of our shots hit The Dalles' goalie in the hands. We continued to press and eventually found the back of the net."
After several attempts, midfielder Korey Cimock volleyed a cross from Mona Diaz to score a first-half goal for HRV. After a strong start to the second half, Diaz set up the second goal with another offensive feed from the corner, finding Lily Zega at the far post to finish. Cimock upped the lead to 3-0 with a shot from outside to score her second goal of the game.
The Dalles scored its goal off a penalty kick caused by a handball in the box.
In addition to the offensive result, Haspela said "the story of the game was consistent defense. Sophie Grace and Jenissa Ramirez communicated well and had excellent timing cutting off through passes and keeping The Dalles shot tally to six. Laura De La Torre, Kara Kiyokawa and Lucy McLean were kept busy and The Dalles made a few counter attack runs in the second half."
Vanessa Silva and Sophia Marble shared time in goal. The two have combined to allow just 11 goals in 13 games this season.
Pendleton finished as CRC runners-up with a 4-1-1 conference record and a No. 13 ranking; the team host No. 13 Mt. View in a play-in game. The Dalles ended its season against Hood River with a No. 26 ranking, just out of reach of a post-season.