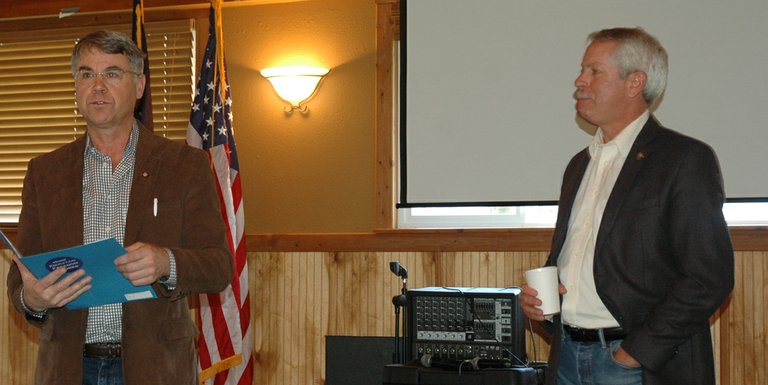 Saturday, November 2, 2013
Chuck Thomsen announced his plans Wednesday to run for a second term as Dist. 26 State Senator.
"I'm still learning, every day," Thomsen said of his service in the Oregon Legislature.
Thomsen, a Republican, is a fourth-generation Pine Grove orchard farmer. He was first elected in 2010. He previously served on the Hood River County Board of Commissioners.
"It is a great honor to serve the citizens of our local communities in the Oregon Legislature," Thomsen said. "There is still a lot of work to do, and I believe I can continue to be an effective voice and advocate for Senate District 26."
The district boundaries include Hood River County and areas in Clackamas and Multnomah counties around Estacada and Boring, as well as Portland suburbs.
Thomsen said he has earned a bipartisan reputation, effectively working the senators of both parties.
"I look at both sides of the issue, and try to work with people on both sides. It's just how I do things," Thomsen said. He is currently a member of the budget-writing Ways and Means Committee, the Emergency Board, the Environment and Natural Resources Subcommittee, and the Senate Business and Transportation policy Committee.
He said he has spent the past four years fighting for increased funding to Oregon classrooms, and pushed for the historic increase in education funding, securing more than $1.1 million for Oregon schools over the next two years.
"I have also found solutions for many specific needs, such as saving key rest stops from closure, shepherding a bill to ease payroll deadline requirements for agriculture producers, and helping steer the final stages of key road infrastructure projects," he said. "I'm really proud of our work on behalf of individual constituents.
"Some of the most valuable work we do is helping out folks who need assistance navigating a regulation or working with a state agency. I see my role as one of the people citizens can come to in order to find the right person to talk to at a state agency."
n
Democrat Robert Bruce of Sandy announced last week he will run against Thomsen in the May 2014 primary.
Sandy, a consultant with Sandy River Construction Services, said he's spent years helping construction companies grow and be competitive. He has never run for public office.
"Small businesses continue to struggle and our schools still aren't getting the funding they need," Bruce said in a press release. "We can do better and we must do better, and that's why I'm running for the Oregon Senate."
In recent years, Bruce has advocated for small businesses as a member of the Oregon Association of Minority Entrepreneurs.
In 2011, Bruce helped lead the effort to pass legislation that would have leveled the playing field for small businesses on architectural and engineering contracts. He continues to advocate for policies that would make it easier for small businesses to provide health care coverage to their employees, such as eliminating the exemption for the insurance industry from Oregon's anti-fraud laws.