Wednesday, November 6, 2013
This week volunteers at Adopt A Dog have selected Cloud as the program's adoptable pet of the week. They describe him as follows:
"Cloud is about 1-2 years old, a lab/hound mix with a lot of puppy left inside just itchin' to come out. He's so fun and playful and goofy, we can't believe no one claimed him!
"Cloud has a super-soft, gorgeous white coat with brown freckles on his ears and a spot on his tail, and his ears are soft and floppy so they bounce around when he runs. There's nothing ordinary about this boy!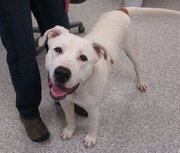 "He didn't know anything about playing or fetch when he first arrived — all he would do was bark and whine — but now he's gotten the hang of toys, and squeaky ones are the best! You should see him toss and chase those things around, all by himself! Check out his video on our website — he's adorable!
"Cloud is learning some basic commands, but he's got a lot of energy to burn and would rather play for now. But he'll do just about anything for a treat, so training him more should be easy. Leashed walks are also new to him and so far, so good!"
Cloud is current on shots, microchipped and neutered. His adoption fee is $185. The fee to adopt is charged to recoup standard veterinary expenses.
Since many of AAD's dogs are in foster care, please call ahead to meet Cloud at the Hukari Animal Shelter, 3910 Heron Drive, Odell; 541-354-1083. Adoption hours are Wednesdays from 5-7 p.m. and Saturdays from 9-11 a.m. Applications may be downloaded at www.hoodriver-adoptadog.org and faxed to 877-833-7166.
The Adopt A Dog program offers 24PetWatch microchips, which include free registration into the 24PetWatch pet recovery service. (For more information visit www.24petwatch.com or call 866-597-2424.)