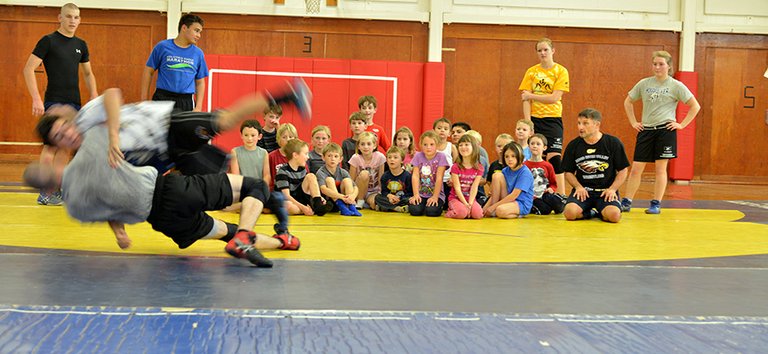 Wednesday, November 6, 2013
Winter sports are coming up fast, and sign-ups for many have already begun. Below is a selection of opportunities for Hood River youth during the "indoor sports season." Submit other listings, league/team information, sports camps, sign-ups, tryouts and any other sports-related information to alapierre@hoodrivernews.com or 541-386-1234.
Holiday break youth hoops camps
Thanksgiving youth camp for kids grades 3-8 runs Nov. 25-27 at HRVHS and another Christmas break camp for the same age runs Jan. 2-4. Both camps are taught by HRVHS coaches and players with a focus on fun, skills, drills and scrimmages. Register at www.hrcommunityed.org.
Youth basketball league
One of Hood River Community Education's most popular youth programs, the youth basketball league starts Dec. 3 and is open to players grades 3-6. The season consists of two practices per week and include six Saturday games. Volunteers and coaches are also needed for this program. Practices will be at kids' home gyms whenever possible. Register at www.hrcommunityed.org.
Hood River Wrestling Club
Practices started Oct. 28 for the long-running Hood River Wrestling Club's winter program. Classes include a beginners group that practices every Monday from 5:15-7:15 p.m., an intermediate and advanced class that practices Tuesdays, Wednesdays and Thursdays from 6-7:30 p.m. and a middle school club that runs until the start of the middle school season in January. Kids and parents interested in checking out the program can show up and watch any of the classes listed above. For more details or to register, go to hoodriverwrestling.com
Middle School Wrestling
Hood River and Wy'east middle schools will field separate wrestling teams, with seasons starting in early January. Wrestlers must register through Community Education but will represent their respective teams as Eagles or Panthers. Coaches are professional and experienced and wrestlers will practice hard after school each day. The season will end with a development tournament for beginner wrestlers and regional and state tournaments for advanced wrestlers. Register at hrcommunityed.org.
Cooper Spur Race Team
Cooper Spur Race Team is gearing up for another winter of fun and fast action on the slopes. CSRT offers programs for kids ages 5-15, ranging from fostering first-time racers to developing some of the fastest young rippers in the Northwest.
New to CSRT is a FreeRide program offered this year for skiers ages 9-14 that focuses on park and pipe skiing, techniques and tricks. For details on CSRT's many programs or to register, go to cooperspurraceteam.org or email csrt@gorge.net.
Indoor lacrosse for grades 5-12
Hood River Youth Lacrosse Club plays indoor box lacrosse through the winter Monday evenings starting Dec. 2 at The Dalles Fitness and Court Club. Fee is $80 for nine indoor games. For details see hoodriverlacrosse.com.
Indoor Rock Climbing
Rock climb in the comfort of the indoors on the Hood River Middle School eight-station artificial climbing wall. Anyone who has completed a basic course and passed the belay and tie-in check will be eligible to use the wall on designated open sessions with the $20 fee. Equipment is available. Open sessions run Tuesday evenings through the end of January, with kids climbing from 6-730 p.m. and adults from 7:30-9 p.m.
The next basic course is scheduled for Jan. 6. For experienced climbers wanting to climb between now and then, contact HRCE Director John Rust for details john.rust@hoodriver.k12.or.us. Register for the course at at hrcommunityed.org.