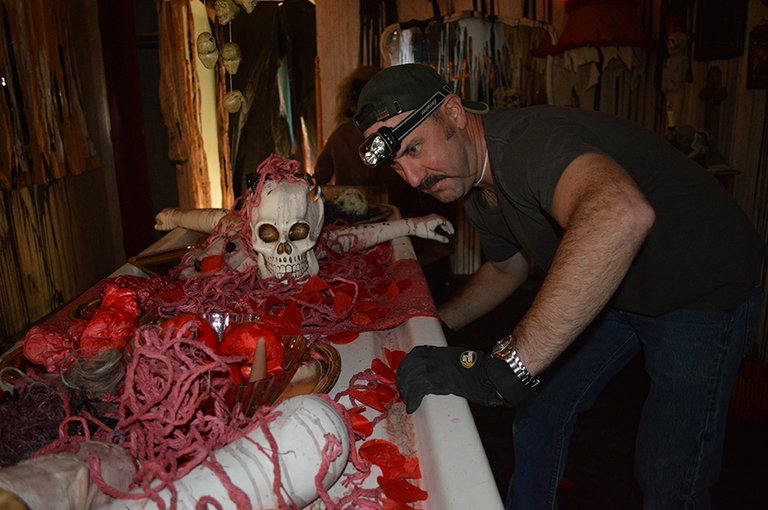 Saturday, November 9, 2013
Hood River Fire has once again done a great job of scaring up funds for the Muscular Dystrophy Association.
This year's haunted house fundraiser has proven to be the most successful in the event's seven-year history, according to Hood River Fire Lieutenant Paul Henke.
Henke, who started and is responsible for much of the work that goes into the annual production, reported that the haunted house raised $8,500, which he said was "over double what it was last year." That represents approximately 1,500 trips through the house over a period of five days.
Henke said having the house open for two days the weekend before Halloween made the difference in fundraising for this year's event.
"We got a lot of repeats (of visitors) from the first week," he said.
Every single dollar raised from the event will be put toward helping children with the degenerative neuromuscular disease attend summer camps, which Henke said in an earlier story was "the one week (the kids) get to do whatever they want."
Henke thanked everyone for attending this year's event and for all it supporters.
"The businesses were great supporters this year," he said. "They contributed greatly and they were happy to do it."
Tracy Klas, who did the art direction, promotion and prop sourcing for this year's production, thanked the public as well on the event's Facebook page and to "all the community contributors and donations."
The house at 1145 Alameda Road in Hood River that was used for this year's haunted house will be burned by the fire department in the spring for training purposes. Henke said he has also gotten burned out on the haunted house and won't be seeking for another house to use next year.
However, he did say that if someone offered up a house to use next fall, he might consider giving the haunted house another go.
"I really don't plan on it, but I'm not going to totally rule it out," Henke said.