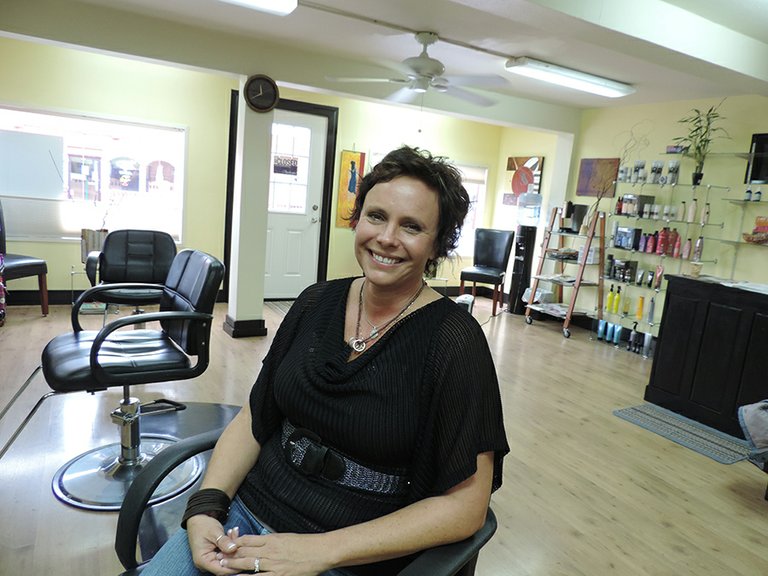 Saturday, November 9, 2013
Surviving cancer helped Nannette Mortensen craft a new mission statement for her life.
"How do you give back to someone who has everything?" said Mortensen, who is back at work full-time as a hair stylist, two years after contracting stage 4 colon cancer.
"You give to someone who doesn't have anything."
Mortensen, 42, plans to pay back for multiple kindnesses during her surgeries and chemo by creating "Free Haircut Fridays" at Salon Don'Ya on the Heights.
"So many people gave so much to me and it's not always possible to repay that, but you can give it to someone else," Mortensen said Thursday while a sunbreak cast beams of light through the window where she sat in the Salon's 12th Street window.
From 9 a.m. to noon and 1:30 to 3:30 p.m. Fridays on a walk-in basis, she will cut hair for free, in exchange for donations of nonperishable food items to be given FISH food bank. Donations to FISH are also accepted, in the "fish bowl," decorated by her daughter, Jayde, 13. Mortensen, who married Michael Mortensen in June, also has a son, Cody, who is stationed at Camp Lejeune, N.C., with the U.S. Marine Corps.
Free Haircut Fridays continue through December as a way to help FISH, but Mortensen said she would like to continue it year-round.
"It's such a small thing to give, and it's such a huge thing," Mortensen said. "It's such a small thing for us to give those that have not but it is such a huge thing for those who have not.
"Being able to take care of your kids when you have no way to do that; I have such a such a passion for that because I got put in that position, and I think I got put there for a purpose, to be more sympathetic and understanding, be more encouraging, so that's what free haircut Fridays will be for me. A way to say, 'I have a skill, God gave it to me and he gave the ability to do this and we'll use it and help families that need help.'" She hopes to expand it to year-round.
Getting sick in November 2011 "was really, really just out of the blue," said Mortensen, who has been a stylist for 15 years and was working at B. Beautiful. "I had gall bladder surgery and I just never recovered from it; I went from being completely self-sufficient to not knowing if I could walk my daughter across the street to the bus stop.
"People showed up at my doorstep with food; it was such a mixed thing, they were telling me I was needy and I needed it, but I hadn't realized I hadn't worked in a month and my savings account was starting to (disappear) from it," she said.
The karma at Salon Don'Ya, owned by Donna Smith, goes back many years. Mortensen, a 1986 HRVHS graduate, moved to Hood River six years earlier, and moved to foster care with the Smiths.
Mortensen, who now lives in Mosier, worked in title insurance, for the county planning commission, and the phone company (United Telephone and then Sprint, back when it was in the Dean Building, now the County Administration Building, Sixth and State streets).
"I had some really great jobs, some great opportunities, and what it showed me was I had a desire to be self-employed, to run my business the way I want to." she said. "I love my job. I can't say that about all the jobs I had. But they taught me to be the kind of business person I am. I am the customer service person I am because the telephone company trained me to work with people the way I do."
She did customer service and billing, then went to work for Mt. Adams Title Company, owned by John Stanley, who later sold the company.
"I would float from Hood River to The Dalles, as courier, then learned title examination, and then John taught me to do escrow closures," she said.
"I just knew that I was willing to go the extra mile and put in the extra hours, and I always had these great ideas about how to other people's business better. I was always the one troubleshooting at the county; I was always the one who installed the new software.
"I thought, 'I really want to go to beauty school, but I should stay with this really good paying career.' I loved the idea of doing someone's hair but I needed the money.
"But I followed what I had a passion for, and graduated at the top of my beauty school," in Orchards, Wash. The work gave her the freedom to schedule my life around her kids.
"Angie Shelton of B. Beautiful, and Kathy Fisher and Brandon Boots organized fundraisers, and it allowed me to be okay," said Mortensen, who started chemotherapy treatment in January 2012 at Providence Hood River Memorial Hospital and then at Mid-Columbia Medical Center, before quitting chemo two months later.
"I was so sick. I didn't do well with it, and when I quit I had a free and clear CAT scan and I felt good about quitting, but I got sick again in August. If you can manage symptoms, you can deal with it, but I ended up in hospital several times, dehydrated and unable to move, and I was allergic to the chemo."
She went to OHSU for new chemotherapy and had two surgeries including a hysterectomy and a 12-round chemo regimen, and it was successful.
"Cookie Gilpatrick drove me to all chemo treatments and supported me through not being able to take myself or take care of myself very well," Mortensen said.
"What if my story tells other people how to affect another person's life in a positive way?" said Mortensen. "I could never respond to the hundreds of people who helped me. I've written thank you notes and ran an ad in the paper but I still have a bag of people I need to say thank you to. Maybe I can say, 'You guys supported me and now I can do something for the community.' Because I am truly thankful."
Mortensen returned to work in May at Foils, two days a week, but last month she felt good enough to work every day.
"I was feeling really good and I needed to get busier. Two days a week was not enough to help support my family." She saw a sign in Smith's window, got the new job on the spot and started Oct. 15.
"I was busy the days I was before I got cancer and am hopeful to get busy every day. I am starting from scratch again. I hadn't really worked in two years. It takes time. I had a great client base when I got sick so that will come back.
"I have this philosophy that every person I touch, even in the edges of their life, I have the opportunity to touch them in a positive way. I try to always be in a good mood, and be a good listener. I love my job and I'm always happy to be at work, but I never have a bad day a work."
"I just give positive feedback," Mortensen said. "I do spend a lot of time in my Bible and to be in a place where I can encourage people. So putting a lot of positive in allows you to lay the positive out in people. There's a lot of things in the world that are just negative and cause a lot of extreme sadness in people, and I think when people are coming to the salon they're coming not only to look better but to feel better, and I've used this outlet as my health message.
"There are so many ways I touch people that are positive. I make people feel better about themselves and not just outwardly. I didn't really realize that until I got sick because I've had people tell me 'You always had something wonderful to say.' I didn't really feel it but now I know it because I have had this experience over the last two years of people just pouring that love back into me when I wasn't able to take care of myself.
"So that's the feedback I get, that 'You were always thoughtful and kind, and it made a difference, and we want to make a difference for you.' So that's where I come back to, 'I want to make a difference for this community' because every single person needs to eat."