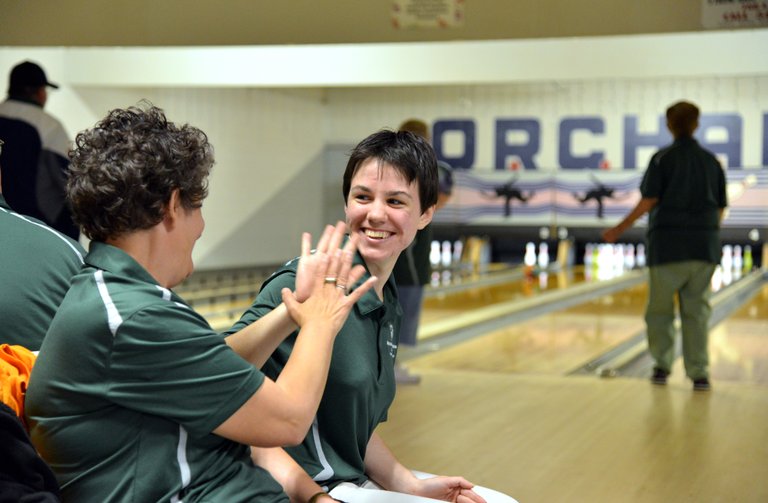 Saturday, November 9, 2013
In a recent move to combine forces and facilities, Hood River and Wasco/Sherman County Special Olympics programs have decided to merge into one Gorge-wide team to participate and compete in sports like bowling, basketball, skiing, bocce ball, track and field and swimming.
"The two local programs will combine the efforts of their individual management teams, strengthening the volunteer base," said Kelly Stone, communications manager for the team. "The larger group of volunteers will offer a more diversified set of skills and abilities, allowing each member to find a niche where his or her strengths can best be used."
In addition to furthering the volunteer reach, the merger would open up new avenues for athletes from both ends of the Gorge. Hood River, for example, has a popular bowling team, but The Dalles athletes have been unable to participate in the sport due to the city not having a bowling alley. On the reverse, The Dalles has a popular basketball team and Hood River does not, due to a lack of volunteer coaches.
"Combining the two local programs will make bowling and basketball available to Special Olympics athletes in the entire Gorge area, along with swimming, alpine skiing, bocce ball, and other seasonal sports," Stone said.
The Special Olympics program provides year-round sports opportunities to youth and adults with intellectual disabilities. For many, the program is the only place where they have an opportunity to participate in their communities, develop belief in themselves and feel like champions, the program's website says.
While the merger will help consolidate resources and volunteers, the organization is always in search of people willing to give even a little of their time to the program.
"Most volunteers will tell you that they receive more than they give," said volunteer Janel Hughes. "It almost seems selfish, but by volunteering it brings feelings of satisfaction and joy to the giver."
Anyone interested in the program or in volunteering can call the following numbers: 541-370-2820 or 541-296-1247.