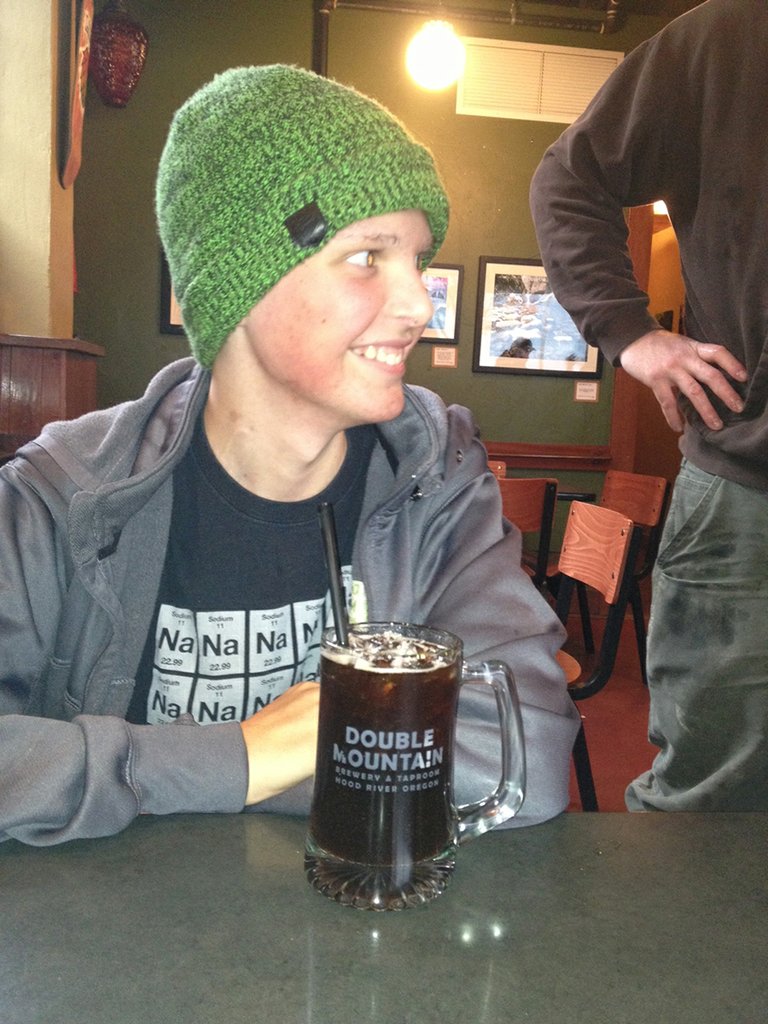 Wednesday, November 13, 2013
On Oct. 20, the Gorge Roller Girls presented Kim Stolte with a check for close to $10,000.
But the story really begins in June of this year, when Stolte's son, Owen, began experiencing knee pain.
At first, they thought the pain was from physical activity and that he needed better arch supports in his shoes. Owen continued to bike, sail and swim, and the knee pain continued, too, even with new shoes — not a lot, but enough to slow him down. He had an MRI at Providence Hood River Memorial Hospital on July 29, and on July 30, Stolte received the call that it was osteosarcoma — cancerous bone tumors.
The news traveled to a Gorge Roller Girls practice, where Stolte, a labor and delivery nurse at Providence Hood River Memorial Hospital, is a teammate.
How to Help
Go to Double Mountain, 8 Fourth St., and have a glass of house-
made root beer ("Oh-Man").
Double Mountain will also host
"A Benefit for Owen" on Dec. 7.
"We were at a practice when one of the girls on the team told us about Owen," said Kathy Quinnett, also known as Kat Von Splat. "His mom is a skater with us and with the closeness of all of us on the team, we immediately thought, 'What can we do to help?' So while we were skating around, warming up, ideas started flowing."
The Gorge Roller Girls held a total of three fundraisers for Owen. The first was a bake sale held during the Sept. 1 First Friday event downtown. For their second fundraiser, Gorge Roller Girls served beer during Hops Fest on Sept. 28.
But the largest of the fundraisers happened Oct. 13, with a Cut-A-Thon held at Salon Visio in Hood River.
Quinnett, a hairdresser who works in Portland and lives in Hood River, spearheaded the effort. The idea came from another haircutting fundraiser she had participated in years before.
"It was a huge success, so I thought if I could get a salon to open their doors to me and my idea, this could be huge," said Quinnett. She called Salon Visio, who agreed to host the event, with hairstylists from Hood River, The Dalles and Portland donating their time.
"It was a pretty positive and powerful day," she said. "Every stylist was booked up and the community really stepped up.
"Gorge Roller Girls would have never been able to raise so much money if it wasn't for Salon Visio opening their doors and stylists to us," said Quinnett. "They really went above and beyond for someone they didn't even know."
During the Cut-A-Thon, area businesses donated food and beverages, as well as enough items to fill five gift baskets, worth over $350 each, which were then raffled.
"Hood Crest Winery owned by Tess and Patrik Barr, Subway Sandwiches, Crazy Pepper, Double Mountain Brewery and numerous others came together to make the event a huge success," said Stolte. The Hood River Valley High School cheerleaders were there, too.
The Cut-A-Thon raised a little over $8,000, said Quinnett, and the bake sale $1,000. For working at Hops Fest, the skaters earned another $500. The Gorge Roller Girls donated 100 percent of these funds to the Stolte family.
The funds will allow Stolte to take time off from work to care for Owen during his chemotherapy treatments, taking place at Doernbecher/OHSU, as well as for his first surgery to remove the largest tumor on his leg, scheduled for Nov. 20 in Seattle's Children's Hospital.
"We anticipate that Owen will need two or three more surgeries and about a year of chemotherapy," said Stolte.
The fundraising effort is continuing at Double Mountain, 8 Fourth St., Hood River, with the donation of proceeds from the sale of their house-made root beer ("Oh-Man"). Double Mountain will also be the site of "A Benefit for Owen" on Dec. 7 from 8-11 p.m. The evening will include music by blues and R&B musician Lloyd Jones, dancing, and a silent auction. Suggested donation is $20, but no one will be turned away for lack of funds. This is a 21-and-over event.
Stolte said the fundraisers for her family have been incredibly helpful in allowing her to take time off from work, and people often ask how they can help. Instead of donating specifically to her family, she said, she's asking everyone to donate to a cancer research organization of their choice.
"We're all being affected by cancer," she said, adding that she knows four other cancer patients in the Hood River area. "I love it that people are so supportive, but we really just need to cure cancer."
Owen is doing great, said Stolte, adding that he has a good attitude. Because he has not been able to attend classes at Hood River Valley High School this year, Owen is currently enrolled in an online charter school called Insight of Oregon.
For information and updates, visit Owen's webpage at CaringBridge.org (search: Owen Stolte).