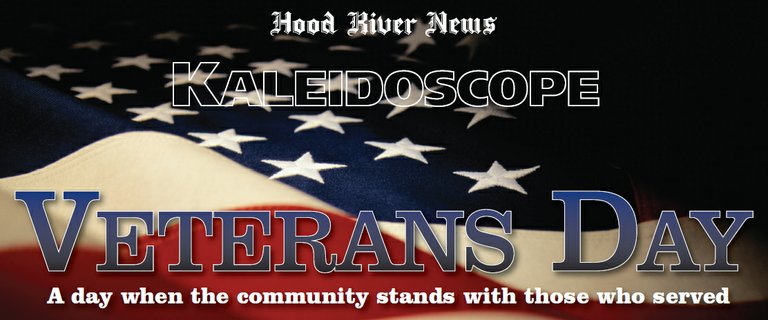 Wednesday, November 13, 2013
Three events, three opportunities for recognition amounted to a day of remembrance and tribute in Hood River.
Groups of veterans gathered at Elks Lodge, Anderson's Tribute Center and Best Western Hood River Inn Gorge Room Monday as the community observed Veterans Day.
Community members honored veterans at the annual ceremony at Anderson's, where main speakers included Nick Kirby, Jim Tomson and Bob Huskey.
American Legion Commander Carl Casey gave the message and prayer. Casey also serves as pastor of Parkdale Nazarene Church. Anita McDonald sang the national anthem.
Elks Lodge served breakfast to nearly 200 people in its annual way to say thanks.
At the Gorge Room, 24-year Navy veteran Jeffery Sinchak of Wounded Warrior Project, who was wounded in Iraq, delivered an impassioned appeal and personal testimonial, imploring the audience of about 75 "to never let Veterans Day be just another day." A dozen veterans stood with Sinchak after his speech.
In addition, Hood River News asked six veterans to tell us their stories of service and their views on the meaning of Veterans Day.
— Kirby Neumann-Rea
Bob Losli, U.S. Navy
American Legion Chaplain Bob Losli, a Vietnam veteran, was grateful to see World War II veterans come out for Monday's Elks Lodge breakfast.
"There just aren't very many left," said Losli, an electrician's mate who served from 1962-66, stationed at Pearl Harbor.
"I made two voyages to Vietnam and we did coastal bombardments. The 'star shells' just made the whole sky light up. We were 10 miles offshore so I didn't think much about danger."
"There was a lot of noise but my Pearl Harbor experience was nothing compared to what my uncle had. He was just coming back to the base from leave, five minutes before (the attack) hit Pearl Harbor" on Dec. 7, 1941.
Losli fondly recalls the experience of crossing the equator, and the rowdy induction "ceremony."
"The fattest guy on the ship would be King Neptune and they'd cover his belly with mustard and gravy and kitchen scraps they stored up for a week, and you'd get your face pressed in it. It was fun coming back across and doing the 'giving' instead of receiving on that."
Losli, who served coffee and prepared tables at the Elks breakfast, said "What's being done for veterans is good, with the services and parades. A lot of people are doing it up right."
— Kirby Neumann-Rea
Whitey Barker, U.S. Army
Tensions were high in 1953 West Germany, where Whitey Barker of Hood River served as a corporal in the U.S. Army 4th Infantry Division during the Korean conflict.
"The Russians were next door, and it was a tense time," said Barker, after Veterans Day breakfast at the Elks Lodge Monday.
"We'd see them on guard duty and as soon as you raise your camera, they'd immediately duck out of sight. They did not want their picture taken."
It was the days before the Berlin Wall and the restrictive barriers that became known as the Iron Curtain, but eight years after the end of World War II, the nominal allies were far from friendly.
Barker, who is an SDS Lumber retiree, never had any contact with the Russians, though his unit was allowed into the Soviet sector to visit a cemetery where hundreds of Russian soldiers were buried in mass graves marked by seven mounds.
"I'm grateful to be recognized (on Veterans Day)," Barker said. "I had it easy compared to so many other guys who got in the way of guns, and you have an idea of what they went through, but you don't really know."
— Kirby Neumann-Rea
Roy Wagoner, U.S. Army
Roy Wagoner, of Hood River, says he was drafted into the U.S. Army in June 1964 as American involvement in Vietnam began to escalate. At the time, Wagoner had taken a break from his studies at Wenatchee Valley Community College in Wenatchee, Wash., which Wagoner regretted at the time.
"I made the mistake of dropping out of college to work during the spring term. Three weeks later, they got me," he says of the draft board.
"I said, 'You made a mistake,'" Wagoner remembers when he reported to the board, "and they said, 'I know, we'll see you Monday.'"
Wagoner was shipped off to Vietnam where he was stationed for 13 months, nine of which were up in the mountains somewhere between Pleiku and Ia Drang.
Back home, he says his mother "watched the news every night and cried," worried for her son's safety.
After 13 months in Vietnam, Wagoner had achieved the rank of Specialist 4, but was ready to come back to the United States.
"It was no fun," he says of his time in Vietnam.
— Ben Mitchell
Richard Logan, Army/Air Force
Richard Logan, of Hood River, enlisted in the U.S. Army in 1950 to fight in the Korean War. He says he fought in the 7th Infantry Division of the 32nd Infantry Regiment and was deployed at Inchon, Korea (then Incheon, South Korea) on Sept. 19, 1950.
"We went in at 12 o'clock that night," Logan recalls. "It was very cold."
Logan says another memorable moment was landing in what is now North Korea, and marching nearly all the way to the Yalu River, which serves as the border between China and Korea, before Chinese forces responded.
Logan also served in the U.S. Air Force, from which he retired with the rank of technical sergeant in 1972. During a Veterans Day ceremony at Anderson's Funeral Home, Logan was presented the Korean Service Ribbon by U.S. Army National Guard Sergeant Richard Chance along with a personal message from the South Korean president, thanking Logan for his service during the Korean War.
"It's something that stays with you," Logan says of his combat experiences. "You can't forget it. You can't get away from it."
— Ben Mitchell
Michael Decker, Marines
Michael Decker, of Hood River, enlisted in 1989 and shipped overseas to serve in the Persian Gulf War and was immediately greeted by the searing 130-degree heat of the Saudi Arabian desert.
"The first thing they did was as soon as you got off the plane was give you two big bottles of water and they told you to drink them on the spot before you could leave," he recalls. "They were afraid you would pass out from heat exhaustion."
Decker was assigned to Marine Air Control Squadron 1, and was responsible for scanning radar screens in Kuwait for signs of Iraqi scud missiles.
Decker returned from the Middle East four months later, but served in the USMC for another four years, where he achieved the rank of corporal. He now is employed as an ironworker with the U.S. Army Corps of Engineers.
Decker says one of the things he remembers most about his service was grappling with the idea that an untimely death was always a possibility.
"I think the most earth-shattering experience was hitting the ground (in the Middle East) and knowing you might not make it home," he says.
"You realize how fragile your life is," he adds, "but we knew that we had a job to do."
— Ben Mitchell