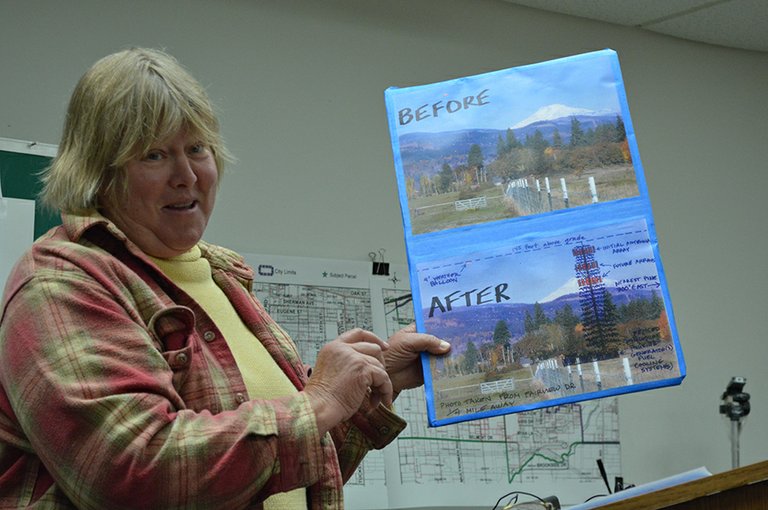 Saturday, November 16, 2013
The Hood River County Planning Commission didn't take long to deliberate Wednesday night on whether a proposed cell tower would stand or fall.
A brief, 25-minute meeting was all it took for the commissioners to render a 6-1 decision against an appeal from American Tower Corporation to build the 140-foot cell tower disguised as a fir tree on the west side of Hood River.
ATC's application originally called for a 165-foot tower to be built not far from the Westside Community Trail on a section of private land located between Fairview Drive and Rocky Road near the edge of Hood River's urban growth boundary. Hood River County Planning Director Mike Benedict denied the application back in July based on the tower's height being "visually incompatible" with the surrounding area and ATC subsequently shaved 25 feet off the tower's height in its appeal.
A majority of the planning commission, however, felt the reduction in height did little to ameliorate the tower's visual impact. Commissioner Kathie Alley agreed with Benedict's decision to deny the application based on visual impacts and added that public outcry against the proposal heavily weighed on her decision to oppose the cell tower.
"I think that when we were at our last meeting, there were many people who got up and one lady got up and said, 'I really want to know that you listen to us,'" Alley said, "and I'm thinking, in my mind, that I'm listening to what people want to do."
Commissioner Peter Frothingham agreed and added that "the support structures themselves are incompatible with the area," referring to the razor wire fencing and an equipment shed that were also proposed for the cell tower site.
Commissioner John Brennan touched on the dichotomy of cell service and unobstructed views in his portion of the deliberations, noting it would be difficult to reconcile the two competing interests.
"Everyone wants great cell phone coverage, but nobody wants a tower in their backyard," he said. "Just like we all want alternative energy, but we don't want any wind turbines in the Gorge, so it's a quandary."
Brennan, however, also sided against the tower, stating that ATC "failed to prove any gap in coverage; only a potential loss in connectivity at some unknown future date."
Commissioner Erick von Lubken echoed commissioners' earlier sentiments regarding compatibility issues and argued that ATC failed to provide adequate site alternatives for the tower, calling the corporation's decision to place the tower at the end of Rocky Road, "an easy out."
Commissioner Jennifer Euwer thought the idea of visual compatibility to be "nebulous," but said testimony from local realtors regarding the tower's potential negative effect on property values made an impression on her and "puts something objective on something subjective."
Commission Chair Bob Schuppe stated he too was against the tower, believing the federal Columbia River Gorge National Scenic Area Act of 1986 superseded the federal Telecommunications Act of 1996.
"Hood River County has been designated by Congress to administer the National Scenic Act and that's what we are doing," he explained. "I do not believe that the Telecommunications Act trumps that because it applies to state and local (laws); we are executing a federal law," he said of the CRGNSAA.
Commissioner Stanley Benson was the lone vote in favor of the tower, but he indicated he had struggled with the issue, which he characterized as "quite the conflict between the technical and the aesthetic." Benson said he believed ATC had done its due diligence in site selection and expressed his concern that cell service would be comprised in the future without the tower.
About 25 people sat in on the deliberations and cheered when the 6-1 vote was reached, but Benedict noted in a phone interview Thursday that ATC can still appeal the decision to the Hood River County Board of Commissioners. Attorney for the appellant, Kelly Hossaini, who attended the Wednesday night meeting, was asked if her client would file another appeal.
"I have no idea," she responded. "They'll make the decision when they see the decision."