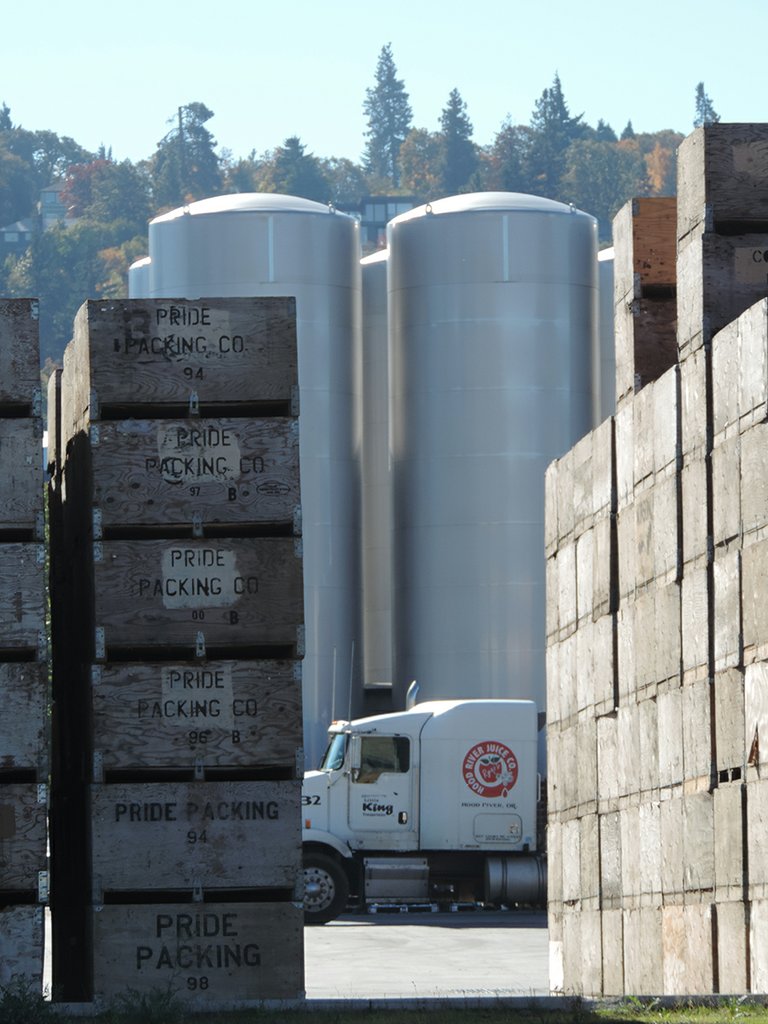 Saturday, November 16, 2013
A dispute between Ryan's Juice and the city of Hood River over a back sewer debt is still simmering in council chambers and may head toward legal action if the situation is not resolved to city council's satisfaction by Nov. 25.
In the latest development of the now month-long saga, Michael FitzSimons, attorney for David Ryan who owns the Hood River juice processing company that bears his name, formally rejected a contract drafted by city attorney Dan Kearns for repayment of what was originally a $419,000 sewer debt owed by Ryan's Juice. According to Interim City Manager Don Otterman, the impasse means city council may decide to take legal action if the dispute isn't resolved by the council's next meeting Nov. 25.
The debt stems from effluent disposed by Ryan's Juice — also known as Hood River Juice Company — in 2010 and 2011 into the city's wastewater system when the company was in the process of moving its operations from Country Club Road to Riverside Drive. A portion of the debt is also comprised of $35,000 in fines levied by the city against Ryan's Juice for exceeding biochemical oxygen demand (BOD) limits. Former city manager Bob Francis — who is now employed as the chief operating officer for Ryan's Juice — gave Ryan an interest-free deferment on the debt back in 2010, but the city discovered last month that repayment terms were never put in writing and now the city and Ryan are embroiled in a dispute over how to resolve the remaining balance.
City council's most recent offer to Ryan allowed him to continue making $10,000 interest-free payments until the end of April 2014, at which point a 6.75-percent interest rate would kick in. If a payment was late, the city could shut off water service to Ryan's Juice.
However, in a Nov. 12 letter drafted to Kearns, FitzSimons rejected the offer, claiming the original rate charged to Ryan's Juice for the effluent disposal was not appropriate for the type of usage, and that the total amount of the debt should be reduced accordingly.
"If Mr. Ryan/HRJC would have been treated like the Porta Potty entities which use the City's sewer to dump the Porta-Potties, he would have been charged $0.09 per gallon, but he would not be charged any BOD fines or fees," FitzSimons said in the letter.
He counter-proposed that the city waive the $35,000 in BOD fines, which would reduce the total amount of debt owed to $215,000, according to FitzSimons. If the city accepted the offer, FitzSimons noted that "Mr. Ryan/HRJC is prepared to make payment of the $215,000.00 by check within one week of today's date."
In a phone interview Thursday, Mayor Arthur Babitz was dismissive of the offer and expressed his frustration regarding the ordeal with Ryan's Juice.
"We've never had to do anything like this before," he said. "This is absurd."
Babitz added that FitzSimons was "just wrong" about the wastewater rates and said Porta Potties were charged 13 cents per gallon in dumping fees, which would have significantly increased the debt for Ryan's Juice had the company been charged that rate. But the point is a moot one anyway, to Babitz.
"We're not in the business of bargaining utility rates," he said.
Babitz said council also did not approve FitzSimons' counter-offer, but directed city staff to continue negotiations with Ryan's Juice. Otterman said if the city did not receive a satisfactory offer by Nov. 25, then council would likely meet in executive session under the "pending litigation" section of the statute.
"We're not asking (Ryan) to pay it off overnight," Otterman explained. "We're just trying to secure the debt."